Discover more from Snack Cart
A weekly summery of the best food and restaurant writing from around the country, plus local news from your favorite cities.
Over 6,000 subscribers
The pig farm helping Las Vegas recycle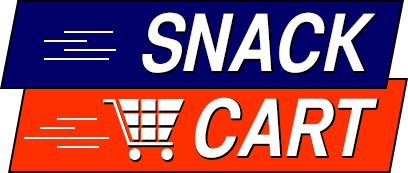 John Semley writes a profile for Eater on the hog-farming family that is recycling most of the food waste produced by Las Vegas casinos into pig slop. It's gross, interesting, and oddly enthusiastic look at a small slice of the food waste stream.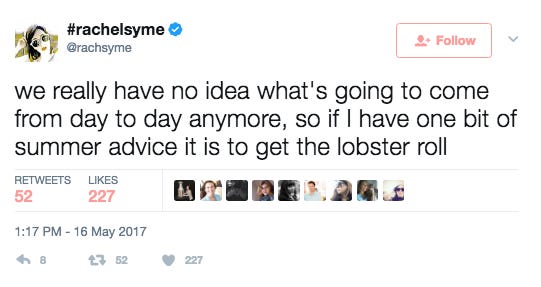 I have many, my questions about this poll tearing up Twitter saying Five Guys has replaced In-N-Out as the most popular burger chain. It didn't sit right, so I dug into Harris' methodology. It's an online, opt-in survey, which isn't super great (most pollsters consider those less rigorous, and at the very least they require a lot more math to make accurate). Then, the data is weighed by "composition of US residents", which could hide any number of sins. My guess? Five Guys is the best burger chain that most people have tried. There's a ton of folks in America who have never heard of In-N-Out (313 locations) but have heard of Five Guys (1000+ locations). In comparison with McDonald's or Wendy's, it does great. I'm guessing that overall recognition (since the same person is asked about multiple brands) carries a lot of weight in the rankings.

Chowhound highlights the "black latte." This trend integrates activated charcoal into a lattes, adding beautiful ash colors and the possible hangover-curing effects. I've had activated charcoal smoothies before, and could see this being actually good.

Can a Wonder Woman burger have it all?

Business Insider has thankfully stopped trying to rank tacos (see last week's Snack Cart). Instead, it's back doing what it does best: pointing to troubling economic signs in the restaurant industry. All major financial indicators for chain restaurants are down, with some of the worst numbers since the great recession. The losses are split: Fancier places did well while lower-end places did worse. Is this another symbol of creeping inequality?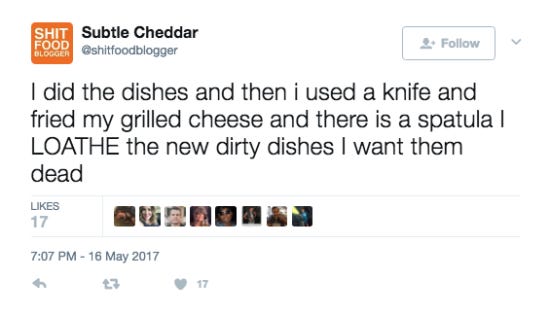 The New York Times publishes the obituary of Henry Chung, the man who opened America's first Hunanese restaurant. Henry was a Chinese civil servant who stayed in America after the Communist revolution cut him off from his home country. He bounced around before opening his first restaurant in San Francisco's Chinatown. This expanded into a regional chain still beloved by locals, as well as introduced eaters across the country to the idea there might be more than one kind of Chinese food.

A tweet this week reminded me of this fantastic Helen Rosner essay from Eater about why President Trump eating his steak well done matters. It's old, but it's good and you should read it.

Recipe of the week: Cold sesame peanut noodles. I've had three serious girlfriends as an adult and they were, in order: vegan, gluten intolerant, and vegetarian. Finding impressive things to cook for them was hard and I never learned how to grill, is what I'm saying.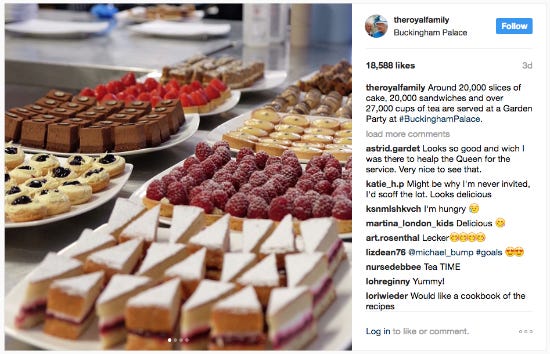 I'm a big fan of Ernie Smith, whose newsletter Tedium is a twice-weekly deep dive into something you thought was boring. Atlas Obscura syndicates a story of his from last week about the rise and fall and rise and fall and rise of Hydrox Cookies. These are the chocolate and cream sandwich cookies that Oreo ripped off then supplanted. I am a massive Hydrox partisan, and learned that they are BACK IN PRODUCTION AND NO ONE TOLD ME. This article corrected me that they aren't a regional New England cookie, but I choose to ignore that fact.

My Dad writes about potato chips: "Needs further work at this level, but in a few seasons, it could be the official potato chip of the San Diego Padres."

Eater publishes an essay by Korsha Wilson following up on the drama over that New York Times profile of Thomas Keller. In it, Keller was seen as being dismissive of a female chef saying that fine dining relies on systematic oppression. It's a good article, and as Pete Wells noted on Twitter it could apply to every industry, but is especially important to one that considers itself progressive. I'd add that you have to be kinda dumb to think systematic oppression applies to every single part of American life except yours (Sup, Silicon Valley?).

So the Lord scattered them from there over all the earth, and they stopped building the pizza.

Thrillist interviews a former Chipotle manager for the secrets behind the chain. Some great stories about optimum combinations as well as secret off-menu items. Also Chipotle-con sounds SICK.

Tamar Haspel writes a detailed defense of Chipotle, saying that despite criticism and setbacks, the company is trying to live up to the high standards it markets itself with. That's better than a lot of competitors. This is also a great read if you want to walk through the recent history of the chain.

I also hate sushi rolls. But saying you shouldn't order them because they are less authentic is dumb. You could have stood on five, Thrillist, but you had to push it.

Dispatch from the Delivery Wars: Quartz reports a startling fact: Domino's Pizza is one of the best-performing stocks of the last decade. If you had bought shares in the pizza giant in 2010, you would have made more 2000% on your investment. That's better than Amazon, Google, or Facebook.

But, a challenger arises. ReCode reports on a new $15 million investment in Slice, a Staten Island startup providing digital ordering capabilities for local pizzerias. The founder makes a few good cases why the app could succeed, and it seems like one of the best is that the pizzerias get a larger cut of each order than other delivery . In other news, I am currently seeking a technical co-founder for my Chinese food ordering app.

Snack Cart icon Los Angeles Times food critic Jonathan Gold used to be a music critic. A reader sent me a profile he wrote of Soundgarden, calling out the description of eating kangaroo meat with the band: "The 'roo is quite good."

Are beer cocktails a thing yet? I feel like they are a thing.
Los Angeles
There's a Nashville Hot Chicken pop-up in Thai town. Considering all the great late-night Thai spots in the area, I don't understand why you would stop there. I guess eating in a parking lot is kinda fun.

I haven't had a chance to listen to this interview with Jacques Pepin on Katherine Spiers' podcast Smart Mouth. But most of her episodes are great and he's a delight, so you bet I'll fire it up once the newsletter is out.

Besha Rodell reviews Tsubaki, a new izakaya in Echo Park. She complains about how Americans don't seem to "get" the idea behind izakayas: they are for drinking, with the food something to aid that drinking. We turn them, along with tapas places and any foreign import "snacks" place, into restaurant-style locations where you come, eat, and leave. It's an interesting theory and one that I agree with. She goes on to say that even if this place falls into that trap, and is deafeningly loud, it also is a deeply personal vision of the two cofounders (one of whom is a friend of Rodell's). It's also got creative food and one of the best sake menus in Los Angeles. Three stars.

J. Gold visits Rice Bar, a small Jewelry District lunch counter run by classically trained Filipino chef Charles Olalia. He writes about the place, sorta. Mostly, he says that Filipino food is finally here for real, and that Los Angeles is it's place. It's a lovely meditation on the flavors and dishes that we're going to see more and more across the country.
Boston
Seriously, Boston Globe, why the fuck is this a Cheap Eats review? It's a full-fledged review by Ellen Bhang of a hip small plates spot in Malden. It's clearly a full review and touches on a lot of interesting points about the place. There is no other review this week. The only reason I can see that this is "cheap eats" is because it's Asian. Why else did a barbecue restaurant with a similar price point get the full write-up last week? Someone (and no one else cares so it will probably be me) needs to break down the ethnicity of every restaurant you've done full reviews and cheap eats for over the past year.

The Globe does a decent rundown of the bagels of New York, but I can't imagine why. More interesting is this piece breaking down Boston's own growing bagel scene. I'd put Bagelsaurus up against anyone, anywhere. Also, a story on the fact that Bagels and doughnuts are different. Got it, thanks.

I don't like this piece very much, but here it is.

Even if I am mad at the Globe this week, they do have a great tidbit about a weekly pop-up ramen shop in Medford. The idea of mini portions of ramen is very, very smart.

Hidden Boston rounds up 15 regional foods. I don't really believe steak tips are a regional thing, but they are.

Outside the food section, the Globe documents a fight between Cambridge restaurant Shepard and its neighbors. The restaurant focuses on its wood-burning grill, and the neighbors are complaining of smoke. It's a good article, with many points of view. It sounds mostly like what was a real problem at first has devolved into bad blood. I didn't expect to read "witch hunt" again in the news so soon.

MassLive reports from Hadley, Massachusetts, which some call the asparagus capital of the world (that I do not believe). Hadley is a major provider of asparagus to restaurants around the world and to local farm stands, and the local product is nicknamed "Hadley Grass". That explains a LOT about my last trip to Tanglewood.

A neat project to keep an eye on, reported by Kerry Byrne in the Herald: A local beer blogger is traveling around New England, working with breweries to create custom beers, with all proceeds going to veteran's charities.
New York
Schiller's on the Lower East side is closing. It was apparently both beloved and considered overrated by folks who came of age in 00's New York and currently are a big deal in food media. Here's Lockhart Steele (founder of Eater) first blog post about it. Silvia Killingsworth writes a poem about how bad it was! The conversation around this place reminds me of a few places I've loved. The names don't matter, just imagine one of your favorite bars from when you were 25. They opened right when you were old enough to have enough money to go there, and for a while you could meet up with friends at the coolest place in town. You don't go there as much anymore, but you still love it and will be devastated when it closes. Friends go and send you texts saying, "it's gone downhill." You stop by and think the same thing. But maybe it hasn't. Maybe it was never that good. Maybe it was more about a time and a place. It was about being young, but feeling impossibly grown up for the first time. So this Schiller's is closing, but stop by whatever your Schiller's is sometime next week. I'll see you there.

Pete Wells reviews Pig Bleeker, a sit-down Manhattan outpost of a Brooklyn BBQ stand. There are a few misses, but Wells praises the place for treating regional American specialities with affection and respect. He references his infamous Guy Fieri review, saying that Pig Bleeker comes much closer to realizing Fieri's stated vision. One star.

Also in the TImes, Julia Moskin writes about the growing respect for Mexican cuisine. Her reporting takes her from Noma Mexico to house-made chorizo in Toronto.

Empellon Cocina, considered chef Alex Stupak's best restaurant, is closing. He says it's not living up to his standards, but one wonder if he's just feeling stretched too thin because of his new midtown mega-spot. He says he's finding a new location to reopen, and moving the tasting menu to midtown. Eater's Ryan Sutton called that tasting menu the best in the city. I had it last December and SUPER agree.

Ligaya Mishan was allowed to return to Manhattan to review Hi-Collar, a new Japanese spot near Astor Place. She finds soulful takes on Japanese comfort food for lunch, and a weirdly austere small plates bar menu in the evening. The review talks about manga, so that's rad.  

Campbell Apartment in Grand Central is reopening. All of the improvements sound better, but I have strong memories of going there at 23 and feeling "very New York" (as my Nana would say) while drinking a martini I could barely afford. Remind me to tell you what it was like the day Lehman Brothers collapsed.

Ryan Sutton at Eater reviews, sort of, the bar menu at Momofuku Ko. It's less a review and more a meditation on the disappearing concept of an affordable tasting menu. When Ko opened in 2008, the full menu was $85. The current bar menu is $90 for half the courses of the full menu. Sutton is both fair and critical, and this is a good read to find out what Ko has meant to the American food scene.
Washington D.C.
The unending parade of 5 p.m. leaks has cancelled happy hour, but when it returns this Washington City Paper guide is just about the best I can imagine: a list of places where you can go for happy hour that have discounted drinks AND free food. That's called a Hill Staffer Two-Step.

The Washington Post publishes a loooong story on the close of Pedro & Vinny's, a burrito cart on K street. One gets the sense this is personal, since the cart sits in front of the old Post offices and reporters there made up at least a third of the business. But the Post moved, competition increased, and the charismatic chef behind the cart is getting tired.

Tim Carmen at the Post publishes a thoughtful essay on what it means to write about immigrant restaurants in Trump's America. It's light on data, but big on impactful anecdotes. I really like how he concludes it. It would be very simple to take the easy way out (like the title does) saying that if we all just ate together everything would be better. The fact is that you can hate someone and like their food, so what do we do now?

There is no greater sign of rising inequality than restaurants across America trying to make appreciation of caviar a thing. Still, this new seafood place by D.C. hitmaker Robert Weidmaier sounds great.

Tom Sietsema reviews Sable in the Dupont Circle hotel. The place proves there's a lot more to Swiss cooking than cheese. There's also cream! I KID. Sietsema must have been on dairy overload because his review gets a bit cluttered and at times I'm not sure which dish he's talking about. Still, raclette for groups of four or more!

I strongly believe that the next big food trend (in 2-3 years) is going to be hip urban eateries with spaces for children. This story goes into the opposition from neighborhood groups to Dacha, a new beer garden with a playground on 14th street. These seem like the absolute worst kind of NIMBY's. I look forward to going there and publicly urinating on their lawns.  

In five years, all Washington D.C. food will be based somehow on Nationals Park.
Chicago
Conde Nast Traveler has named Chicago "the best food city in America." The slideshow has a lot more content than you think, and will be very helpful as I plan my upcoming trip.

I have a hard time not linking to everything some outlets do. The Sporkful is one of those. They just dropped two live shows from the Chicago Cocktail summit. First is an interview with Peter Sagal. Sagal opens up about his divorce and his new favorite bar. It's poignant and funny. Next up is a broader interview about bars and bartending with two world-renowned Chicago bartenders.

The Chicago Tribune's website is a rats-nest in the way that only a longstanding urban newspaper's website can be. I can actually see the various weird deals and generations of management reflected in the website. I bring this up because they have a completely different lifestyle section named "Redeye" with its own reviews and writers. I don't know what's up with it, but under that heading some guy name Michael Nagrant reviewed Intro, a dim sum place in Lincoln Park. Neither he, nor I, are very interested in the cheff-y takes on dim sum. I also think his writing is a bit hacky.

Louisa Chu at the Chicago Tribune reports an awesome story: a man obsessed with his childhood memories of Portillo's lemon cake has managed to get the chain to bring it back. The story involves Reddit, a change.org petition, and a $300 bounty. We'll also all be able to try the cake soon. It rejoins the menu mid August.

Phil Vettel reviews George Trois, a small tasting-menu-only restaurant inside a private room of chef Michael Lachowicz's Winnetka. If this was a hip young chef, you'd call it a pop-up. But Lachowicz is old school. How old school? Vettel traces one dish to the name "Bocuse." Vettel also meditates on the value of old school, saying that at its best it's a respect for tradition. However, this menu incorporates old school ideas with new techniques to deliver the best of both world. Vettel gives it four stars, which is his highest ranking.  

God damn it. Michael Gerbet at Fooditor publishes something I could have used about 6 months ago: a comprehensive breakdown of the Chicago food media. He does it under the guise of hand wringing about the potential Tronc acquisition of Wrapports. While the rest of the world has focused on the merger of the Sun Times and the Tribune, this would also combine pretty much all Chicago food writing under the same ownership. Gerbert worries this could lead to cuts, as well as a dumbing down of the food content. It spins off into "old man yells at cloud" territory, but it's a great breakdown of who is writing about food in Chicago. It even explains the Redeye thing I mentioned three paragraphs ago.

Mike Sula at Chicago Reader declares Mezcal the Spirit of the Summer. He breaks down the best places to drink it across Chicago. Did you know there is a "mezcal triangle?"

Jeff Ruby of Chicago Magazine is at Mango Pickle. The Edgewater Indian spot features upscale takes on Indian take-out classics. Ruby loves the food, and can't wait to see what chef Marisa Paolillo does with the place. The review opens with a hilarious anecdote about bringing in a whole dead lamb through the front door once a week, which has got to be a health code violation.
Out of context J. Gold of the week
Restaurant enthusiasts work on the pronunciations of "bagoong" and "sinigang" the way they do "pad kee mao" and "cheonggukjang."