Discover more from Snack Cart
A weekly summery of the best food and restaurant writing from around the country, plus local news from your favorite cities.
Over 6,000 subscribers
The biggest UK upset? Biscuit Monster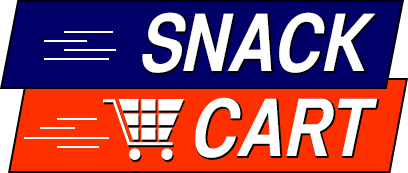 Sup Snackers. The newsletter is a bit disjointed this week as I cram two weeks of content into one. Remember when I said I would do two this week? We all laughed and laughed. Those were innocent times. Thanks to everyone who volunteered to sub in in the future, excited to see what they come up with. As always, send tips or complaints to jgee84@gmail.com.
 
Summer is finally here, and GQ's Paula Forbes writes an ode to hamburger buns. In a world where literally everything is gentrifying, she says that this is something that can't be improved upon. I'll use this as an excuse to pimp my own favorite thing: cookout burgers. Frozen, then overcooked, with ketchup and mustard. I don't want a fancy beef blend when I'm eating with one hand and playing cornhole with the other. Hell, I don't even really want onions. I want to find a burger that is sitting in a congealed tray of grease, throw it on a bun, eat chips while I squeeze ketchup, and then eat 12 more.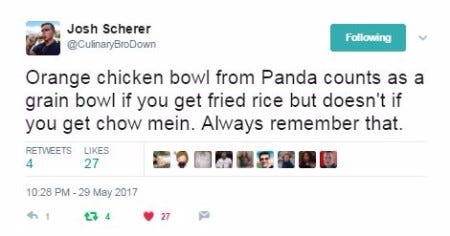 The Outline publishes an ode to asparagus by Jacob Khepler. He even quotes Proust talking about how it makes your pee smell (but classy)! For the record, he's 100% right that asparagus is one of the things best cooked at home (like mussels). Here is the actual best way to serve asparagus.
 
A new museum in Japan is exhibiting a collection of meals inspired by anime. Not just the food, but storyboards and art showing how those scenes became a reality. Click through for lots of neat pictures and weird-ass Japan shit.
 
This is a delightful story from a typography blog about the history of cookbooks, going back to the first stone tablet. The best thing in this story is the denunciation of the first time forks were used: "God in his wisdom has provided man with natural forks – his fingers. Therefore it is an insult to Him to substitute artificial metallic forks for them when eating."
 
Michael Snyder at the A/V Club writes a fantastic primer on Mexican beer. I learned a lot by reading it, especially about the darker beers that haven't made it to America. I did know that in terms of industrial beer, Mexico is way ahead of their neighbors to the North.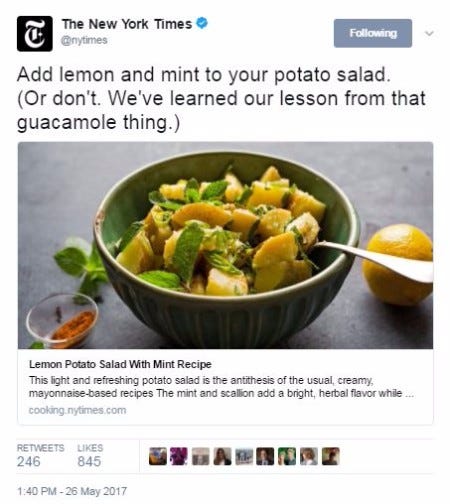 Lang Whitaker writes a simple and compelling explanation of how to make a really good salad. It wasn't until I figured this stuff out that I realized salad is actually awesome. Still.
 
Speaking of salad, Australia is currently embroiled in a tax controversy about how to tax salads. Do they count as salads or prepared foods? What if they are primarily made of something other than lettuce? There's a New York thing about this, where people tell you to not get your bagel sliced. Is that still a thing?
 
Eater editor Amanda Kludt writes an essay that should resonate for all of us who eat meat, know we probably shouldn't, but have made peace with it. She comes across a dish that uncomfortably remind her about the living things we are consuming for pleasure.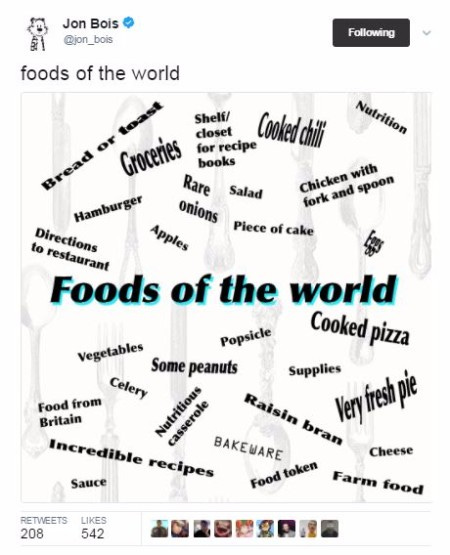 In Eater, Matthew Sedacca breaks down the business of breakfast. He explains why so many restaurants, both low and high end, are investing in a meal that has traditionally been eaten at home. Somewhat related but not, Eater also writes up a history of why Starbucks has struggled with food. My only insight from this is when I worked for Starbucks PR in 2008. That was when they introduced breakfast sandwiches. The sandwiches were almost ready to roll out when they scrapped the pre made egg patty provider because they couldn't make eggs that looked "artisanal" enough, i.e. they all looked like Egg Mcmuffins and didn't have crispy edges.
 
I don't know what this article is talking about. Peaches come from a can. They were put there by a man.
 
The best Sesame Street canon you ever fucking heard: Cookie Monster has a British cousin named, that's right, BISCUIT MONSTER. Britain is already great.
 
Did you love the story about a bunch of rich Silicon Valley bros falling flat on their face with the Juicero? Of course you did. It's the only thing that made any of us feel alive again. Here's the sequel, about a millionaire, backed by billionaires, setting out to disrupt the grilled cheese sandwich and winding up with something ridiculously anodyne.
 
This is a lovely essay in Food 52 by Mayukh Sen. He writes about Patel Brothers, the largest Indian foods grocery store in the United States. He starts with a fairly standard story of the rise of the chain, but the story really takes off when he talks about his life growing up Indian. He talks about how this store represents all the foods he was afraid to love because they weren't American. It's a touching and sad look at how children can punish themselves for who they are.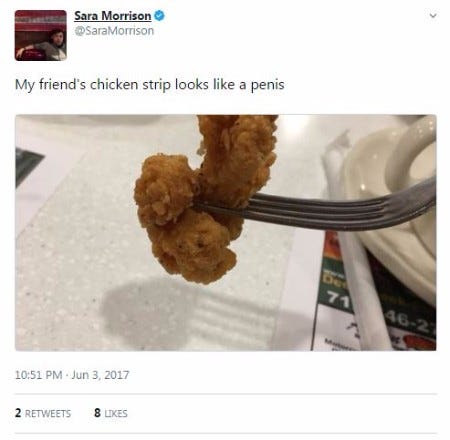 I am unsure how true this cartoon is, but if it's true at all then THAT is the real problem with free speech.
 
I never really know how to assess these lists, but Esquire published their list of best bars in America. Their Boston one is spot on, so I assume the rest are, too.
 
Marcus Samuelsson is on a media tour promoting something, and his best stop so far has been on the Buzzfeed podcast Another Round. This is a really nice conversation with a guy that I have frequently found boring.
 
This is a weird but standard story about questionable tech excess. Read it, or whatever, but one thing keeps jumping out at me: who wants to eat sushi off a model? It can't be good, can it? That's some hedonism bot shit.
New York
Sad news for drunk 2009 Josh as a fire destroyed Artichoke in the East Village.
 
It's Ramadan, the Muslim holy month marked by fasting. Tejal Rao at the The New York Times does a lovely story on how Muslim families across the country celebrate the holiday. It's a reminder of what a rich tapestry America, and our Muslim community, is. Also, I really like Islam's relationship with money and food.
 
The Post details the start of the ice cream wars. Mister Softee, the long-time king of New York, has been challenged in recent years by a competing organization run by former Softee drivers. The competition has involved everything from legal battles to street fights. Now one side is hiring private eyes to track the other. I love this story so much.
 
Pete Wells goes to King in Soho and really likes it. He gives the homey Italian place two stars, and it sounds friggin' delightful. Just I was excited to be reading praise about a place with two female chefs, Wells drops a pretty cringe-worthy line: "For reasons I don't want to understand, I associate this trait with other female chefs around town." Yes, Pete, you wouldn't want to examine your systemic biases at all. How could that make you a better critic. This is where I first noticed this, btw.
 
Pirate Joe's, an illegal Trader Joe's reseller in Canada, has finally closed its doors after a lengthy legal battle with the parent company. There's a fantastic episode of the Startup podcast a few years back about the owner of Pirate Joe's and the hoops he jumped through to buy and smuggle Trader Joe's products back into Canada.
 
Cold brew coffee exists and the Times is ON IT.
 
Ligaya Mishan is in Chinatown, where she visits a Bep Ga, a Vietnamese restaurant focusing on chicken. If you haven't had a chance to have Pho Ga, the lighter and chicken-based cousin of Vietnamese Pho, you should fix that. You'll never crave Campbell's again.
Boston
Kevin Cullin, the Globe columnist most likely to leap to the defense of the downtrodden, took up the plight of the eight Globe cafeteria workers. With the Globe moving, the cafeteria workers (some of whom have been working there for 30 years) are either out of a job or have to start back from the bottom. Cullin directs a lot of his ire at FLIK, the company that provides the service, but the Globe should consider looking in the mirror at what responsibilities they have to the folks who have been there longer than 90% of the writers. As someone who worked there, reading Tony say something mean breaks my fucking heart. Also, this HBR article is great context for these situations. It posits that a major driving factor in inequality is outsourcing of functions. You can't rise up from the mailroom (or cafeteria) anymore, because that's literally a different company.
 
A tipster shared an internal Globe restructuring email from the top brass. Here's what's in store for the food section:
 
Devra First goes back to food writing and restaurant reviewing, and Chris Morris adds the print Food section to her editing portfolio. Devra was a world-class critic and a wildly imaginative writer on the food scene. The aim is to let her roam free again, but with monthly rather than weekly reviews, and the rest of her time devoted to top-shelf food writing. Chris has injected enormous energy and creativity into our Travel section, and she'll do the same with Food. And we'll also get an enhanced, strong assist from ace food writer Kara Baskin, who will step up her production for the Globe. Many staffers have rightfully stressed the need for more food writing, with more prominent play. This is a great start in that direction.
 
No idea what any of this means, other than I am glad that First is no longer in charge. She struggled to break out of the very traditional idea of a food section. But it doesn't seem like anyone else is taking the lead, so consider me worried. Also in that memo is news that Nestor Ramos is becoming a Metro columnist, which makes me very worried that the Globe lost its best reviewer. Also, clearly review-by-committee will continue. 
 
MC Slim JB is at Terra, the full-service restaurant in Mario Batali's Eataly. He scorches the earth, saying that while there is some good food, most of the enterprise clearly isn't living up to the ideas sent down from on high. The thing about water would drive me apoplectic.  
 
"Even though this is the last dinner of their freshman year, the two already have plans for a concept in the Hamptons, where both of their families have houses and spend time every summer." Sometimes I just can't.
 
But like, have you ever had bar pizza, ON WEED?
 
Today in news that mostly impacts me: there's a permanent coffee shop downstairs in Boston City Hall. This joins the two other cafes in the building, though this one is much fancier.
 
I'm really confused by this Mat Schaffer review of Liquid Art House. It reads like someone who has never written a review before. First off -- this place has been around for years, why is it getting reviewed now? He talks about the chef; is the chef new? He talks about the art; is there a new exhibit? There are a lot of angles he could have gone with, and he chooses all of them and none of them at the same time. Please get that editor. 
 
Jolyon Helterman at Boston Magazine reviews Benedetto. He quickly acknowledges the fact that it's in the old Rialto space, but moves on to focus on putting Benedetto in the context of the rise of more modern Italian spots that's happening across Boston. It's a nice read, even if I find Helterman's tone a bit grating.
Chicago
I'm going to be in Chicago next weekend, so let's see how many things on this Chicago Tribune list of 101 best things to eat I can check off in 3 days.
 
DNAinfo looks at the Chicago restaurants that have earned Michelin stars, and finds even one of the food world's highest honors doesn't stop them from closing. Hardly shocking news, but a comprehensive look. It's also a great read on the recent history of Chicago fine dining.
 
Michael Gerbert, writing in Chicago Reader, gives a wonderful roundup of the culinary joys of the South Side. While most of the city's food media ignores it, it sounds like there's a lot to be said about this area.
 
Mike Sula reviews Curious, which seems absolutely and completely horrible. If you delivered me my menu in an envelope with this printed on it: "Look forward to enjoying an everchanging menu, focusing on what's fresh and available during the season & adding her twist of whimsy to the Tastes of Our World . . . Adventures in Food!" I would walk out.
 
Jeff Ruby at Chicago Magazine reviews Elske, the Scandinavian spot run by a power-couple of prominent chefs. From his description, it almost sounds like two restaurants. If you other the fixed menu, you get a sloppy and unfocused string of dishes combined with meh service. If you order a la carte, it's a relaxing and harmonious evening. Hard to see which is the real one, but for now order off the menu.
Los Angeles
Probably the best thing you will read this week is this oral history of Matsuhisa. The Los Angeles restaurant that became the hottest thing in town (Tom Cruise couldn't get a table) and whose second location in New York, Nobu, dominated the dining scene like few restaurants ever have.
 
LAist rounds up the coming food halls of LA. A lot like Grand Central Market, it will be sad if these food halls push out the already vibrant (if somewhat more downscale) food court and strip mall options.
 
CAT AND FIDDLE IS BACK, BABY.
 
This lovely post from David Lebovitz says it's a recipe for a Cobb salad, but between the beautiful photos are delightful musings on the history of Los Angeles dining.
 
Besha Rodell's roundup of great food newsletters seems to have one glaring exception. *cough cough*
 
Rodell also uses an amusing story about her interview by a documentary crew to show the sky high expectations facing Felix Trattoria. Chef Evan Funke has helmed iconic restaurants and created classic dishes in the past, but that and a noted passion for handmade pasta doesn't guarantee his new place will be any good. Still, they aren't *bad* things to bet on. He crushes it again. Rodell finds the food so good she seems upset. It seems like only some small missteps with pizza keep it from a full five stars. It's a rare restaurant where you feel lucky the nights salad are on the menu.
 
Noelle Carter writes the take that is going to blow the Internet apart: the case for grilling with mayonnaise.

J. Gold is at Michael's in Santa Monica. This restaurant, which helped kick-start California cuisine when it opened in 1979, has survived almost 40 years on that legacy. But as with many places that huge, it lasted on reputation and nostalgia rather than quality for a long time. However, chef Miles Thompson joined from the now-defunct Allumette and has reinvented Michael's with a modernist sensibility. There are still a few missteps and it *looks* like the old Michael's, but Gold clearly feels the place is renewed again, though it will never reach the heights it once was. Everyone should read this review, since California cuisine is currently taking over the world and it's a good piece of history.
Washington D.C. 
Hey nerds! A Game of Thrones pop-up bar is coming.
 
I'm very confused why, on this chart, there seems to be no difference between the food trends that will last and trends that won't.
 
Tom Sietsema really, really likes the sangria at Joselito Casa De Comidas, a new Spanish place in Capitol Hill. He sees a few missteps, but mostly it's a warm an inviting place. And the happy hour deal (20% of the anything) seems like a steal. He gives it 2.5 stars.
 
Tim Carman proposes we embrace a dying tradition: the barbecue road trip. With better urban options we don't have to drive for good smoked meats, but maybe we lose something by not doing it. He highlights a bunch of places in Virginia worth driving for.
Out of context J. Gold quote of the week
The old Michael's would have beaten up the new Michael's and stolen its lunch money, but well-heeled restaurants are different now. Is Thompson's version of Michael's what Mugaritz is to Martín Berasategui in San Sebastian or Septime is to Taillevent in Paris?