Discover more from Snack Cart
A weekly summery of the best food and restaurant writing from around the country, plus local news from your favorite cities.
Over 6,000 subscribers
The food world grapples with its harassment problem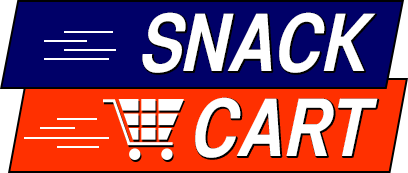 Shortly after the New Yorker published allegations against Harvey Weinstein, New Orleans Times-Picayune writer and restaurant critic Brett Anderson released his own bombshell. The Besh Restaurant Group, owned by Celebrity Chef John Besh, has been accused by more than 25 women of fostering a culture of rampant sexual harassment. Besh, who became sort of the face of the City and Katrina recovery, is also accused of directly harassing women himself. Anderson dives deep into the company, finding stories of abuse and harassment at every level. Also, for god's sake, hire an HR person as soon as you hit like 30 people.

Not many people in the food world are surprised. Much like Hollywood, food is an industry where the hours are long, tempers run high, and bad behavior has long been considered the norm. Often, it's even glorified. Writer Tracie McMillan tells a story about how she started at a restaurant with dreams of being a female Anthony Bourdain, and was molested when a coworker drugged her drink at an after-shift party.

Bourdain himself gave Slate a long and intense interview about his responsibility for all of this. I didn't realize his girlfriend is one of the people currently accusing Weinstein of rape. He speaks openly about how, even if he didn't mean to, he played a huge role glorifying and fostering the negative aspects of kitchen culture. Any man should be learning from his example here: Forthright understanding and ownership of his role in all of this, with minimal attempts to hedge. This line, "Why was I not the sort of person, or why was I not seen as the sort of person, that these women could feel comfortable confiding in? I see this as a personal failing" has been haunting me since I read it.

If you read one thing on this, read Jen Agg in The New Yorker. She writes a history of how bad behavior by chefs has come and gone in waves, and how she isn't optimistic that this current exposure will result in long-term change. She also writes about barriers women face short of harassment and how this problem extends to food media (See Steele, Lockhart).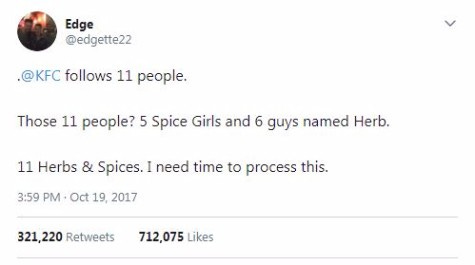 Laurie Woolever writes an enormously fun article about the inherent silliness of "glamping" in Japan.

This is a beautiful and touching essay by the inimitable Scaachi Koul. She writes about her lifelong struggle to learn how to cook like her Mom.

And they laughed when I started burying oil drums of vanilla in my yard.

TASTE has a great story by Mari Uyehara on the rise of Kale in America. It's ubiquitous now, but it was pretty unknown outside of Olive Garden soups 20 years ago. Uyehara traces its rise back to a single 2007 Melissa Clark column.

Novelist Rumaan Alam writes up a cooking diary. The dude cooks a LOT, and we share an obsession with clearing out our fridges. It's a nice picture into the day-to-day difficulties and compromises of actually feeding yourself and your family.

Esquire has released their best new restaurants list. Restaurant editor Jeff Gordinier does a great job with this list, consciously leaving off the temples of gastronomy like Vespertine. Felix's in Los Angeles takes the top spot, and the Grill & The Pool take #2 (so the list isn't ENTIRELY democratic).

So, I know this is inane, but is it also kinda racist?

Atlas Obscura, which is launching a brand new food section (Gastro Obscura), has a story about what dining was like on the Hindenburg. This is EXTREMELY my shit. Zeppelin diring was a lot like a fancy Continental hotel, since there wasn't much to do besides drink and socialize.

Very excited to be heading back to a new gilded age. Though, our current corporate robber-barons all just drink Soylent.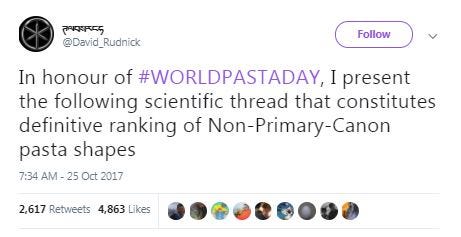 This thread is unreal. Read it.
There's a connection between all of the stories about Vespertine in this week's Snack Cart and the idea that Starbucks is doubling down on the primarily visual appeal of gimmick Frappuccinos, but I probably have to think on it a bit more.

Mayukh Sen at VICE writes up a story that I still can't really believe. Sweet Dixie Kitchen, a southern restaurant in Long Beach, has been serving Popeye's chicken for months and passing it off as their own. Even more insane is that when confronted with this fact, the owner doubled down. She's now saying that it's on purpose. She's even launched her own line of T-shirts to profit off the controversy. I don't know if I see this as "the gentrification of food" as some people say. However, the owner's Facebook screeds (any local food story has Facebook screeds) make it very clear that this place is a disaster.

I was far more interested than I planned to be in the story behind the green pepperoncinis that come included with every Papa John's pizza. The chain's founder copied the tradition from the Indiana sub shop where he worked summers growing up. 25% of the world's pepperoncini supply goes to the Denver pizza chain.

Eataly, the high-end grocery chain, is launching their own theme park. The "world's largest agri-food park" opens in Bologna in November. On the Gastropod I linked to in last week's newsletter, they learned that they biggest logistical challenge to opening this park was having animals everywhere while having a system for cleaning up the poop.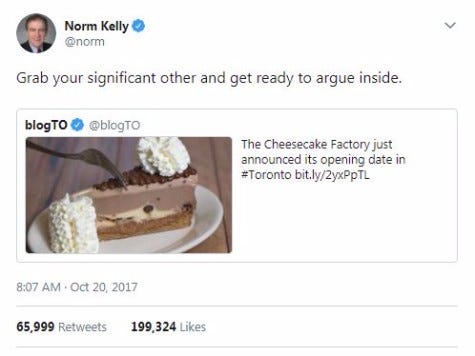 Wanna hear J. Gold talk about where to eat in New Zealand? Sure you do.

I make a lot of fun of the Sports Illustrated food vertical (because I can only read so many lists of outrageous stadium foods) but this is a fantastic profile of JaeHee Cho, the head chef of the Philadelphia 76ers. The NBA, and sports in general, are in a nutritional arms race. Teams are investing in how their players eat as part of ensuring peak performance. This is still relatively new, and I haven't heard of any having an on-call chef/meal planner before.

This story from Food & Wine, about eating alone at the Olive Garden in Times Square, captures some of the things I love the most about eating alone in a restaurant. However, it's also condescending and gimmicky in a not-fun way.
New York
Ryan Sutton savages Public Kitchen. Jean-Georges Vongerichten's latest place is expensive, snobby, kind of cheap, and the food is bad. Sutton describes it as a glorified hotel restaurant. This is a fun read.

Tejal Rao can absolutely *bring it*. She writes about recreating Katsudon with a friend after binge-watching an anime show where it features prominently.

Robert Sietsema drops a first look at Dim Sum VIP. While the massive Dim Sum palaces remain, Sietsema uses this story to talk about the new generation of smaller Dim Sum boutiques. It's a good day to Dim Sum.

Pete Wells is in Los Angeles (see below) so we get double the Mishan. First, she's at Yaun, an East Village shop specializing in Guilin mi fen, a noodle soup dish native to the Guangxi region of southern China. Think of a slightly more robust Pho. Think of fall. Then, she's back in Queens, praising the cafeteria Boishakhi. I know absolutely nothing about Bangladeshi cuisine and this makes me want to learn more. Gimme dat hilsa.

DON'T CALL IT A COMEBACK. Right after leaving LA Weekly, Besha Rodell is back, writing reviews for the New York Times' Australia bureau. Not sure how I'm going to handle this going forward, but her first review is worth a read. She's a Doma Cafe in New South Wales. Only accessible via a terrifying drive, Rodell holds it up as a perfect example of the current Australian food scene. Immigrant traditions are merging with local produce. Innovation is combined with a laid-back sensibility.
Los Angeles
The Los Angeles Times has released their 101 best restaurants list, and are officially back to calling it Jonathan Gold's 101 Best Restaurant's List. It is SUPER paywalled (Dear Tronc: I would gladly pay $5 for this as a single edition), but via roundups and other articles, there are three things that jump out:
Vespertine takes the top spot, even though Gold admits lots of people won't like it and that he's not even sure he does. Eater editor Matthew Krang argues this is a bad pick. But it's ambitious, and Gold is both a Los Angeles food scene booster and an art lover. I can see why he highlights it.

Felix's isn't on the list, which is kinda nuts considering both Esquire and Eater called it one of the best new restaurants in America. However, Gold thinks highly of L.A. pasta right now, and doesn't agree with how Funke cooks his. One of the things that makes the 101 good, and the reason I'm glad the Times added Gold's name back to the title, is how personal a list this is.

Spago is #3 on the list! I fucking love Los Angeles, man.
Pete Wells reviews (sorta) Vespertine. This is a great read for anyone who wants to understand what the hell is up with the most ambitious restaurant in America. He seems to like it, but also says that the chef's skills as a sculptor and colorist are getting in the way of the food. He actually manages to almost avoid anti-L.A. cliches (probably because Vespertine is basically from the moon). Wells declines to review it, saying that it's intentionally a work in progress. I think that is a horse-shit cop out. If you can review Locol you can assign stars to this place.

Vogue excerpts a chapter Kris Yenbamroong's upcoming cookbook: Night + Market: Delicious Thai Food to Facilitate Drinking and Fun-Having Amongst Friends. Yenbamroong recommends what wines to drink with Thai food. Quaffing white wine with Asian food is probably one of my top five favorite activities. I'm also going to use his "chilled light reds with pork" suggestion next time I have ribs.

Local beer people can be extremely silly.

J. Gold is at Osawa. He talks about how, while most Japanese restaurants ultra-specialize, this one kind of does everything great. It's been around a while, but he thinks that it's only now hitting its stride. This is the second time in as many weeks he's called himself a peasant, which is something my granddad used to do all the time.

La Azteca Tortilleria is a spot that I absolutely must visit next time I'm in Los Angeles. I've heard about it for years, and Katherine Spiers writes it's the best breakfast burrito in town.

Karen Palmer, the new critic at LA Weekly, is at Journeyman in Atwater village. She continues her streak of harsh(ish) reviews, awarding it two stars but critiquing the service. The idea behind the restaurant is that everyone on the staff does everything. Cooks run food, waiters bus tables, and everyone pours wine. Kind of like a tapas bar. Palmer likes the ambition, but says they are trying to do too much, too soon. If everyone is in charge, sometimes stuff doesn't get done.
Chicago
As the Besh news ripples out, Publican restaurants executive chef Cosmo Goss has been fired for inappropriate behavior (also chopped were some other senior execs). This news gives some hope that incremental change may be coming industry-wide. Or at least that superstars aren't a protected class anymore.

Jump into a river of Mezcal, you say? GO ON.

Chicago Magazine does a quick and very visual look at the interesting charcuterie arising all over town. I'm actually surprised Chicago, home of meat processing, doesn't have a more aggressive scene for that kind of stuff.

Nick Kindelsperger at the Tribune writes a really interesting feature about the best ramen in Chicago. It's made in the home kitchen of 28-year-old Mike Satinover, a white kid from Oak Park. Kindelsperger talks about how how Satinover became a legitimate ramen expert after a year in Sapporo, how his Sunday dinners for friends are one of the hardest tickets in town, and how he is actively against opening a restaurant.

Phil Vettel is on the Gold Coast (shocking). He reviews Nico Osteria, a new seafood-forward pasta place that sounds great. Still, I'm a bit tired of chefs saying they want "a casual place someone can come in and have pasta and a glass of wine" where the pasta costs $30.

Aimee Levitt reviews Land & Lake Kitchen in the LondonHouse hotel. She finds dispiriting takes on Midwestern cuisine, with one major exception: perfect mac & cheese.

Michael Gebert at Fooditor writes up an irresistibly-titled story: "Ballers' Feast." He's at an event being put on by Regalis Foods, a new high-end exotic food distributor. The company was founded in Chicago but has only been selling their goods in New York and San Francisco. They've expanded into their home market and threw a blowout decadent feast / product demo to celebrate. It's a fun description of the party (plus great photos) but what's really interesting is the short profile of one of the partners. He's only 25 and already one of the most prominent truffle experts in the country.
Washington D.C. 
José Andrés is packing up his team in Puerto Rico, but in the month he's been there he's fed more people than any other relief or aid organization. Obviously that's a skewed metric for aid, but the degree to which we've abandoned American citizens is insane. Also, José is on the shortlist to be Time's person of the year. Kim Severson at the the New York Times writes a long profile of the chef and his efforts. Severson's story captures an interesting tension: at some point NGOs need to stop operating to let the natural economy to start up again.

Tom Sietsema is at Nobu. He finds the D.C. branch of this high-end chain particularly obnoxious and uninspired. Not that there's anything inherently wrong with a Nobu. People with expense accounts need agreeable places to go that aren't steak.

A list of every Thanksgiving sandwich in the city? Please and thank you.

Laura Hayes reviews Hank's on the Wharf, where she recommends sticking to the cocktails and the fried food. She's a great writer, and I hope they let future reviews breath a bit more. She had me at "Narragansett mustard."

Hayes also has a long feature on how pop-up restaurants are here to stay. I don't know who would argue against that, but it's a good chance to list all of the interesting ones going on around the District.

Jessica Sidman at Washingtonian interviews Alessandro Borgognone, a man well-placed to become the villain of the D.C. food scene. He's already known as "the most hated restauranteur in America." That was before he trashed Washington's dining culture and quality. He's about to open a second outpost of his ultra-expensive Sushi Nakazawa inside the Trump hotel, taking over the space vacated by José Andrés after then-candidate Trump called Latino immigrants criminals and rapists.

The Economist has a food truck! And just when I thought I wouldn't have a chance to include a Simpson's gif.
Boston
Does Flour have the best breakfast sandwich in Boston? Probably not, but these photos are nice.

Dudley Dough, the second restaurant from the team behind the much-loved Haley House, is closing. A lot of the coverage focused on how the place paid its workers a living wage, making it harder to sustain. I think that misses the mark. After talking with a number of folks, I think there are two main causes:
The Bolling Building is turning into a retail disaster. Tasty Burger is also rumored to be struggling. The City isn't subsidizing rents as much as they need to for restaurants to hang on in an economically disadvantaged neighborhood, and the actual restaurant spaces are so poorly laid out that anyone would struggle.

The pizza at Dudley Dough was *terrible*. They had great wings and salads, but look at the photo from that Eater article. I appreciate trying to be healthy, but it just wasn't good.
Neat story by Scott Kearnan, who noticed that most of the chefs headlining massive international restaurant chains (Eataly, for example) are actually locals.

I know that's not the point, but any newspaper publishing the line "maybe a website is a necessary evil" in 2017 is just… sigh.

Madison Trapkin, a new name to me, writes up a sort-of review of Fat Biscuit in Lynnfield. I kind of find the "I'm from (region) and can I find REAL (region food) in Boston" thing a bit trite, and really it's just the story of a single brunch.

Megan Lisagor Stoessell writes a lovely story about trying to rekindle her children's love of food. She takes them to three of the hottest restaurants in New England, trying to remind them of a time when they weren't picky eaters. The associated dialogue is very cute. She also hits on something interesting: small plates are kind of perfect for kids. It's lots of new things so if they don't like something, a new thing is coming up right behind it.

I think part of the rejiggered Globe food section is Devra First leaning into J. Goldiness. She reviews Ganko Ittetsu Ramen in Coolidge Corner, mostly talking about her memories of eating ramen in Tokyo as a child. She makes some nice points about nostalgia, as well as calling out how great it is to have excellent ramen in a workmanlike setting.

Nestor Ramos is back! At least, for a bit. He's writing about the food at UMass Amherst. The food program has been completely overhauled in the past few years, and ranks as one of the best in the country. It's local, it's healthier, and it's really good. However, many students and administrators wonder if they've gone too far. Is it really worth it?
Out of context J. Gold of the week
Have you tried battera sushi? You really should. It's a brick-shaped thing...