Discover more from Snack Cart
A weekly summery of the best food and restaurant writing from around the country, plus local news from your favorite cities.
Over 6,000 subscribers
Rembert Brown on Black Thanksgiving
Rembert Browne on Black Thanksgiving is pretty much all you need.

Chef/Activist Tunde Wey writes a bleak and honest story about his time in Detroit. He focuses on how often culinary innovation, which is held up as a sign that a neighborhood (or city) is on the move, is usually by whites and for whites. Tough but powerful read.

I hope everyone I know likes getting replicas of old menus for Christmas because this is EXTREMELY my shit.

This is a thoroughly bizarre game. It's like Myst, but you're a cook. You've ordered 20 soups from aliens, but they aliens don't always get them right. As they beam them to you, you must decide if each order is "soup" or "not soup". It's kinda gross but oddly compelling. A note at the end explains that the game designers are trying to build a unified theory of soup.

Reuters does a deep dive into the secret food markets of North Korea. These markets, existing in a legal gray area, are how most North Koreans get their food. As with most things about North Korea, it's a bit of a mystery because the government is so secretive. Quartz links to this story, and has their own roundup of the street food snacks available at the markets.

I finally caught up with Food Twitter's favorite hate-read from a few weeks ago. It's an article from Toronto Life about a local cooking enthusiast who opened his own restaurant. He explains how it ruined his life, and he's probably never going to recover financially. I appreciate his refreshing honesty, but it's hard to be sympathetic to someone who so clearly ruined the lives of everyone around them with his idiocy. Do NOT cash out your pension to open a restaurant. 

Eater released their list of America's 38 best restaurants. Lots of big names and favorites on here, as well as a clear attempt to feature more female and minority chefs. The restaurant of the year, The Grey in Savannah, seems like the kind of place I'd like to move into.

The New Food Economy is a brand new digital food publication. Modeling itself on the Marshall Project, it's hoping to explain the complicated world of our food systems. This feels like essential journalism, but tough to make money on. Maybe they can be a baby Politico, which makes most of its money from industry-specific reports. Nieman Lab has a nice writeup of what they are hoping to accomplish.

Speaking of new food publications, the team from the Onion just launched The Takeout. Like the AV Club, this is more serious than funny. Hopefully, like the AV Club, it will also be smart as hell. If you like your food content kinja-y, this is for you.

ESPN's double-take podcast dives into something that unites the blood-sport world of SEC football: Waffle House.

PIZZA MOTHERFUCKING POTATOES.

Neat story I saw first in Chowhound: archeologists discovered the oldest evidence of winemaking to date. They found shards of pottery with chemical residue of wine in Tbilisi, Georgia which date back to 5,980 B.C. The pottery also had tiny pictures of grapes and dudes dancing on them.

Joseph Bien-Kahn writing about NotCo, a new vegan mayonnaise company, is a great long read from The Ringer. Their secret is in a proprietary machine-learning algorithm that uses AI to create plant-based recipes. There are a lot of words in that sentence which make me skeptical, but this story provides a high-level look at the opportunities and challenges in the meat replacement industry.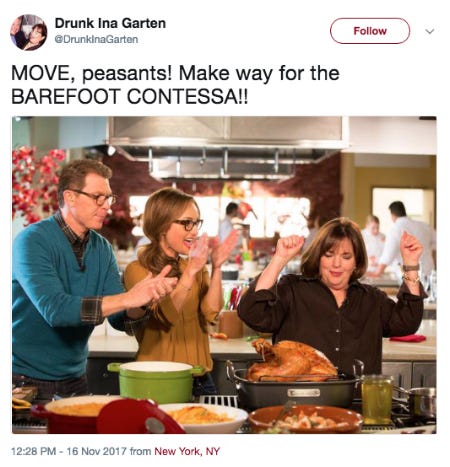 Charu Suri writes about South Indian food in Food & Wine. Still relatively rare in America, it's growing in major cities. The first wave of Indian immigrants largely came from the northern parts of the country, so "Indian Food" has mostly been associated with those traditions.

A definitive ranking of guys from liquor commercials you'd want to actually get a drink with.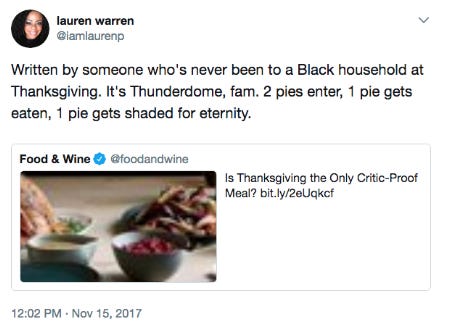 Cookbook
I've partnered with a bunch of other publications to bring you a free digital cookbook. The TASTE Sweater Weather Cookbook has ten recipes that will be perfect for when your leftovers run out.

Here's a good one: Vinegar-braised Chicken with Farro and Watercress, by Alison Roman. This is pretty much a one-pot meal that's super easy. You could probably make it with what you have in your pantry right now. The only difficulty is the time it takes to braise the chicken, but you can do that up to a few days before you want to finish the rest of the dish.
New York City
Oy.

Good story from Crain's on the rise of fast food in New York. In a city where chains stayed away for decades, there's a massive wave of them opening up. The profit numbers are stunning. Plus Crain's digs into associated industries that are growing as a result.

The Continental is closing. RIP "5 shots for $10" and my early 20s.

An interesting confluence of events around this week's Pete Wells review. A reader sent in a link to a podcast: Not a Foodie. It's co-hosted by a the chef of Sen Sakana, a midtown Nikkei restaurant. During the taping of episode 3, the chef starts getting texts from his team that Wells has walked in for the first time. It continues from there.
During Episode 3, while they are drinking Amaro, he gets a text that Pete Wells is in.

During Episode 4, they talk about one of Pete's subsequent visits.

During Episode 5, they discuss the review after it was published.
Interesting insight on reviews from the perspective we don't usually hear. You can subscribe to the podcast and download previous episodes here. As for the review itself, Wells was split, giving it just one star but a mostly positive review.

The Times has a really good Thanksgiving package this year. They collected essays from nine prominent writers about their Thanksgiving traditions. It includes your dream boyfriend Wesley Morris.

They didn't ignore cooking entirely. They've got a really nice feature about how to make Thanksgiving dinner in 8 hours. It's basically a real fancy slideshow with nicely integrated videos (even dishwashing looks good). It's also a dead-simple practical guide. Plus they get Chinese food for lunch!

Ligaya Mishan is at AbuQir. She finds Egyptian seaside cooking in Queens and we get to read some of the best descriptions of seafood I've ever read: "Shrimp may appear steamed, head-on and feelers outstretched, in a half-soup, half-sauce of collapsed tomatoes, bell peppers and onions."

Ryan Sutton at Eater says the fake fried chicken sandwich at Superiority burger isn't just great, it might be the best fried chicken sandwich in the city.
Chicago
Local chef and TV personality Alia Dalal has a great newsletter. It tends to focus on healthy recipes and living, and this week's issue has lots of Thanksgiving tips. Mostly including it for the  where one could pick up a last-minute hostess gift.

Now THAT'S how you do a pop up bar. Head to Berwyn next month to visit a recreation of Nick's from It's a Wonderful Life.

Phil Vettel drops a trio review of three new steakhouses. Each one is a new outpost of a chain (both national and local). I'm torn here. The democratic part of me wants to say, "sure, they are worthy of consideration." But does the Michael Jordan steakhouse need the time and attention that a review in the major city media outlet brings it?

Eric Phillips, Press Secretary for New York Mayor Bill De Blasio, visited Pequod's this week. Nothing wrong with that per se, but he tweeted a picture of a pie calling it the best in America. New York media, never missing a chance to freak out about De Blasio, freaked out.

Mike Sula visited The Delta. I've been really interested in this place, which highlights the connections between Chicago and Mississippi. It's a wonder of America that the dish uniting the two places is a tamale. Delta also features versions of Chicago specialities that tend to not make out of black neighborhoods. Go here.

Jeff Ruby does something really interesting for Chicago Magazine. Proxia is a brand new restaurant from chef Andrew Zimmerman. It's around the corner from his old place, Sepia. Ruby chooses to go to each one on back-to-back nights. He can check out the new place and see how the old standby is doing. Sepia has been around for ten years, and Ruby notes that everyone says it's great but no one's been there in ages. He says the food is as good as ever, and it really sounds like one of the more underrated places in Chicago. Proxi seems like it was created via modern restaurant Mad Libs. Still, Ruby says the food is so good that it manages to overcome its other faults.
Boston
A really solid expose by a team of Globe writers uncovers the inequity of the liquor licensing system in Cambridge. Because there seems to be no clear policy, some restaurants get their licenses free while others buy theirs on the gray market for up to $400,000. This is a real problem, but I'm having trouble completely swallowing the quotes from some of the restaurateurs. Ken Oringer isn't some mom and pop newcomer who got scammed; he knew what he was doing when he opted to pay. That being said, this is an area where I am pretty heartless. Licenses should be free, and sucks for you if you expected to resell yours for $300,000.

Devra First visits Chick-fil-A. She writes about the difficulties of eating at a place that has good food but bad politics (Chick-fil-A is famously against gay marriage). I'm really glad the Globe food section is getting more creative and ambitious, but I'm not sure about this series. It's mostly been random essays about single visits to places.

Nestor Ramos recreates President Trump's McDonald's order. Fun, but like the Devra First piece: what am I reading here, and why?

MC Slim JB really likes Field & Vine, a new Union Square place from a couple of first-time restaurateurs. This has a really good lede which includes the phrase, "They did a Kickstarter? Hoo-boy." It's farm-to-table, which Slim admits is a cliched concept, but it's executed so well that he declares it worth a trip. He calls out the vegetarian dishes in particular.
Washington D.C.
Axe throwing at a bar seems metal as hell. Make sure to go here before the inevitable horrific accident closes it down.



Laura Hayes reviews Sushi Hachi, a modern Japanese spot in Barracks Row. Fish is flown in every morning from all over the world and served until it's gone. I'm skeptical of how exactly the fish is flown in or what that's a feature at all, but sushi restaurants operating like Texas brisket places is TOTALLY going to become a thing.

Another deep drive, this one by the Washington Post, about how horrible conditions are for women in the restaurant industry. Like the rest of the Post these days, it's broader in scope. This story is a national look at the issue, not just D.C. The story traces the problem from suburban chains to the highest temples of gastronomy. This story also talks a bit more about how the fact that women in restaurants are often immigrants or poorer, meaning they have fewer methods of recourse. Some of the stories are just shattering.

Tom Sietsema visits Bistro Aracosia in the Palisades. He finds a phenomenal Afghani restaurant and I find a bunch of dishes that I had to Google.
Los Angeles
I'm sorry did you say Tecate-brined turkey?

With the attention Vespertine has received in the past month, it's kind of bananas that the second-most ambitious restaurant in Los Angeles also just opened. Dave Beran, an alumni of Alinea, opened Dialogue in a tiny space in Santa Monica. Like Verspertine, he's serving a creative and expensive tasting menu. Unlike Verspertine, it's a bit more approachable and trying to be good. Plus, you're probably sitting at the bar, where the chefs make small talk as they cook. Karen Palmer goes and loves it, giving it four stars. Reading her review, I wouldn't be surprised if this place ends up outlasting Vespertine and becoming Los Angeles' true high-end tasting menu destination. It just seems more… LA.

LA Weekly also has a review by Javier Cabral (Eater LA notes why it's interesting he gets a review). Cabral visits Black Rabbit Rose in Thai town. He gives it two stars, but after reading: "Where else in the world would someone dip in for a plate of sweet nam tok 'waterfall beef' bao bursting with fish sauce, enjoy a burlesque magic cabaret show, sip on the booziest possible rendition of a Thai iced tea, and get a tarot card reading while waiting for the restroom?" I take back what I wrote in the previous paragraph. THIS is going to be the place that puts Los Angeles ultra-fine dining on the map.

Really interesting story about new hyper-specific varieties of Italian street food available a few different places downtown.

The Roberta's pop-up is coming back! But it's in Culver City so you won't go.

J. Gold is at Tacos & Mezcal, a new spot from Mexican food legend Rocio Camacho. Gold spends the top of the review talking about how Camacho is famous for her mole (He even quotes one of his own best lines. He once called it, "so dark that it seems to suck the light out of the airspace around it, spicy as a novela and bitter as tears."). But her new place doesn't have any mole at all. It's a take on a Oaxacan taqueria. You're here to eat tacos and drink a few shots of tequila along the way. Sounds heavenly.
Out of context J. Gold quote of the week
Can the bartender rustle up a dessert mezcal to go with it? You bet!