Discover more from Snack Cart
A weekly summery of the best food and restaurant writing from around the country, plus local news from your favorite cities.
Over 6,000 subscribers
The origin of mayonnaise is more complicated than I thought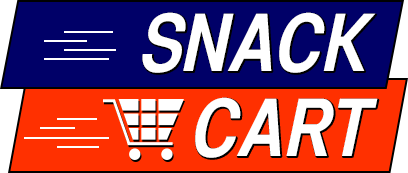 I'm a huge fan of Tedium. It's a weekly-ish newsletter that dives deep into a particular topic. Last week, author Ernie Smith looked at condiments. A lot of great stuff here, including the more-complicated-than-I-thought history of mayonnaise, the guy who invented A1, and that Australia doesn't really have ketchup.

Adrian Miller writes about the challenges of being a food writer of color. I think some of this is changing, but his points about well-intentioned major editors and gatekeepers thinking their audiences won't be interested in these kinds of stories is dead on. I'd extend that to advertisers.

If you read one thing this week, it should probably be this essay from Korsha Wilson in Munchies. It tackles a lot of the same questions Adrian Miller does, but addresses the challenges of being a woman of color. She points out that 2017 exposed a lot of hidden power structures in the food world and their attendant bad behavior. It's incumbent on all of us to have answers to the question asked of Mark Bittman in the article's lead.

The OTHER must-read this week is this essay in the New Yorker by Tasneem Raja. Unlike the above it will make you laugh a lot.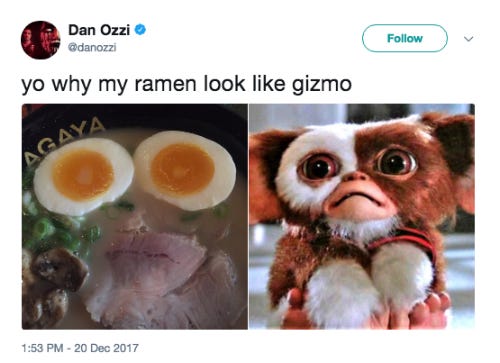 Kate Krader, Bloomberg's food editor, lists her 16 best dishes of the year. It's a rundown that shows 1. A good mix of the year's trends (hot chicken, doughnuts, fancy Japanese, Mexican) and 2. MUST BE NICE being Bloomberg's food editor.

Grubstreet collects a few stories about restaurant patrons leaving extravagant tips for the holidays. I guess it's supposed to be heartwarming, but it comes off as kinda creepy. Some guy said, "he came to play Santa" -- yeesh. Maybe we should just pay servers a living wage.

One of my 2018 goals is to throw a dumpling party. Bon Appetit tells me how.

Since the 1700s, wine glasses in England have gotten seven times bigger. They've almost doubled since 1980. This is a fun story from Atlas Obscura. The growth is due to a combined decrease in the cost of glass and an increase in wine consumption. My sister and her French friends all drink wine out of tiny glasses (About 3 oz) and it's GREAT. You should try it.

Interesting essay from Jeffrey Barker in the Takeout. He urges parents and chefs to do better by children and abolish the kids menu. I really expected to roll my eyes when I clicked on this, but it never quite happened. He has some funny stories about his own daughter and some compelling-ish points. I would have liked him to mention the challenge of balancing worrying about your kid eating vs. enjoying the meal yourself.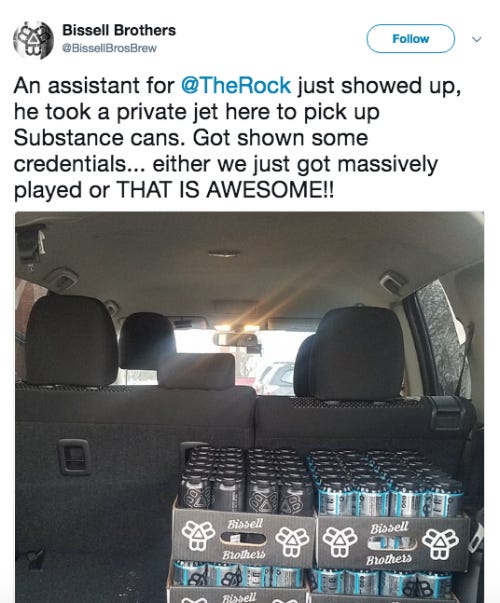 I am very, very here for the veganism and vegetarianism trend sweeping the NBA.

Visiting New Orleans this spring? Then you can be one of the lucky people to watch a revival of an Opera dedicated to Tabasco. The original production, which was fan-created but endorsed by the hot sauce company, first graced stages in 1894. It toured the country and then disappeared. The original score was uncovered a few years back by a researcher, and it's coming back. Definitely read this for the bananas plot summary.

Matt Yglesias, in his daily newsletter, linked to an interesting study on food access. I've been very skeptical of the food desert thesis -- it seemed overly simplistic. But this paper finds that up to 20 percent of the nutrition gap between socioeconomic groups is attributable to supply-size issues, i.e., not having access to fresh foods.

Is there a cure for the curating craze? *looks up from curating his food newsletter, looks around, tugs collar, starts sweating*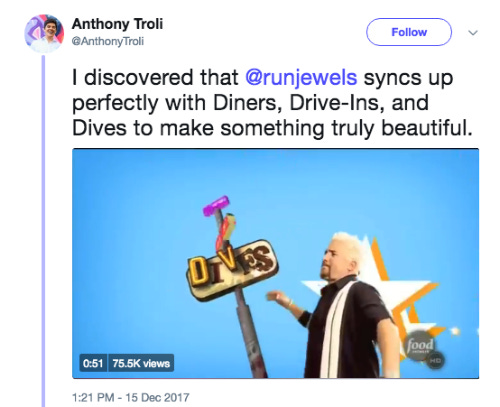 Martha Stewart does NOT mess around. The week before Christmas she makes 1000 cookies for her grandkids' class, she plows her own 4-mile driveway, and had a party with FOUR KINDS OF HAM.

Food, at its core, is a commodity. All the trends we see in fancy magazines and restaurants start with the basic question, "What was cheap and looked good at the store." The WSJ writes about how prices are going up again after a few years of glut. Beef and dairy, in particular, seem like they might become rarer on menus.  

Critical holiday content: How to spike Martinelli's Sparkling Cider.

Nina Li Coomes writes about one of my favorite holiday traditions: Japan's obsession with KFC for Christmas dinner. No one can quite agree how this trend started, but it's a BIG ad-driven thing each year. Coomes writes about one Christmas where it didn't live up to the marketing hype, but it delivered something she wasn't expecting.
New York
It will be interesting if, as rents keep getting higher and higher, we see more tiny Tokyo-style bars.

Pete Wells visits Wallse, a standby Austrian restaurant in the West Village. The place was last reviewed in 2004, when it was given two stars by a previous critic. Wells knocks off a star, saying that in a few important ways it's not quite as good as it was. Still, he makes the case that it is adult in ways that's hard to find in newer, hipper places. That, plus goulash and a Linzer torte are the ultimate cold-weather meal.

Besha Rodell is in Tasmania at the Agrarian Kitchen Eatery & Store. Her review talks about how the lovely food at this farm-to-table restaurant is somewhat incongruous with the modern reality of the economically depressed province. This is a good read to learn about Tasmania if you, like me, learned everything you know about it from Looney Toons.

A funny story from Robert Sietsema about trying, and failing, to get a burger at the Bob's Burger popup in town.

Eater's Ryan Sutton reviews some of the best dishes of 2017. If he wasn't nuts about the restaurant scene, he finds a lot to enthuse about here.

Lindy's, another midtown institution-turned-tourist-trap is closing in February. Sad to see these places go, but I can't pretend we are losing much.
Washington D.C.
Laura Hayes interviewed servers who have worked at their respective restaurants for over a decade. These are some of the most venerable staff at some of D.C.'s most venerable establishments. They talk about how the dining scene has changed over time, and what has kept them at their jobs.  

Maura Judkis, a new name to me, writes a first look at Rock Creek Kitchen in Wheaton. It kind of a meh review of a place that seems a little meh. Still, it is great to see new voices in the section.

The slow-motion train wreck that is the Sushi Nakazawa at the Trump hotel continues apace.

L'Academie de Cuisine, a high-profile Maryland culinary school, has closed abruptly. It's a bit unclear, but I've heard for years that culinary education is increasingly untenable. You take on a ton of debt to go into jobs that don't pay very well.

The photos from that Wawa are the stuff of nightmares. It's an hour+ wait for a sub (or "HOAGIE").

Food Trucks, once the hottest game in town, have faced declining revenues for the past few years. Laura Hayes, writing for the City Paper, looks into the reasons. Mostly, it seems like there are just a lot more of them, so there is more competition as the market has matured. Interesting read, and I bet this is happening nationwide.
Los Angeles
OC Weekly profiles Chefs Off the Boat, a collaborative of young Cambodian chefs. Seeing the rising profile of Filipino and Mexican chefs around the city, they are banding together to promote and elevate Khmer (Cambodian) cooking. Next year will see the world's first Cambodian Gastropub opening in Long Beach!

Great story in KQED about Ruiz Foods, the largest manufacturer of frozen Mexican food in the country. It's sold under a ton of different brands, and there is a good chance you've eaten it. It's a multi-million-dollar business started by a small Mexican immigrant family. Nice reminder that even things we think of as the most heartlessly corporate (frozen foods) have real people behind them.

Willa Young, writing for the Los Angeles Times, looks at the rise of Instagram. This is a decidedly optimistic take on it. While some chefs have banned it, Young interviews chefs in Los Angeles and Boston who are leaning in. These chefs credit the photo-sharing app with helping them grow their business and connect with new customers.

J. Gold writes up his ten best dishes of 2017. He points out that 2017 was a uniquely insane year in Los Angeles food. This list reflects that. It includes both one of the most abstract haute cuisine dishes ever conceived and mozzarella sticks.
Boston
Kara Baskin writes a devastatingly beautiful story about how, for older diners, restaurants can provide a lot more than food. For people who may not have a lot of family or friends, restaurants provide a community and even a support network. It's a bit dusty in here.  

Fun story from NBC Boston about a 23-year-old prep cook at a Watertown grocery story. Last weekend, the store was setting up for live music and he helped with the sound check. None of his coworkers knew that he is a trained singer. The resulting video of him blowing the doors of the place went viral and now he's a mini celebrity, with customers stopping him as he stocks shelves to make requests. This is the kind of stories local TV news KILLS at.

MC Slim JB is in Charlestown, where a long-time Moroccan restaurant is attempting to reinvent itself as a Spanish tavern. Madera 83 gets most of it right, and while it probably isn't worth traveling for, it's a great addition to the neighborhood. I loved, loved, loved the line, "this little neighborhood spot seems guaranteed to launch a few thousand successful first dates".

Sunset Grill & Tap, one of Boston's first-ever beer bars and an Allston institution, has closed. It's been around 30 years, and spent a lot of that time getting students (including myself) absolutely wasted.

Katie Johnson has the story of a Burger King franchisee who has agreed to pay $250,000 to settle 843 child labor violations at Burger King restaurants across Massachusetts. One location kept a 16-year-old until 5 am on a school night!

Sheryl Julian writes about Il Capriccio, a classic Italian place in Waltham. It's know for it's Bolognese sauce, and Julian uses this as an opportunity to write about the history of the dish in America.
Chicago
Bon Appetit giveth, Bon Appetit taketh away. They have named the Dirty Burg at The Loyalist one of the three best burgers in America. This knocks off Au Cheval, which has had long lines for their burgers since the magazine named theirs the best in America back in 2014.  

I really like this feature from Chicago Reader. Instead of a best of, they have the worst things about Chicago in 2017. The main food-related one is "The Chicago Authenticity Police". Including this line, "The ultimate Chicago Authenticity Police torment: the no-ketchup-on-a-hot-dog nonsense, which has been periodically pronounced dead over the years only to rise from the grave like a zombie Mike Royko shambling down Milwaukee Avenue in the sizzling light of a Vienna Beef neon sign."

Still, because it's mandated by some divine law, Mike Sula at the Reader publishes his "best new restaurants" list. If most of the Reader staff was down on Chicago, he's up on the restaurant scene. A lot of no-brainers on this list (Kitsune, Mi Tocaya Antojeríja, Elske), and one or two surprises.  
Out of context J. Gold quote of the week
the grandest dish of French cuisine lovingly reproduced on the second level of a sticky mall food court. Magnificent.