Discover more from Snack Cart
A weekly summery of the best food and restaurant writing from around the country, plus local news from your favorite cities.
Over 6,000 subscribers
2017 comes to a problematic close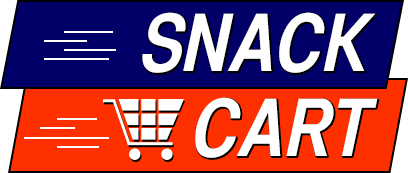 Your must-read this week is probably Gustavo Arellano in The New Yorker, talking about tamales. For Mexican-Americans across the country, tamales are a symbol of the Christmas season. This year, with racism ascendant in the White House and rising rents pushing people out of their neighborhoods, bringing the family together to make tamales has taken on added poignancy.

Grubstreet profiles J. Kenji Lopez-Alt, Serious Eats columnist and the king of scientific cooking, right before he opens his first restaurant. The profile, by Jonah Weiner, is quite good. Weiner touches on the restaurant, but mostly focuses on how Kenji's work has resonated with certain factions of the Internet: the uglier Gamergate-y/ Reddit-y ones. Kenji himself is quick to distance himself from this section of his fans. This conversation took off amid segments of food twitter. This thread is the best comment on this story. The author highlights how the type of cooking Kenji does "repeats a longstanding pattern where things women have been doing for years only acquires cultural value when men start doing them 'better.'"

Eater pulls together a looooooong year in review article. First, Restaurant Editor Hillary Dixler Canavan writes up what has been going on nationally, then all 22 local editors give snapshots of their cities. This is a good reminder of Eater's staggering scale. Definitely read through for a quick look at "where we are now". The larger cities (including all of the ones this newsletter covers) did their own year end recaps of interviews with local food writers, which you can find linked from this.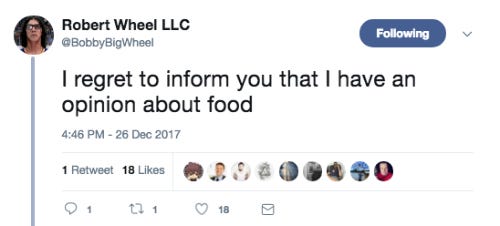 Really nice essay by Joey Skladany at Chowhound. He writes (with somewhat graphic detail) about what it's like to be a food editor with chronic stomach issues. As someone with at-times crippling acid reflux, I really enjoyed his honestly about the challenges and extra effort he has to put forth to enjoy food.

Military installations around the world are turning to oyster reefs to mitigate the effects of climate change. Oysters grow into huge reefs over time. Those reefs naturally clean water and mitigate the effects of climate change. This is a subject near and dear to my heart, as I sit on the board of an environmental nonprofit dedicated to growing wild oysters.

Speaking of oysters, I didn't expect a lovely Garden & Gun story about an oyster plate collection to make me cry, but here we are.
I was also not expecting to enjoy this essay in Eater by Leigh Kunkel about the significance of Stolichnaya vodka in Stranger Things Season 2. That entire scene was a *bit* ham-handed and how much could there really be to it? But Kunkel dives into the history of the brand, as well as it's links between totalitarianism, resistance, and Pepsi. This is a great read.

What is The Awl for if not for odes to Kraft Cheese Singles. Anyone who hates on cheese singles has lost the thread of this whole "food" thing.

My real-time sentence-by-sentence reaction to reading this story: Oh sure, I've heard of Tales of the Cocktail. I didn't know it was in trouble. Probably grew too fast and needed additional fundin-- WAIT, WHAT? BLACKFACE!! Oh HELLLLLL no!!!

Your twitter crush Caity Weaver said that reading Lauren Graham's Grubstreet diet is one of her Christmas traditions. Can't say that I blame her! It's wonderful.

Not going to say I'm on this guy's side, but I might be on this guy's side.

KQED looks at spices. America is the number one spice importer in the world, so why aren't we growing more of them? The answer seems to be: because it's hard.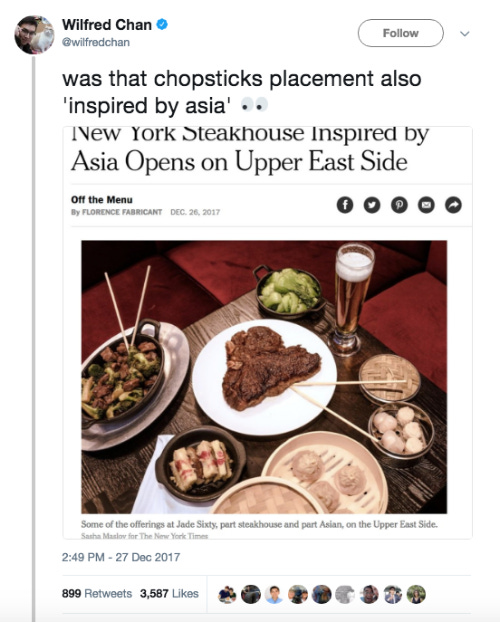 KCET asks, why does In-N-Out pay so well? The burger chain's starting salary of $10.50 an hour is the highest in the industry by a large margin. Managers can earn up to $120,000/year. They also offer medical and dental benefits to all full and part time workers. The reporter interviews an executive and misses the most important thing he says: They are a private company. Unlike publicly traded companies that are squeezed by shareholders to cut pay to workers as low as possible, a privately traded company has the space to be decent human beings. This article misses an opportunity to look at the pressures of corporate food in favor of… Yahoo Answers?

Tara Duggan at The San Francisco Chronicle brings to light the horrible behavior of another famous chef. Charlie Hallowell, a Chez Panisse alum and star of the San Francisco food scene, has spent years harassing his female employees. This story well captures how hopeless it can feel to be miserable and harassed while working at one of the best places in town.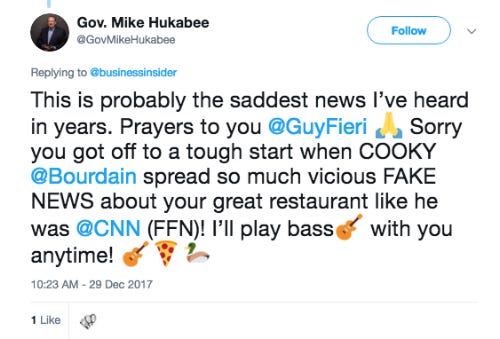 Dos Toros is the latest chain to go cashless. I get the arguments for convenience, security, and speed, but this slide is definitely something to be watched purposefully. We can get into situations where where significant chunks of the population can't access food.
Chicago
I think I mentioned Grace last week. To recap: The Chicago food world was somewhat stunned when, earlier this month, the star chef and GM from one of the City's only three Michelin star restaurants left. The Sun Times digs into the legal documents to find more than a year of conflicts, claims, and counter-claims between the two and the restaurant's owner. While there have been issues, it certainly jumps out at me that they were both fired a month before they were to start profit-sharing. Also, that non-compete clause at the end means neither can work in Chicago for 18 months. Non-compete clauses are evil.

Amazing story in the Chicago Tribune about Laine's bakery. Laine's, based on the far South Side, is a local business that predominantly employs people with criminal records or the formerly homeless. It's grown like crazy, and is supplying baked goods to hundreds of Whole Foods and dozens of Starbucks across Chicago. Founders Rachel and Jaryd Bernier-Green have been on a path of breakneck growth, but are struggling to get the capital to keep up. The article doesn't say it, but that's pretty common for black-owned businesses and a major roadblock to success. I'll be on the lookout for their crowdfunding campaign.

Glazed and Infused, the addicting gourmet doughnut chain, has suddenly and mysteriously closed all five locations. There has got to be more to this story.

Julia Thiel, writing for Chicago Reader, highlights some new food guides written by Chicagoans and for Chicagoans. There are two new ones for beer and two new ones for food.

Sotol is coming!
New York City
Eater New York dropped another bomb. Following up on their comprehensive breakdown of years of sexual harassment and abuse by Mario Batali, they are back with a larger look at the B&B Hospitality Group (B&B owns most of Batali's restaurants around the US). Dozens of former employees describe a boys club culture fostered by Batali and his partner Joe Bastianich. This included rampant sexual harassment and a place where complaints were dismissed, if not mocked. Worth pointing out how well Eater NY is running this story. They dropped Batali two weeks ago, giving his partner time to release statements distancing himself and say it wasn't him (aka, giving him plenty of rope). Then, *bam*, they report out how he was involved all along.

Guy's American Bar and Grill announced it will be closing December 31. The Times Square citadel has had a turbulent life. I always felt Pete Wells's legendary 0-star review was fair, even if we have all agreed that Guy Fieri is actually a great guy. If you open a restaurant New York, you might be reviewed by the NYT food critic. Also, Wells clearly argues that he's not expecting it to be fine dining, but it's not even very good Times Square chain food. It did give us this amazing SNL sketch (I love Bobby Moynihan so much)

Steve Cuozzo at the Post writes about restaurant reservation startup Tock, and the increasing number of restaurants requiring you to prepay or buy tickets. He doesn't like it, arguing that this is punishing all diners for the actions of a few no-shows. His *brief* point about an interest-free loan is interesting, but mostly this is worth a read for how Tock is hoping to use New Years Eve as a way to get restaurants who might be skeptical to use the platform.

I could not love this story from the Times about McAnn's, a divey Irish bar on the second floor of the Port Authority Bus Terminal, more. Read it if you love bars, people, or New York.

Pete Wells is still in Greenwich Village, this time at The Loyal. He finds chef John Fraser, whose other restaurants both have Michelin stars, diving into populist flair. It sounds like an extremely glorified (but good!) pan-American chain restaurant. This review has one of my favorite lines of the year. While describing one of the burger toppings, Wells writes: "Mr. Fraser calls it a '22-step tomato.' And thereby hangs a tale, no doubt, but in the interest of time let's skip to the finished product…" Boy, that's good.

NYT reports from Montceau-les-Mines on a chef giving back his Michelin star. Jérôme Brochot opened his restaurant years ago with big dreams, but the faded mining town where he's from couldn't support a one-star restaurant. Brochot is refocusing to serve his local customers. Outside of Paris (and a few other cities), France is hollowing out. Montceau-les-Mines, the town in this story, has a population of 18,000 and an unemployment rate of 21%.

The Cubert is such a good idea I want to throw things. This startup will offer a rentable (or buyable) food preparation space. Basically, it's a food truck that is dropped off and picked up by another self-contained company. A chef can pay a modest rent and open a business without without any of the overhead of owning and managing the space. A friend raised good questions about the mechanics of the pricing, but the idea is still solid.
Washington D.C.
Laura Hayes has the full story of Sneaker-Gate in the Washington City Paper. Last week, a group of friends were meeting up at El Centro, a Mexican restaurant that turns into a club at night. One of the friends, who was black, wasn't allowed in because of the restaurant's "no sneakers" policy. The friends could clearly see, and photographed, groups of white people inside the bar, all wearing sneakers. The Root wrote the whole thing up, collecting years of complaints on social media and Yelp about discrimination at both this location and others owned by Richard Sandoval Restaurants. Policies have been changed, the bouncer was fired, and trainings are happening, but most people think that's window dressing. Good reminder of the often intended discriminatory effect of dress codes.

Domenica Marchetti, Italian cookbook author, writes an ode to lasagna. She says that making it can be difficult, but cooking difficult things can be fun sometimes! Even her Italian grandmother would only make it for special occasions. She also writes a meta-recipe, briefly describing various kinds of lasagna before outlining, in broad strokes, how you make one. I love that.

Tim Carmon is launching a new restaurant mailbag feature for The Post. This could be great! The first letter asks, is it OK to visit a restaurant and order 15 minutes before closing? The specific letter deals with a counter-service place (and a closing time of 9:00 pm), so I have zero sympathy for the restaurant in that situation. However, if you walk into a full service place twenty minutes before they close at 1:00 am and demand to order a full dinner, you are the asshole.

Maura Judkis, writing for the Post, calls 2017 the "Year of the Chicken Nugget". She makes a compelling case, but I could be convinced that any year is the year of the nugget. The #nuggsforcarter thing seems like a million years ago.

Speaking of a million years ago, can you believe Shaw Bijou was THIS YEAR? Washingtonian recaps that, along with the other top food stories of 2017.

Laura Hayes, for my money the best food writer in D.C., also recaps the year in food for the Washington City Paper. Come for the concise summaries of trends and restaurants, stay for the link to her trip to Medieval Times.

Tom Sietsema drops a review of Maydan. This new place off U Street NW from Rose Previte, creator of Compass Rose. While Maydan is still getting its sea legs and a few dishes wobble, (wtf with dropping a review of a place that's only been open a month?) Sietsema is clearly in love with the atmosphere. It seems like a wonderful place to gather with friends and learn about the food of the Arab and Persian worlds.
Boston
Globe beer writer Gary Dzen is in line at Treehouse. One of the highest-rated breweries in the world is in Charlton, MA. The usually sell out immediately so you have to get there hours in advance to wait on line (not to mention pay around $80 per case). According to Gary, it's worth it.

Devra First writes up her year-end restaurant awards. As someone who follows the industry, her takes all seem spot on. As a Boston diner, I'm sad at how few of these places I've had the chance to try.  

*Makes the longest and most uncomfortable YEEEEESSSSHHHH sound you've ever heard*

First also writes up The Winthrop Arms. This is part of the Globe's new, J. Gold-ier series, and this one is dynamite. It's a lovely story about a faded 1920's seaside resort hotel that now serves amazing mac & cheese and chicken pot pie to locals and out-of-towners who are smart enough to know about it. Who wants to go to Winthrop?

Vegetarian Craigie burger? *alternating thinking face and monocle emojis*
Los Angeles
Many people, myself included, were somewhat surprised when J. Gold didn't mention Dialogue in his 101 list. The new, hyper-ambitious tasting menu in Santa Monica is the counterpoint to Vespertine (the other new, hyper-ambitious tasting menu in Santa Monica). Gold mentioned it in his 10 best dishes of the year list last week, and now here we are a week later with his full review. He plagiarizes himself, so you *haven't* read this before even if the first paragraph sounds familiar. Dave Beran, the former executive chef of Chicago's Next, has spent a year getting to know Los Angeles. He's now running a very expensive prix fixe in the back of a food court. Gold clearly loves this modernist kaiseki-esque seasonal rotating menu. If Verspertine is a restaurant from the moon, then Dialogue, with a menu that somehow turns duck a la presse into Tacos al pastor, is a true high-end culinary experience planted firmly in the City of Angels. I can't wait to go.

I love love love deviled eggs. That's why this Los Angeles Times article on twelve ways to make them is right up my alley. I can't find the original tweet, but some of the art for the article featured 12 deviled eggs placed in a cardboard egg container and now I can't wait to serve eggs that way at my next party.

Edwin Goei, writing for OC Weekly, reviews Habana II. He says that the second iteration of the OC's most beloved Cuban restaurant is more of a Cuban theme park, and the photos back him up. It's breathtaking. I could see myself spending a few hours there sipping cocktails.

Absurd LA story from KCRW: does charcoal coffee have any health benefits? Prooobably not, but it does look pretty.
Out of context J. Gold quote of the week
...less inflected by booze and innards than the version you may have tasted at Tour d'Argent the first time you went to Paris with a credit card, but perfectly autumnal.