Martha Stewart says rosé season is already here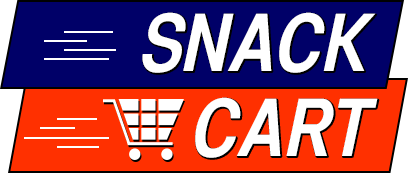 In 1977, a group of Chicago Sun-Times reporters were trying to uncover the rampant corruption they knew was infesting Chicago's restaurant industry. The problem was, no one would talk with them. So they banded together and bought a bar, in the process uncovering enough material for what would end up being a 25-part series on corruption that brought the FBI to town and cost dozens of inspectors their careers. This is amazing story with a weird heel turn by Washington Post editor Ben Bradlee near the end.

Really interesting piecein the New York Times about the interplay between tipping and sexual harassment. It's gutting to hear these stories from waitresses and waiters across the country. It drives home just how common this is. It also drives home what a trap tipping is, with many servers forced to play along with aggressive customers because it means more money. In essence, servers are forced to price out what each offense is worth to them. Man, tipping is just the damn worst.

According to Martha Stewart, rosé season is already here. I am not one to question Martha. However, heed the cautionary tale of Jeremy Glass at Extra Crispy. He finds out just how difficult it is to "Rosé Literally All Day." This starts as insufferable but is ultimately funnier than I expected.

If you are interested in a $35,000 jeweled bottle of ranch dressing to commemorate the royal wedding, it certainly exists!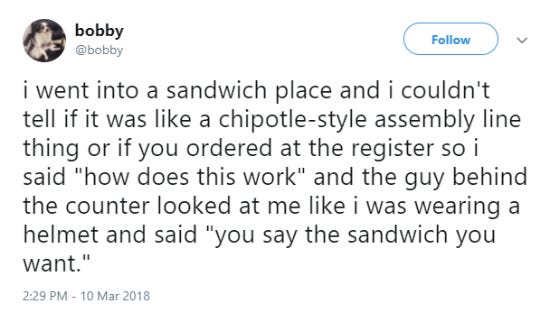 Troy Patterson, TV and culture writer for The New Yorker, looks at the final season of Portlandia. He muses on how the show has, since the first episode, used food for most of its most powerful statements. I wonder how much that relates to how much food has taken over most of pop culture.

Tired: Oysters
Wired: Pea crabs, tiny crustaceans that live inside oysters farmed south of Long Island Sound.

About four years ago, I learned during bar trivia that China produces more wine than Chile or South Africa. Ever since then, I've been sorta obsessed with the Chinese wine industry. That's why I loved this feature, also in The New Yorker, about the growing wine industry in the Ningxia region. Staff writer Jiayang Fan captures the weirdness of the countryside and the characters  that inhabit it as the country tries to create the Bordeaux of the East. I really want to go.

Delightful story from Atlas Obscura. They asked readers to send in stories of secret family recipes that turned out to be very much not that. My favorite is a small town newspaper that ran a cookie contest. They received over a hundred recipes, but when they published the winners they realized the winner was the Toll House recipe and runner up was the Toll House recipe doubled.

I'm beginning to realize that I'm reaching a point in my adult life that I should learn how to make Cacio e Pepe. However, a sure-fire way to get me to roll my eyes at a restaurant is to have a menu item where an item is described as "Cacio e Pepe XXX." That's not a thing. That's trying to sound extra proud of yourself for using parmesan and black pepper.

Brett Martin, GQ's food critic, spends some time in one of my favorite food cities. You probably read my sister Hope's essay about Lyon and Paul Bocuse. Martin's essay goes more into why Lyon is the best food city in the best food country in the world. He dines at Paul Bocuse's flagship restaurant, as well as Maison Troisgros, a less well known but arguably more influential restaurant north of the City. Hope interned there!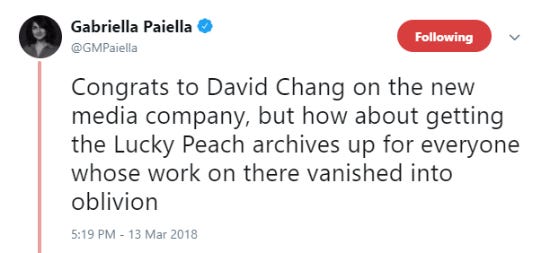 I wasn't expecting to be completely floored by this series of portraits of chickens but here we are. A pair of Italian photographers photographed over 200 breeds and are Kickstartering a photo book. The birds look beautiful, striking, and iconic.

Very much relate to this gentleman.

A short but neat ode to the power of the coffee shop. Based on your perspective, they are either a treasured local establishment or the first step in gentrification. This story looks at why they are often leading-edge businesses, and it could be improved by some stats.

More harassment allegations, these ones against Oakland Chef Charlie Howell. These stories feel hard to read, but it's important to read all of them to recognize the shades of abuse. Howell clearly had a pattern of behavior going back decades that he was formally and informally confronted with. He didn't change his behavior, nor suffer any consequences.

Great story from Edith Zimmerman at TASTE about the growing feud between the rice industry and the makers of cauliflower rice. Come for the pun headline and stay for the extremely buried lede that Harrison Ford's son invented cauliflower rice.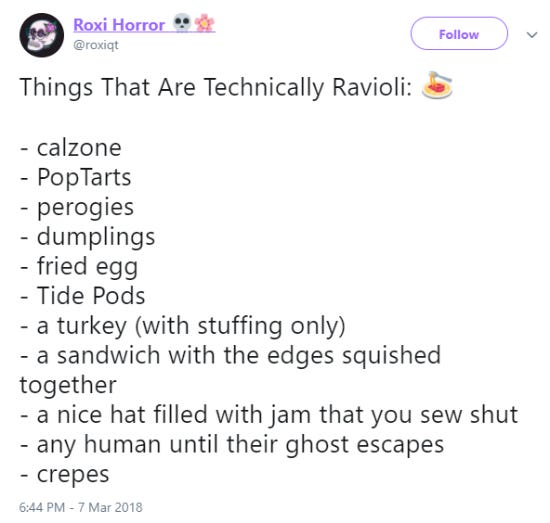 Boston
This review by Devra First is not just her best in a while, it's one of the best reviews by anyone this year. She reviews Lola 42 and Mastro's Ocean Club (One star and two stars, respectively). But really, she reviews the Seaport, a neighborhood that sprung up so fast it only seems natural it's already falling into the sea. She describes its sense of no-place beautifully, "Perhaps it is precisely that feeling of being anywhere and nowhere, an anonymous moment in a small city where who you know and where you come from eternally define you."

Kudos to reporter Mark Sullivan to get his boss to approve a "What if I go to a local dive bar during the blizzard and write about it" story.

Interesting obit of Charles F. Sarkis, who ran a massive restaurant empire over his 50 year career. It included high-end steakhouse Abe & Louie's as well as chains like Papa Razzi. He also had a major hand in a number of gambling ventures.

Fairsted Kitchen, a restaurant that was pretty good but always the second option you listed off when deciding where to get dinner, is no more. MC Slim JB highlights how owner Steve Bowman pulled off the rare feat of transitioning to a completely new format with Nonna, an elevated red sauce Italian spot.

I am so, so here for this review of Eventide Fenway by Boston Magazine's Jolyon Helterman. He completely nailed the reason I feel weird there, calling it the movie version of a beloved book. I also feel freed that there is someone else who doesn't think the lobster roll there is that good.

Keith Pandolfi at the Boston Globe looks into the story behind Near East rice pilaf mixes. About halfway through, as he was describing the mix, I realize that my parents made this all the time. I can taste it as I sit here writing. Anyway, wonderful story of an Armenian family who lived the American dream.

Neat review from Kara Baskin of Trattoria Nina in Arlington. She highlights it as the perfect kind of neighborhood place: good food, unpretentious, and a bit chaotic.
New York
Coyote Ugly, the Lower East Side dive bar that's just had it's 25th anniversary. It's famous for the 2000 film, and for the theatrics of the all-female bartending staff. More than a few nights in my early 20s ended here, but I am not sure how to feel about this place in this day and age.

Ryan Sutton drops a full review of L'Atelier, and he pretty much savages it. While some dishes are among the city's best, the overall sense of disposable wealth makes it hard to handle. "The fact that humans flock to this duty-free lounge in Chelsea" is just such a savage burn. Worth a read since Sutton makes some good points about the state of Manhattan.

Begun, the salad wars have.

Ligaya Mishan visits Queens and eats at Cienega Las Tlayudas de Oaxaca, where she finds a former bodega that has started serving home-cooked Mexican dishes. She recommends the dishes of Oaxaca, including the namesake tlayuda. It's kinda like a Mexican pizza, and 100% the best bet to become a big food trend in the next few years.

Boat noodles in a Melbourne parking lot is EXTREMELY my shit.

Pete Wells is in Seattle. He visits JuneBaby, the new restaurant from chef Edouardo Jordan. This was Eater's best new restaurant of the year, and Wells loves it, giving it three stars. This is a surprisingly woke version of Pete Wells. He doesn't say it, but Southern food has spread around the country largely on the backs of white hipster bros (I'll confess, we are legion). Jordan brings the cuisine back to its African-American roots. Wells calls out the restaurant's masterful use of offal, in ways that Williamsburg chefs with pig tattoos could only dream of. He also calls out how Jordan's classical training is put to use in elevating these dishes in ways that bring out the essence of the food rather than mask it.

A list of the top 85 places to get a slice of pizza. Mind mind warps.
Chicago
I'm trying to avoid lists unless they really jump out at me, and this, on how to celebrate a queer St. Patrick's Day, did. Great story that serves a group not always treated kindly on this holiday.

Phil Vettel visits Sushi-San, the newest outpost from the Lettuce Entertain You group. He points out that chef Kaze Chan is behind the sushi bar, so they've recruited one of the most venerable sushi chefs in town. There is loud hip hop, modernist touches, and a late night karaage fried chicken dinner option. Vettel calls it a two-star restaurant, but adds an extra one for the razor-sharp omakase menu from chef Chan.

Weird weird weird review by Mike Sula at the Chicago Reader. He visits Fort Willow in the still-pretty-industrial River West, and loves it. The food is eclectic, but held together by a commitment to spice and going great with drinks. The review doesn't have any photos because someone at the DMK Restaurant group didn't like a previous Reader review. Sula uses this as an excuse to trot out every bad thing he's ever said about every DNK property. It's brutal. Thank god he really likes this place.

The only brewpub in America with a Michelin star is Band of Bohemia in Lincoln Square. Michael Gerbert of Fooditor went early in their tenure but didn't love it. He goes back to give them another chance and to interview the team.
Washington D.C.
The Washington Post has launched a new video series, "Food Ambassadors". They interview diplomats from various embassies on the food traditions of their countries. The first, How to Drink Coffee Like an Italian, is a damn delight.

The staff at the Trump International hotel feels they aren't being treated fairly by the food press. Tim Carmen at the Post digs into these claims, and despite numerous statements by editors that there is no official blacklist, they certainly aren't mentioned much. That being said, they are just kinda OK hotel restaurants. Also, I have zero sympathy for this statement from the head of marketing, "I think they are determined to attach us to the White House, even though we have nothing to do with it." That is a bit of bullshit. I'm sure all those foreign embassies are having their events there because of the dessert buffet.

Tom Sietsema visits Little Pearl, where chef Aaron Silverman is doing a slightly more casual but just as serious take on his inventive cuisine. Since Silverman currently runs two of the best restaurants in the District (Pineapples and Pearls and Rose's Luxury) this is a fantastic deal. Sietsema gives it three stars. It clearly has as much heft as its bigger brothers.

I feel like Sietsema already wrote about Chicken + Whiskey, but it might have been just a short blurb. This is a full article, and he loves it even if it isn't a full review (I'll confess the Post's standards for what is a review vs. first look vs. article baffle me). This isn't fried chicken, as I assumed, but Peruvian rotisseries chicken, long brined and well-spiced. The chicken sounds great, as does the whiskey. The rule that you can't bring food into the back bar is idiotic and I'm confident it won't last.

Laura Hayes previews Players Club, a 70s-themed bar in Logan Circle. It's an ode to another era. With games and shag carpet, it seems like a 6500 square foot basement rec room. But this one has a claw machine that lets you win sex toys and you can order from the upstairs Shake Shack at the coat check.
Los Angeles
Neat interview with Los Angeles' most popular food Instagrammer. I should take a food photography class.

The New York Times, in their continued efforts to dunk on Los Angeles, wrote a long feature on how Angelenos have discovered bread (I'm not linking to it because it's dumb). Gustavo Arellano, Los Angeles Times columnist and SoCal defender, posted a curse-filled and brutal takedown of the article. Not only is the "hurr hurr they hate gluten now they have bread" premise dumb, it completely ignores the hundreds of varieties of bread cooked by Mexican and Asian bakers throughout the city's history. Increasingly, The Los Angeles and New York relationship is beginning to look a lot like this.

It's often overlooked that Orange County was one of the centers of the craft beer renaissance. This list of the best places to drink in the OC is a good reminder of the movements origins.
Surprisingly Poignant Devra First of the Week
The Seaport we have is the Seaport we deserve, for better and worse.