Discover more from Snack Cart
A weekly summery of the best food and restaurant writing from around the country, plus local news from your favorite cities.
Over 6,000 subscribers
Jeff Goldblum making dinner with Jonathan Gold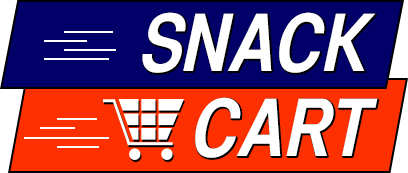 I had originally started collecting the articles that proliferated in the wake of Helen Rosner's tweet about using her hair dryer to help prepare a chicken. But as the number of articles expanded, it was too much. 90% of the stories erroneously implied she was cooking the chicken with the hairdryer. Many of the articles framed the tweet, coming from the New Yorker's food writer, former Eater editor, and cookbook editor, as "oh, look at this silly lady." On Twitter, people flooded her mentions calling her an idiot. She even felt the need to respond in a story that explains the theory and history behind using blow dryers to prepare chickens. Lizzie Plaugic at the Verge wrote the main thing worth reading on this whole thing. She pulls apart the various strains of class, gender, and content incentives that merged to create a perfect Internet content bubble. I think we can't hit that sexism bit enough. Because it was a woman, there's an assumption of it being a mistake. If this had been Kenji Lopez-Alt or Alton Brown, this would be hailed as a genius food hack (Upworthy also wrote about this). Helen, the only thing left to do is to figure out a recipe to actually cook a chicken with a hair dryer. Maybe, like, spatchcoked, pounded flat, and turned into some kind of spite jerky?

I imagine what Helen wanted to spend her week talking about was this article about the Joy of Cooking. In 2009, a Cornell University food scientist called out the 70-year-old treasured cookbook, saying that the average calorie count for its dishes had skyrocketed since the original publication in 1936. The study, and a lot of the resulting media coverage, pointed to the increase in calories counts as both a symptom and a cause of America's growing obesity epidemic. Last month, Buzzfeed news reported there were huge holes in the original study as well as a number of others by this same scientist. Helen does a great job expanding beyond the issue at hand, picking apart one example to show why all of those media-genic food studies are not to be trusted. The podcast Planet Money recently reran a 2016 podcast which highlighted that a lot of the science world is grappling with faulty data in a huge number of published studies.

This is a video of Jeff Goldblum cooking with Jonathan Gold. If that isn't targeted right at the Venn Diagram of Snack Cart readers, I don't know what is.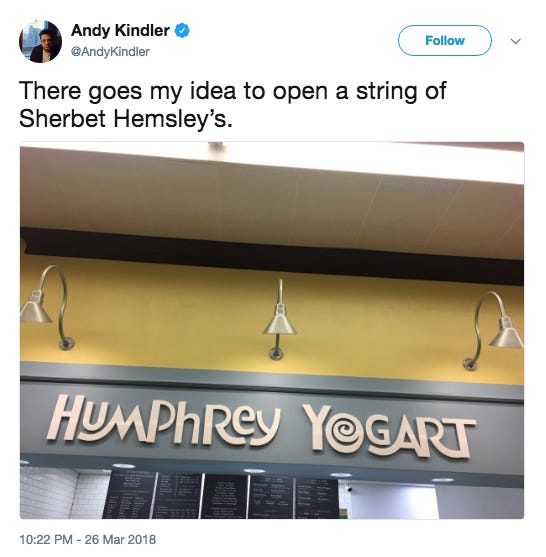 This is a beautiful essay from Andy Baraghani on how food helped him discover and embrace his sexuality and his Iranian heritage. It's a bit dusty in here.

Despite all the stories that I have read (and put in this newsletter) about young and diverse farmers, New Food Economy run the numbers and shows that the millennial generation of farmers is more white and more male than any generation before it. Despite some small gains in urban and sustainable farms, we're seeing the bulk of farming continue to consolidate into ultra-rich megafarms.

Dan Solomon, writing for Texas Monthly, explores how writers across Texas have grappled with writing about Paul Qui. The star chef, who has restaurants in Austin and Houston, was accused of some pretty horrific domestic violence last year. The piece interviews writers in both cities about the various ways they've approached writing about Qui and his restaurants since both the events of assault and the #metoo movement started. Solomon expands his point, saying food writers have a new, broader responsibility. I agree with Pete Well's tweet on this; writers have always had a responsibility to look at the broader context. If #metoo made one thing clear, it's that all of us have failed to understand the scope of this problem. That is doubly true for writers, who are supposed to notice things for a living. Either we all missed the story or we were all consciously looking the other way.

On the recommendation of Helen Rosner, it's good to read these next two stories together. First, Tunde Wey writes a condemnation of Anthony Bourdain's most recent episode about Wey's home country of Lagos. I blanched when he compares Bourdain to Trump, but his argument that both are interested in consuming Africa for their own narrative ends is compelling. Condemnation is probably too strong a word, as Wey doesn't blame Bourdain per se. Bourdain is a white male American; he can't view these things from any other lens that that. Alicia Kennedy writes about Puerto Rico. She's visited often over the past few years, and though her grandmother is from the island she still grapples with if she has a right to try and tell the island's stories. She struggles even more through her most recent, post-Maria visit. A line from Kennedy: "Travel writing often feels quite close to colonialism. You're making a profit off the stories of others, off a place you can never really know as a home." Seems to quite nicely tie the two stories together, and just fucking gutted me.

Thrillist does some of the low-key best food writing out there, and this list is no exception. The name "101 Dishes that Changed America" is dumb, and there doesn't really seem to be any sort of ranking. This is really 101 mini histories of the most famous dishes of the past century. No matter who you are, you'll learn something reading through this.

There is now a coworking space in a Tokyo Hooters, which is just great.

PUNCH magazine dives into the history of the blue-cheese-stuffed olive. This absolutely gross martini garnish grew from a Chicago bar novelty and, fueled by the California olive lobby, took over America. Great Brother Cleve quote.

Sonic is introducing pickle slushies and I think I am… into it?

One time, at Boy Scout camp, we burned a hole in a metal pot because the pasta fused together and we didn't realize all the water had boiled off. Not quite as bad at this . The next night, my friend James burned his eyebrow off lighting the stove.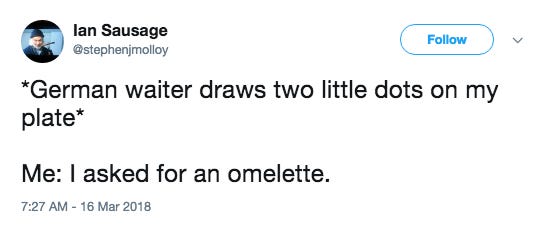 It's reallllllly something that Chef's Table, which hasn't really gone out of its way to profile women and minorities, is finally doing a series on pastry chefs and still manages to have it be 75% dudes.

Someone please bring this to New York.

Alex Beggs at Bon Appetit answers the question we've all thought and then forgot about two second later: why do medium eggs exist? Short answer: medium eggs are actually eggs from younger chickens. They have a harder shell, making them easier to peel when hard-boiled, and are more likely to have double-yolks.

Dayna Evans writes a funny rant for GQ about how there are too many snack flavors these days. I must confess, I am 100% the person who brings a gross new flavor of something to a party to try it and then no one eats it. That's my jam. She blames poetry (literally), but the real reason has to do with research done by the spaghetti sauce industry (I apologize for linking to a Malcolm Gladwell TED Talk) which showed more varieties lead to more overall sales. That spread to other industries, which is why we have 5 different spice levels of the same Dorito.

Moving essay by Takeout editor Kate Bernot on Al's Deli, a sandwich shop near her college in Evanston, Illinois. A part-time job there turned into a refuge of stability and love as she graduated college and her parents divorced. With so many horrible stories about women's experiences in the restaurant industry, it's wonderful to read a touching one.  

HOW IS CHEERS NOT ON THIS LIST OF BEST TV RESTAURANTS?

Innovative but kinda unreadible digital presentation from Tablet Magazine on this special section of 100 Jewish Foods. I can recommend Ruth Reichl writing about Rye bread.

The New York Times finally writes a story on the large number of indie food magazines that are popping up across America. Lucky Peach feels like it will be the Velvet Underground of food magazines; not a lot of people read it, but everyone who did started their own magazine.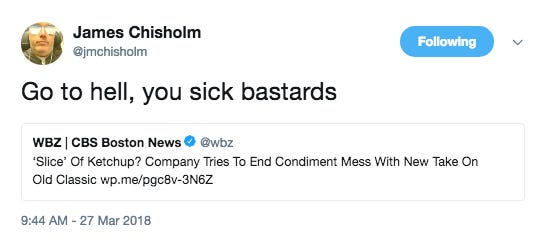 New York
Rising rents in Queens are driving out many of the small immigrant restaurants that the borough is famous for. As foodies from across the city are more willing to travel deep into the borough, the restaurants are realizing if they move to Brooklyn or Manhattan they can charge more. But it's bittersweet, as many don't want to leave behind the long-time patrons or immigrant communities that originally helped them grow.

Excellent Grub Street Diet for Comedian Hari Kondabolu. He eats at a bunch of places near where I used to live in Windsor Terrace and has a "two Doritos week."

Saveur profiles Le Soleil, a Haitian restaurant in Hell's Kitchen. It's the last Haitian restaurant in Manhattan and one of only two left on the island (the other is in Harlem). It's a landmark for a community that is increasingly scattered across the outer boroughs.

Pete Wells reviews Chez Ma Tante in Greenpoint. He isn't able to pin down exactly what kind of restaurant this is. They are serving aggressive and simple dishes that you might think are just thrown together until you take a bite and realize they are better than most of the other versions you'll have around town. Wells has an interesting meditation on pancakes and how chefs have a tendency to give things a certain sameness.

Besha Roddell reviews Momofuku Seiobo, the Sydney outpost of the David Chang empire. Under new chef Paul Carmichael, it has evolved into a full-fledged Caribbean restaurant. Chef Carmichael is from Barbados and his cooking school dissertation was focused on the foodways of Caribbean slaves. Carmichael has turned  the menu at Seiobo into his dissertation. It's still got the execution and visceral satisfaction one expects from a Momofuku, but with plantains instead of bao. Roddell mentions, and it really strikes me, how much America needs a restaurant like this.

Ryan Sutton makes a compelling case for why you should pay $12 for a taco at Atla. Man.
Boston
This is an older story from WBUR and the Dorchester Reporter, but it's great and new to me. Simón Ríos profiles DJ's European Market, a Polish cafe and market in Andrew Square. Most people don't know there was once a vibrant Polish community in that area. The profile talks about new development in the area, the resurgence of Polish community, and the market's plans for the future.

Sonny Walker's, a local bar in Roxbury known as "the Black Cheers" is closing after the death of its long-term owner. I am so, SO upset that I have never heard of this place before.

Fuku, David Chang's fried-chicken sandwich chain, is heading to the Seaport. That, plus a Magnolia Bakery not too far away: The Boston waterfront's transition into Lower Manhattan is almost complete.

Chowhound is really killing it with their content these days. In this video, chefs Joanne Chang and Karen Akunowicz (Myers + Chang) have an walking tour and discussion of Chinatown with chef and Chinatown restaurant empire owner Brian Moy (Shojo, BLR, China Pearl). Great intro to Boston's Chinatown if you haven't been in a while, plus the video makes it look SUPER glamorous.

DO NOT STEAL THINGS FROM RESTAURANTS. God, some fucking people.

Devra First visits Faialense Sport Club, a Portuguese social club in Inman Square that also hosts huge meals of traditional food. She finds community in a way you rarely see at a restaurant and has an amazing time. One anecdote has a guy pulling out a container of bootleg homemade aioli that perfectly pairs with the fried cod fritters the restaurant just served. Boston is littered with traditional ethnic social clubs, and everyone should find a way to go to them.

MC Slim JB visits Blossom Bar in Brookline Village. Bartender Ran Duan learned the business in his parents' two restaurants. He took over their Woburn location years ago, opening Baldwin Bar and turning it into an international destination with his elegantly crafted tiki drinks. Now, he's taking over their flagship. He's remodeled it and serving elevated drinks and traditional Sichuan fare. Baldwin Bar, but on the Green Line. This is a good thing.  
Washington D.C. 
A profile of the Women of Wegmans, a group of superfans who show up early to every new opening. I have never been to a Wegmans, AmA.

It took me a while reading this review by Tom Sietsema to realize that Unconventional Diner is actually the name of the restaurant. A chef-y take on a diner is a great idea.

Bruce Bozzi Jr. is the owner of the Palm Steakhouses. He talks to the Washington Post about what it was like to take over a legendary steakhouse chain and grow it into a major corporate concern. He also talks about what it was like to be the gay son of an Italian Catholic immigrant family that built a restaurant based on a tough-guy reputation.

Tom Carmen writes a broadside against bacon. He says that no, it doesn't make everything better and that we are all too obsessed with it. This would be a hot take about 5-7 years ago.

Whole Foods has sushi sandwiches?

Really great interview in the Washington City Paper with Andra 'AJ' Johnson, the general manager of Macon Bistro & Larder. Johnson realized that there were almost no black-owned restaurants on any of the local best-of lists in 2017. She's trying to change that, working on a book, White Plates, Black Faces, that focuses on the African-American experience in the local restaurant industry. She's also working on an online version of the classic "Green Book" that can both provide a directory of black-owned businesses and provide tools for people looking to start their own.

This occupancy issue, where a Adams Morgan bar isn't allowed to have more than 15 people until they build a second bathroom, is extremely stupid.  
Chicago
Mike Sula reviews The Warbler in Lincoln Square. I can't quite tell if Sula is being sarcastic in the first four or five paragraphs of this review, when he talks about how there are no interesting restaurants in the neighborhood but then lists a bunch of interesting-sounding ones. Anyway, it sounds like a solid gastropub that is still finding its footing. If you go, Sula says, it's not really worth saving room for the lackluster mains. Fill up on the vegetable-forward small plates, which Sula can't stop thinking about.

The Reader dives back into their archive and pulls up a 1980 article on the life and times of a restaurant critic. There are some funny stories here about the costs and hazards of being a big city restaurant reviewer, including one who was threatened by a chef after describing fish he was served as overcooked.

Phil Vettel visits S.K.Y., a new spot in Pilsen that Vettel says, at four months old, is already a strong contender for best restaurant of the year. Chef Stephen Gillanders is doing creative preparations of mostly seafood. I want to call it "fusion" but I'm not sure if that's too reductive for things like lobster dumplings or foie gras bibimbap.

Chicago Magazine releases their list of the ten best new restaurants in town. S.K.Y. takes the top spot, with Bellemore and Haisous right behind. This is a great list that well reflects the variety of fun, chef-owned restaurants opening in the city.

Michael Gebert stops by Nonna Silvia's Trattoria and Pizza in Park Ridge. He writes a lovely profile of a place that never really moved on from being a 90s Italian restaurant. It's still flooded with regulars, and the menu's focus on seasonality and odd cuts of meat shows how traditional cooking will be modern in any era.
Los Angeles
The royal wedding cake baker has been chosen. Claire Ptak, who is originally from Southern California, has been tapped to make the cake for Prince Harry and Meghan Markle instead of a traditional royal baker. The selection has royal-watchers abuzz, since Ptak is forgoing the traditional fruitcake doing buttercream instead of fondant for the frosting. Many assume this is a bit of a power move by Markle. The royal wedding owns.

Armie Hammer babysat a restaurant so Halle Berry could get delivery. This story couldn't get more LA if it tried.

I hadn't heard of The Blowouts, a large student strike/protest movement by Los Angeles' Chicano community in the late 60s. The students were advocating for more Chicano representation in the school administration and less racism by teachers. L.A. Taco also dives into their demands around food. They wanted more representation of Mexican food in school lunches and home ec classes.

I knew that David Chang was opening a new restaurant in Los Angeles in the same way I know I have an IRA. I was aware of it, but haven't really checked on it and couldn't tell you much about it. But his new place, Majordomo, is open in Los Angeles' Chinatown. Eater's Bill Addison is there, and calls it the most thrilling restaurant of 2018. It really feels like a more grown-up and confident version of Chang. Addison's review gives great context to the food (short rib roast with raclette waaaaaahhhhh) and to what this means in the context of Chang's career.

J. Gold reviews Native, a new vegetable-forward place from chef Nyesha Arrington in Santa Monica. As with his other reviews, you can tell by the density of descriptors that he loves the place. He says it might be one of the best representations of Los Angeles itself, with a riot of conflicting influences all fueled by abundant and perfect produce.
Out of Context J. Gold of the Week
...a list of funky natural wines and music that seems drawn from a KJLH playlist circa 1983.