Discover more from Snack Cart
A weekly summery of the best food and restaurant writing from around the country, plus local news from your favorite cities.
Over 6,000 subscribers
Nailed It, Comrade! The case that Netflix's baking show is communist propaganda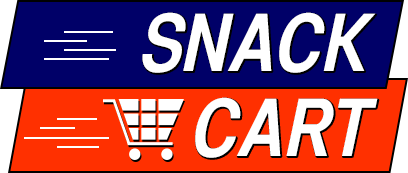 Brett Martin at GQ writes up his best new restaurants of 2018. Regular readers will see a lot of familiar names here, and disagree with his take on Chicago. However, it seems fitting that, as Martin crisscrossed the country trying to find the perfect night out, no discernable patterns emerged. Perhaps, as with so many other things last year, the defining characteristic of 2018 restaurants is chaos.

"Man jailed for 50 years for stealing $1.2m-worth of fajitas" is a funny headline that made the rounds the way a funny headline does. But digging in, I saw that he had been stealing it from a juvenile detention center. He was literally stealing from child prisoners to enrich himself. Horrible, but even more horrible is that in many parts of the country this is not only legal but *incentivized*. Check out this CBS story, which focuses on one Alabama sheriff who bought a beach house after somehow generating a $250k surplus in the food budget at his jail for three years straight. They basically do it by serving inadequate amounts of inedible food.

The New Yorker writes up the amazing and touching story of Arthur Mondella. Mondella ran a huge maraschino cherry factory in Brooklyn. It became famous when area bees started turning red. Shortly after, authorities raided the factory to investigate illegal dumping. They discovered a secret basement, a giant pot farm, and a double life. As they were uncovering it, Mondella locked himself in the bathroom and shot himself. This story, by Ian Frazier, looks at the life of Mondella and how much he is missed at his former factory. This is this week's must read. I was openly crying by the end.

Do you want "Royal Addition Cheddar" cheese from an English cheese company? Of course you do. Find out more about where to get it here.

I am EXTREMELY here for the argument that Netflix's sublime baking show, Nailed It, is actually a critique of capitalism.
Friend of the Cart Matt Gross headed to Bangkok to spend a week checking in on the state of street food in the city. Last year, a government authority announced a crackdown, then walked it back. Gross finds the state of the street food industry pretty strong. I didn't expect the photos to make me achingly nostalgic, but here we are. Three years ago I went on a food tour of Bangkok that was one of the most intense experiences of my life. It went from delightful to a kind of death march. I may have oversold my enthusiasm and Bourdain-esque adventurousness. It lasted 8 hours over something like 22 stops.

Free meeting leftovers in the office kitchen: You don't have a morning routine and your fridge is mostly full of condiments and old boxed wine. I am ATTACKED.

BREAKING POLITICAL NEWS: The rice that was served at the State Dinner honoring the President of France was listed as Jambalaya, but was actually some kind of pilaf. President Trump has gone too far.  

Laura Miller, writing for Slate, highlights how online recipes, and food writing more generally, frequently include hyperbolic language. She ties this to both the #content wars, but also to people's innate over-the-top emotional attachment to foods they love.

Last week, two horrible incidents occurred in Waffle Houses (The shooting in Tennessee, and a separate incident of police brutality). The New York Times explores why a diner chain reflects the problems of the South. The result is a lovely profile of a place that, for many, is a home away from home.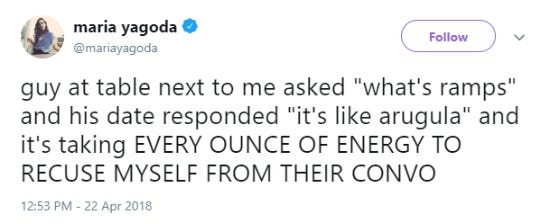 San Francisco Chronicle critic Michael Bauer released his top 100 list this week, and most of the food media world went nuts (There were a LOT of subtweets). Bauer's list includes a number of restaurants helmed by men accused of assault and harassment. In this day and age, that's a statement. This isn't super surprising, Bauer has previously argued that all that matters is the food that is placed in front of him, and moreover that he doesn't want to hurt the rest of the team at a restaurant. I find the former argument bullshit -- reviews are designed to put things into context. I used to find the latter compelling, until Helen Rosner dismantled it in a single tweet. An extra-weird angle is that his colleagues at the Chronicle publicly disagree with him on this. To be a fly on the wall!

Are you saying that increased power by labor means managers have to treat people better and pay them more? Weird.

Across America, children of Chinese immigrants are literally growing up in their restaurants. Hannah Yoon documents one family in a suburban Pennsylvanian spot in a photo essay for The Outline. This is a neat essay, but I wish she had gone to a few more places.

The New York Times profiles Mo' Bettahs, a Hawaiian fast casual chain started by two deadbeat brothers in Utah. They struggled until they tapped into the Mormon community. Thousands of former missionaries had spent years in Hawaii, and went nuts for a taste of their past. The chain is expanding, and the brothers are one opening away from pulling in $1 million per month. In the words of one of them, "I'm an island boy who didn't go to school, so that's like, whoa!"

The Ringer's Danny Chau writes up a neat food diary of Portland (Oregon). He hints at his concerns and interests about how Portland is a very white city that is famous for its Asian food, but he doesn't really get beyond "here are some good places to eat in Portland."
New York
Nice round up in the Post of restaurant/real estate changes coming to Times Square. Nothing major, but if I'm doing my math right the McDonald's at the corner of West 45th Street is going to pay more than $8 million per month in rent. Wow.

Having just gotten to New York, I have moved into an apartment with a tiny fridge. I had no idea this was a *thing* and that there is a community of us out there. This essay by Kate Dries resonated with me even though it's only been two months. I never thought I would be *glad* I don't even have any kind of freezing area. I see you, Kate. I see you.

Tessa Stuart visits the The Hunt & Fish Club in Midtown Manhattan for Rolling Stone. The steakhouse is co-owned by weirdo Trump associate Anthony Scaramucci. The restaurant bills itself as a haunt for bigwigs and women looking to date bigwigs, but Stuart says it's most just overpriced, weird, and a little sad. Excellent use of a Dolly Parton quote.

Review: I frequently forget about Adam Platt. The New York Magazine food critic isn't my favorite writer, but it's good to stay abreast of things. He reviews Ferris, the new sport from Le Turtle chef Greg Proechel. It kind of looks like a viking galley or underground bunker, but the food seems homey and ambitious. Platt gives it two of five stars.

Stefanie Tudor writes up a full background on the return of Una Pizza Napoletana. If, like me, you've been playing it fast and loose and just sort of nodding along when you hear about it, this is essential.

I'm a bit confused by the surcharge all these restaurants are asking for. I guess it's so they can charge a separate service fee and not have to factor it into the menu price?

Ryan Sutton shreds the food at Tetsu, the casual counterpoint to the ultra-lux temple that is Masa. The grill part is fine, but boring. The sushi varies from fine to terrible.

Talk about smoked meat!

Pete Wells visits new Noma, and writes a long but excellent diners journal. I wrote about New Noma a while back, and how all of the official reviews seem a bit like parody. Wells avoids that trap by being sort of service-y. He writes a long imagined Q&A about the restaurant, going deep to explain everything about it. I know a bit about Noma, but still learned a lot.

Ligaya Mishan is deep in Brooklyn, reviewing Luda's Dumplings. It's a casual spot where a family is carrying on a tradition of making Russian dumplings. I think Russian dumplings might become a… thing? Maybe?

This week's Grub Street Diet is Ruth Rogers of the River Cafe. It's obviously fantastical and aspiration-y, but it was also kind of hard to follow. She name drops, but most just includes random first names until you have no idea what she is talking about.
Boston
I seem to remember last year lobster prices being at an all-time low. This year, a number of factors has the price of lobster meat rise to an all-time high. Lobsters are going for about $15 per pound. Cooked and shucked meat is even higher, meaning the price of a lobster roll on a restaurant menu is about $47. The article has a lot of interesting things chefs are doing to try to get around what they hope is a momentary tightening of the market.

Devra First writes a lovely ode to one of my favorite bars in Boston, haley.henry. She hits all the high points: the size, the organic wine list, and the tinned fish. My favorite is henry's policy on wine. They'll open any bottle if you commit to drink two glasses. That means they have a lot of half-open bottles of fantastic wine sitting around. One of my favorite things to do after a shitty day at work was to walk in and ask "what's open?"

Also, Pokeworks.

MC Slim JB is at Southern Proper. The new South End restaurant appears to be a great time, and the review highlights the seemingly rock-solid low-country menu. Seriously, everyone I have talked to who has been there has loved it.

Whole Heart Provisions has opened their second location in Central Square. Central is just the dang coolest.
Chicago
Mike Sula reviews Irving Park's Astoria Café & Bakery. He spends most of the review describing komplet lepinja, a Serbian dish that is essentially a bread bowl filled with eggs, cheese, and roast pork drippings. Astoria Café tops it with pulled pork and serves it with a side of cured ham. It's a breakfast food. Jesus Christ, Serbia!

Great story about the Sugar + Spice summit (a small conference about female culinary professionals) and the college student founder. It's cheesy, but stuff like this does give you hope for the future.

The publisher of Dill is 20 years old! Forget what I said about hope for the future. I've blown past that and now just feel like I've wasted my life.

Review: Jeff Ruby is at Gibsons Italia, a new spot in The West Loop. Based on the name, he anticipates walking into a Sopranos set, but it isn't quite that. I mean, it's definitely an Italian steakhouse, but Ruby is charmed by the confidence and professionalism of the servers and the views. The steaks are among the best he's ever had while the pasta is oddly terrible.
Washington D.C. 
Mike Isabella and the former employee accusing him of harassment have agreed to a "media truce." This is thoroughly bizarre.

The District has quickly rolled back their recent food truck laws. They had restricted groups which had more than one truck to a single slot in the location lottery. Since you can't really survive without a slot in the lottery, this would have crippled most of the larger chains.

Laura Hayes writes up a great feature on Mexican food. Chefs are elevating it and highlighting the different regional cuisines, but may customers still refuse to pay. Some food people are pessimistic, but most see attitudes changing.

Tom Sietsema, in The Washington Post Magazine, writes up a recent trip to Disfrutar. It sounds like a wonderful restaurant in Barcelona, but I struggled with an opening that talks about how Jose Andres *made* him change his plans to go there. Sietsema then lost me at, "News flash: Big-deal restaurants are starting to chillax."

I might just be grumpy because the web presentation of his ten best restaurants is mind boggling. You can find the various articles here, but it's all out of order and he still hasn't gotten to #1 yet.
Los Angeles
The new LAFC stadium is going to have a Beer Belly! God damn it.

Oh shit I didn't realize it was already time for Taco Madness. I know I have said I don't like these kind of clickbait-y contests, but I also *do* like them. I'm capricious.

Nice story about Bavel, the new spot from the chef behind Bestia. I agree that Bestia is great, but I wouldn't call this the most exciting opening of the year.

Perhaps as an olive branch after last week's critical review of David Chang's new LA restaurant, J. Gold spends his latest review meditating on Chang's concept of "Ugly Delicious". That is, food which doesn't look very good but tastes fantastic. In this case, he's talking about the aguachiles' at  El Coraloense in Bell Gardens. Aguachiles' is like the rude and aggressive cousin of ceviche. Spicier and uglier, it's absolutely fantastic. Gold praises most of the menu from second-generation chef and owner Natalie Curie. There are lobster nachos.  
Out of context J. Gold quote of the week
... or the infamous shrimp-topped raw oysters called Viagra.com? Sure.