Discover more from Snack Cart
A weekly summery of the best food and restaurant writing from around the country, plus local news from your favorite cities.
Over 6,000 subscribers
A 16-year-old killed a whale and helped feed his village. Then the Internet found out.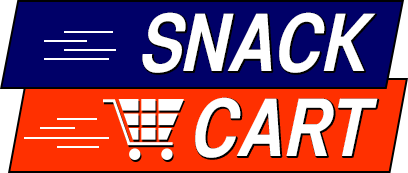 The James Beard restaurant took place in Chicago last week. While food world awards have had huge representation problems for years, this year half of the winners were women and people of color. This included many people who have been nominated for years but never won. Helen Rosner at the New Yorker wrote about the juibilent scene at the awards, and wonders if this is a one-off or represents a genuine sea change.

One of the best parts of the James Beard media awards two weeks ago is that I get a chance to discover great stories I may have missed. One of the highlights of those was from Julia O'Malley. She visited the Siberian Yupik village of Gambell on St. Lawrence Island. Last year, a 16-year-old hunting prodigy from the village caught a whale. The story was picked up by local news and then exploded nationally. The young boy and his family were inundated by abuse from conservationists and anti-whaling advocates. However, hunting whales is an essential part of the island's traditions and their partly-subsistence lifestyle.

If you, like me, are preparing to go all-in on the Royal Wedding, you should read this ode to the chip butty. Alex Siquig describes how he's obsessed with the British french fry and butter sandwich. Or, you can read James Hansen, writing in TASTE, as he examines the complicated relationship between class and authenticity that exists in the vanishing London pie and mash shops.

Speaking of fake meat, this guy wrote up a story about smuggling a fake veggie patty into In-N-Out Burger. It's… quite easy! I… am not sure why this is an article! This is a good time to remind you of Jon Bois' classic game: Supper Jumping.

Sometimes, I feel like the meta-context of this newsletter is food criticism writ large. That's why I feel like it's OK to include an essay about video games. Eron Rauch writes, at length, about the history of criticism. From the earliest self-published Italian books about art to Teju Cole at the New Yorker, Rauch examines the history of the form. The goal is to understand the difference between a critic and a reviewer, as well as to create a value statement for how to engage with games criticism. The essay takes some swings through food and gets at larger questions about the value of engaging with art professionally.

Many experts have started to argue we should make school lunches free for all students. By restricting it to only those who need a free lunch, we increase the burden (paperwork) on poor families and add a level of stigma on kids who get free lunch. A recent experiment shows that making lunches free, combined with better nutritional standards, might actually contribute to kids being healthier.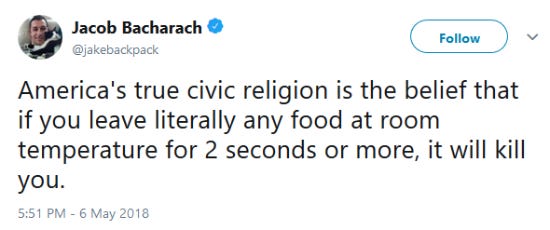 The making of boudin, blood sausage, is an ancient tradition practiced around the world. Melissa Banigan, writing for The Salt, visits Guadeloupe and shows how on this Caribbean island the sausage reflects centuries of cultural intermingling and colonial struggle.

An almost identical story, but set on the other side of the world. TASTE looks at the complicated history of Ethiopia and Eritrea's relationship with lasagna.

God help me for sharing an article from Reason, but liquor licenses are an area where I am my most Randian. A local Michigan town is refusing to grant a liquor license to a new upscale Taco Bell concept. I get not liking chain restaurants, but this is classist and silly.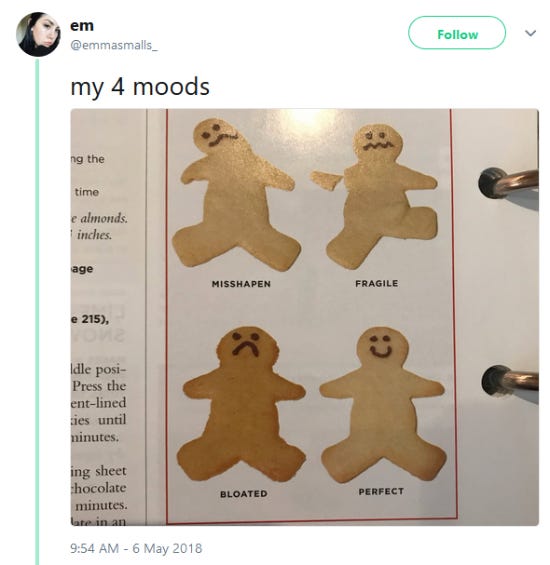 I hurt my wrist reading this article about extreme carnivores because I was making the jack off motion too hard.

Great article in VICE about what it's like to be a corporate restaurant menu consultant. Gone are the days when one franchise owner in PIttsburgh invents the Big Mac. A new menu item is the result of exhaustive amounts of study, iteration, and planning.

One of the things I didn't expect when my sister moved to France was that I would come to learn that what might be the coolest country in the world is actually a Republic of grumpy farmers. Case in point, France has banned all fake meat and cheese products from calling themselves meat or cheese. There are claims it's for consumer protection and not to promote regular meat and cheese, but if you believe that you must have arrived yesterday on the back of le navet truck.

This essay by Leigh Kunkel in Serious Eats is… a lot. She talks about her grandmother's history with food, her decline and death, and her grandfather's hesitant steps into cooking for himself. It's beautifully written, and you might need a bit of time to process after it's over.

You will learn a lot about food and farming by reading this Twitter thread. You will learn a lot about the horrifying history of McDonald's advertising by reading THIS Twitter thread.

This is a somewhat so-so rundown of the problems facing the fast food industry. The only new and interesting (to me) information is the rise in franchisees. Increasingly, these middlemen are running most of the new fast food locations in America. Some of these companies are huge multi-million dollar concerns in their own right.  

An ode to Hellmann's mayonnaise. This is one of the foods that can't actually be improved upon by cooking from scratch.
New York
New York restaurants are phasing out the chopped salad, and midtown lunchers are in an uproar. I had no idea this was a thing and I refuse to believe this is a thing until someone emails me to tell me this is a thing.

Ryan Sutton has had his Wheaties and gotten out his soap box. This week he published two aggressive op-eds. His first argues that desserts in New York are better than ever. This is a somewhat belated response to Pete Wells' critique of the NYC dessert scene last month. Sutton argues that chefs are finally recovering from the critical backlash against complicated and weird desserts of the mid aughts. You can get experimental desserts all day, and at places you wouldn't expect. Next, Sutton argues that restaurants should not be allowed to add surcharges to checks. A group of restaurants has asked the city to change a rule that prohibits additional fees from being added to diners bills. Th restaurants say that this additional fee will let them keep meal prices low while accounting for increases in rent and labor costs. Sutton argues that this is essentially letting restaurants hide the ball on the true price of a meal. In addition, an additional mandatory fee right above the tip line will likely end up with diners tipping less.  

Today in "Josh's walk to the subway" food news.

Pete Wells stans for Soogil in the East Village. This is chef Soogil Lim's first solo project, and Wells says you can see his history in the dishes. He spent the first part of this career in South Korea and the most recent chunk working for Daniel Boulud. The food at Soogil is a mixup of Korean flavors and French technique. There are some off notes, but overall Wells makes the case for a restaurant that deserves much more traffic than it's getting. He awards it two out of four stars.

Tired: Making moonshine in the hills of West Virginia.
Wired: Making moonshine in your Red Hook winery.

Ligaya Mishan is in Elmhurst, where she's been spending a lot of time recently. She highlights Lamoon, a Thai restaurant specializing in the food of the Northern Thai / Myanmar border. The dishes range from Laotian ultra-spicy to Myanmar's aggressive herbaceousness.
Boston
The Globe had two stories this week on La Casa De Pedro, a Venezuelan restaurant in the seaport district. It's struggling and is almost $3 million in debt after its first 18 months. The owners are blaming the residents of the building's luxury apartments and condos, who petitioned to shut down several initiatives designed to bring in more customers. Some neighbors said the restaurant is attracting the wrong types of people. When people pointed out that that sounds a bit racist, residents pushed back. I don't have a lot of sympathy for anyone. If you are $3 million in debt after 18 months, you have a LOT of problems that club nights or brunches won't fix. That being said, the Seaport is also white as hell and this incident brought to the forefront structural and institutional racism that pervades much of Boston (and other cities). Speaking of structural issues, the Seaport is nothing but giant luxury buildings that have massive restaurant spaces. It's really hard to make a 300-seat restaurant work unless you are in Vegas or a giant chain.

Boston Magazine profiles Bill Creelman, the founder of Spindrift seltzer. This is a great story for seltzer fanatics (like me and everyone I know). Creelman is hoping that a premium, all-natural slot will help Spindrift stand out from the massive boom of seltzers across America. I remain Team Polar; you have to consume a LOT of the 'natural flavorings' Creelman criticizes to see side effects. Also, I wish the writer had included more context about club soda -- I know in my family that's been the bottle beverage of choice for 30 years.

Deva First visits Spyce, the robot-powered restaurant in Downtown Crossing. The grain bowls are pretty good, says First, with a few tweaks needed here or there. She wonders about what we might lose if cooking eventually went away entirely.

We didn't fight the Battle of Lexington for this bullshit.

Sheryl Julian, writing for the Globe Magazine, does mini-profiles of ten restaurants that have been around for more than two decades. There are a lot of classics on here, and a disturbing number that I've never heard of.

MC Slim JB raves about Celeste, a new Peruvian spot in Union Square. It's unlikely that a pair of friends with no restaurant experience are sending out food that is exciting and creative, but JB says it's the kind of place that made him remember why he loves being a restaurant critic.
Chicago
Breaking into wine is hard. Breaking into wine as a woman is hard. Breaking into wine as a black woman? I can't even imagine. The Tribune profiles Chrishon Lampley, whose art gallery became famous for its curated wine list. That evolved into a wine blog, which evolved into a radio show, which evolved into her own wine label, Love Cork Screw. She talks about the challenges she's facing, along with the difficulties in balancing her own tastes (which lean towards the traditional) with what customers want.

Phil Vettel visits Stefani Prime, a new steakhouse in Lincolnwood from veteran restaurateur Phil Stefani. It sounds like a solid steakhouse, but I can't find a ton to get excited about. To be more charitable to Vettel, it has a lot of the things I prize most in a restaurant (attentive and kind service, basics done well, big portions). Vettel gives it two out of four stars.

Mike Sula visits Moccozy, a small and unassuming Korean storefront restaurant in Boystown. He finds specialists in nurungi, the crispy bits of rice at the bottom of a well-made dolsot bibimbap. The hot stone bowl that the bibimbap is served in causes a crust to form, which can be stirred back into the rice to add crunch. Most places, say Sula, don't do this well. It's a bit small and out of the way, but true crunchy rice heads (of which I am one) should make the trip.

Jeff Ruby reviews Bar Biscay. He adds his voice to the other critics that all love this trippy and boozy ode to the Basque country. This seems like an adult version of a late night bar in the best way possible. If I lived in Chicago, I'd be ducking out of work early to hit up the happy hour and afternoon pinxtos. Ruby awards it 2.5 out of 4 stars.

Food trucks in Chicago have been struggling with uneven regulations, limited locations, and aggressive protectionist measures. However, some of them are finding success farther out in the suburbs of Chicagoland. Michael Gerbert at Fooditor checks in on the industry, to see how the trucks aren't really go-to spots for corporate workers, but rather have become a stable catering option for places that might not want a full-time restaurant.
Washington D.C. 
In a few months, D.C. is going to vote on whether or not to eliminate the tipped minimum wage. The tipped minimum wage is a confusing and counter-intuitive issue. The Washington City Paper writes up the best investigation of the issue I've ever read. While servers are only paid about $3.50 per hour, many contend they would actually make less if the minimum wage was raised. I still think tipping is evil and should be outlawed, but it's hard to not listen to the folks who are in the industry.

Tim Carman writes a depressing but essential article about Mike Isabella. While many other chefs who have been credibly accused of sexual harassment have stepped down, Isabella has denied everything and recently settled the most high-profile claim. While this may be because he is innocent (I doubt it), it does mean that he remains in control of his restaurant empire. Carman points out that, even though it's morally repugnant, this may actually have been a better tactic for him and for other men accused of harassment to stay in positions of power. It really comes down to how long this lasts in our collective memory. Even if he's still in charge of his restaurants, will he still be facing the stigmas he is facing now?

Tom Sietsema visits 1789, a Georgetown restaurant that's been a place to see or be seen since the late 1960s. They've recently invested over a million dollars in improvements and brought in a new chef. The food ranges from disappointing to fantastic, but at a place where the bar chatter is that the King of Qatar was there last night, that's hardly the point. He awards it two out of four stars.

I'm vaguely aware of the Galloping Gourmet. Graham Kerr was one of the proto TV celebrities (along with Julia Child) who brought fine dining to the masses. Kerr was more showman than chef (though he was a chef). The Post profile Kerr, who lives a much different life than the wine-swilling gourmand he played on TV and has a new book coming out. Interesting look at the twists life throws at us.
Los Angeles
Hannah Goldfield writes up a review of David Chang's Majordomo for The New Yorker. She likes it quite a bit, calling out the ambition and boundary-hopping that define much of Chang's work. It's interesting to see out of town reviewers praise Chang for referencing parts of the Los Angeles culinary landscape whereas local critics are a bit harsher (as they usually are) for getting those references wrong.

Food & Wine magazine lightly profiles the growth of Sichuan restaurants in Los Angeles. This would be a standard "food magazine discovers LA" thing, if now for the new-to-me news that SGV stalwart Sichuan Impression is launching a fast casual concept in Chinatown. SUPER excited for this.

The LA Times Food Bowl continues, which means all of the writers are busy attending and hosting events. This week is the Grand Park night market, which I recommend.
Out of context Jeff Ruby quote of the week
It's not like I've ever heard anyone say, "Sure, Chicago is a world-class dining town, but it's a little weak in the whole northern Spanish coast category."