Discover more from Snack Cart
A weekly summery of the best food and restaurant writing from around the country, plus local news from your favorite cities.
Over 6,000 subscribers
After Starbucks, we need to consider the role of "third places"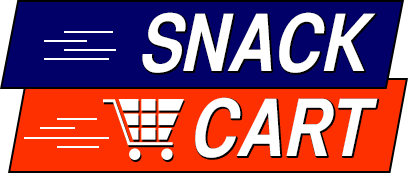 I really wasn't expecting to tear up while reading about macaroni and cheese, but this essay by Gordon Edgar dives into the history of cheese in America and ends up saying something about how our most humble dish says something wonderful about everything, good and bad, in our country.

FROM THE GRAM: A Simpsons writer who created the funniest food sketch in history has a weird Instagram account where he does weird food reviews. *Cliiiiiiiicked*

This essay in Curbed isn't about food, but it's not *not* about food. Diana Budds writes about Starbucks and the idea of Third Places. Third places are community spaces -- neither home nor work -- where we go to spend time and connect with people: bars, salons, and, well, Starbucks. For a long time, we stopped investing in public third spaces and let corporations pick up the slack. However, how public is a Starbucks, where someone can call the cops on a black guy just sitting and waiting? The article talks a lot about investing more in truly public spaces like libraries and parks. I think is true, but glosses over an important issue. Anyone who works in public spaces knows how much restaurants and cafes, which are mostly private, are massive draws for the people required to make public spaces vibrant and interesting. It's why your local library has a cafe in it or why parks schedule programming. So a lot of our public spaces have private components, and the way they interact needs to be part of the solution.

Because I will never not be a pretentious 22-year-old, the Esquire best bars list is a personal delight of mine. I'm not sure what to divine out of this year's, but the authors do seem very focused on how comfortable each bar is.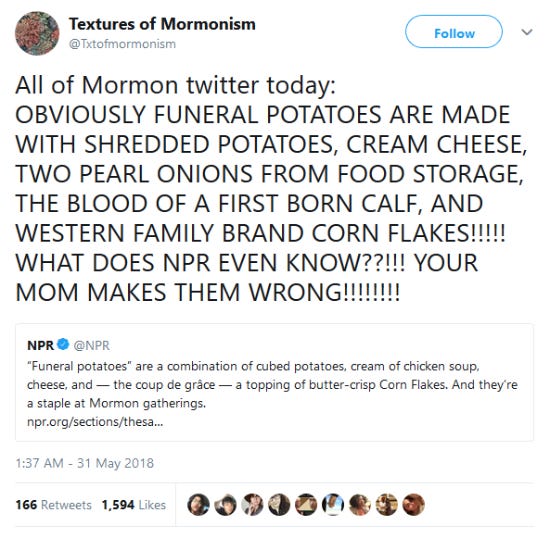 I'm a bit David Chang'd out right now, but he did two pretty big interviews recently. He spoke at the Code conference in California, and he interviewed Helen Rosner on his own podcast. There's a lot here. While I've been harsh on Chang, he's open and messy in public in ways that I think we could all learn from. Food & Wine has a good summary of the key points from each.

Airplane tomato juice is one of the only pure joys in the world.

Matt Singer at Screencrush published his now-regular ritual of eating all of the Denny's tie-in menu for a new big movie. In this case, Solo. Like many of these kinds of articles, this starts sort of insufferable and gets more and more entertaining. The fun part of this is that it was a live blog, so you can sort of see him going insane as he writes it. He ends with a surprisingly profound metaphor about the Star Wars universe.

SERVICE JOURNALISM: This instagram gallery by America's Test Kitchen has taught me more about charcoal grilling than I ever learned elsewhere.

Sam Sifton, in his excellent newsletter, highlighted what might be one of the oldest restaurant reviews in the world. It was originally published in the Times in 1859, and is a survey of the dining establishments of the era. If you aren't a subscriber, Food52 wrote up a summary.

I know Helen Rosner's essay about the trend of eating gold is an incisive reflection on status, luxury, and the ethos of indulgence. But I can't stop rereading, "Gualtiero Marchesi, one of the fathers of modern Italian cuisine, famously served saffron risotto topped with squares of gold leaf, an opulent echo of the rice's vivid yellow hue. (The dish was so iconic that he wore it, in tiny replica, as a lapel pin.)" and thinking, "that is the most baller shit EVER".

There are a lot of valid reasons to be critical of the Michelin Guide but we should applaud true innovation when we see it.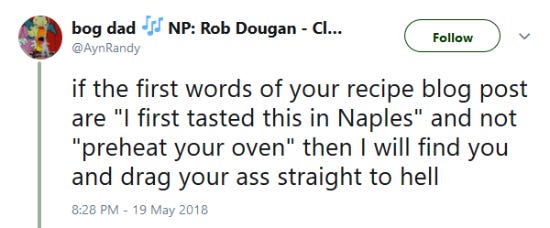 Not to put too fine a point on the fact I didn't send out a newsletter last week, but I just got around to reading the Food & Wine best new chefs list. Some Snack Cart favs on here, including Freedman's in Los Angeles and Mi Tocaya Antojería in Chicago. People have criticized the list for not having any black entrants. I get it, but it does have a great mix of women, Asian-americans, and Latinos.

My answer is 17. I am OBSESSED with regional American sandwiches so who wants to rent a van and travel around the country eating these sandwiches and solving crimes.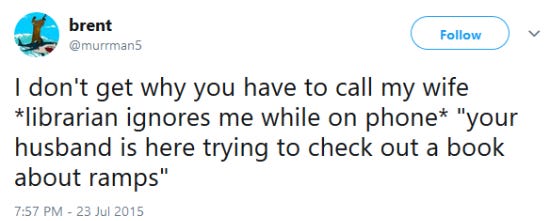 Throughout its run, The Americans has used food and drink pretty masterfully to aide in characterization and build scenes (I can still picture the first six pack between Stan and Phillip). Eater has an excellent pair of articles about two essential scenes from the final season (I didn't read too deeply because I'm still behind). One about beef stew and Russian food more broadly, and one about the final scene in a McDonald's.  

The boozes that mix best with a Wendy's frosty are pretty much exactly what you think.
New York
The New York Post rounds up the various legal and environmental troubles facing the Museum of Ice Cream.  

Pete Wells reviews Don Angie, meditating on why we haven't seen the expansion in second-wave red sauce places he would have expected after the success of the Parm empire. Dan Angie is trying, though Wells' so-so review makes me wonder if it's really that much better than a traditional standby. He awards it two stars.

Ligaya Mishan visits Lahi in Elmhurst. Though owned and operated by a Filipino couple, many of the traditional dishes appear to be slightly less challenging versions of traditional Filipino favorites. For example, dinuguan (blood soup) is cooked down to slightly take the edge off the, well, bloodiness. This could be a great place to go if you are meaning to try Filipino food, but some of what you've read feels a bit much.

Mishan also waxes rhapsodic over the opening of the first truly stand-alone Burmese restaurant in the City since the last one closed in 2016. Rangoon Spoon in Gravesend is making the cast for the contrasting textures and general bitterness of Burmese cuisine. Definitely read this, if only to learn what Shan tofu is.

This week's Grub Street diet was author and food guy Michael Ruhlman. It's fine (though comparing a dish of chicken mole to the soul of Mexico is a bit… ugh), until he got to a description of lunch at Lupa. His mother doesn't want to go because she just saw the segment on Batali on 60 Minutes, and he lectures her on the whole thing and they end up going. There are many, many other places you could have gotten lunch, my dude. There's no reason to lecture your MOM about this issue (let along lecture you Mom on her lunch choice?). Also, it's a bit of a *Statement* to go to a Mario Batali restaurant while you know you are going to be publicly writing about your meal. I'm not the only one who noticed, and Ruhlman is at this very moment corncobbing away on Twitter.

Ryan Sutton visits Le Sia in the East Village. I am VERY excited about the Chinese crawfish boil restaurant, and would like to go immediately. Sutton uses his review to place Le Sia in a larger context. While high-end dining in the city is heading back towards Europe in ways both good and bad, the East Village is proving to be a launchpad for affordable and exhilarating modern Chinese eating.
Boston
Boy, this Vogue article about "There's good food in Cambridge!" really seems like someone who doesn't know a lot about the Boston food scene. The author breezes past a bunch of places, like Chez Henri, that were among the best in either city while talking about how Cambridge always had boring food. Also, Cambridge for sure led the way in the current culinary innovation in Greater Boston.

Devra First covers the ending of Bertucci's in the best way possible: she profiles the rolls. While at first I bristled whe she said they are not that good, she does go on to point out that when they were launched and for many people (probably myself included) these are the first time they've been served bread hot. I'll miss them when they are gone.

MC Slim JB visits Talulla in Cambridge, which is your perfect neighborhood restaurant if you live in a really, really fancy neighborhood.

Most of Samar Abdalelah's children have left home to go to school, so this Saudi immigrant has opened a food truck. Zaaki Food Truck focuses on koshari, an Egyptian dish of rice, lentils, pasta, and crispy onion. I had this dish for the first time myself a few weeks back, and it's not quite as heavy as it sounds.

Doretta Taverna closed! I'd be sadder if I hadn't had it on my list of places to go for like 6 years but never quite managed to make it there. Still, it makes me nostalgic for 4 years ago, when Boston was full of high-end Greek restaurant openings and I was optimistic about my new job in local media. Also for twelve years ago, when I took cooking classes at Radius and optimistic about... everything?

I just gave a friend a list of restaurant recommendations for Boston, and I pretty much punted when I got to the North End. "Everywhere is sort of the same, with lovely ambiance and so-so food," I wrote. This Boston Magazine rundown of the best places in the neighborhood has me chastened. It's easy to be jaded, but Boston really does have a ton of strong Italian restaurants in one of the most beautiful neighborhoods in the world. Just don't go to Strega, please.

Jolyon Helterman of Boston Magazine reviews Our Fathers in Lower Allston. It's a hybrid between a modern Deli and a modern Israeli restaurant. I'm surprised we haven't seen this before. You can start with a selection of meze plates then transition into a Pastrami sandwich which Helterman says might be better than Katz's. Our Fathers also has the largest Gin list in the city and cocktails to highlight them. Helterman points out that Our Fathers is from the same restaurant group that brought us Franklin Café and Citizen Public House, so you can expect an unpretentious spot in an up-and-coming neighborhood. He doesn't mention that this also means it has a good chance of becoming a Boston classic.
Chicago
A bit broader than just food, but Red Eye interviews Eve Ewing about her favorite places in Chicago. I'm a huge fan of her Tweets, so I enjoyed finding out more about this Logan Square native.

Phil Vettel reviews Blvd, a new spot that's trying to bring a bit of old Hollywood glamour to the West Loop. It's very Vettel, a bit spendy but with some real creative oomph to some of the dishes. The place sounds fine, but this review is kinda poorly written at times. Sentences sort of trail off and some seem oddly jammed together. He awards it two out of four stars.

You had me at duck fat hot dog.

Mike Sula celebrates the stealthy reopening of Cafe Marianao. This packed Logan Square lunch counter vanished mysteriously after the owner passed away. His grandchildren have reopened the place in Irving Park. It's slightly spruced up, but still serving massive Cubanos and steak sandwiches.

Among my favorite features Michael Gebert at Fooditor does are his street profiles. He finds a neighborhood that's dominated by a particular type of food, and walks you through where to go and what to order. Here's a guide to the Mexican street food of 26th street. There's a description of a chicharron tacos in red and green salsas that borders on pornographic.
Washington D.C. 
*Long, extended sigh*

The fight over Initiative 77 continues, and I remain very torn. We're in the "attacking the other sides methodology" part of the debate, which is the worst. I think I'm team increased minimum wage, but it's worth noting that most restaurant staff are also against it. At least the visible ones.

Tom Sietsema visits Sababa for a proper review. He says Cleveland Park, an area not known for its restaurants, has a place worth traveling to. He leads talking about the kushari (we've got two out of three reviews mentioning that this issue, #trendwatch) and recommends most of the Middle Eastern menu. He calls out a few boring dishes and uneven pacing. He awards Sababa two out of four stars.

Today in hamburger diplomacy.
Los Angeles
KCRW's good food is the rare local podcast that really does have national interest. The episode from last week features great stories about Ramadan traditions, a restaurant in Tokyo, and an obscure McDonald's promotional event from the 70s.

A viral donut shop with a Selena-themed donut is the most LA thing I can possibly imagine. I'm so upset I didn't eat any donuts when I was in Los Angeles last week.

OC Weekly, this review of a new Peruvian burger place is fine, but I cannot in good conscious link to you when you are using BLINKING GIFS to drive newsletter signups. I have a headache after three scrolls.

Double J. Gold! (As mentioned, I was away last weekend). First, he visits MTN, a new izakaya  in Venice. He grumbles a bit about the LA-ness of the whole thing, but ultimately seems to really enjoy the precise food from the chef of Gjelina. Ultimately, I think he's more grumbling at all the food people who visit LA, visit Gjelina, and come away with that as their vision for food in the city.

J. Gold reflects briefly on the LA Times Food bowl, and the Sichuan summit with renowned Chinese chef Yu Bo. Yu put on an amazing performance that highlights the delicate complexity of some forms of Sichuan food, but Gold reminds us that sometimes you want a giant bowl of spicy stuff. He writes up Chong Qing Special Noodles, an SGV spot where almost everything seems good.
Out of context J. Gold quote of the week
"Still, while Mozart is divine, there also is a lot of pleasure in AC/DC."