Discover more from Snack Cart
A weekly summery of the best food and restaurant writing from around the country, plus local news from your favorite cities.
Over 6,000 subscribers
Inside the life of a restaurant health inspector
If you haven't been listening, the new TASTE podcast is really fantastic out of the gate. In particular, check out this older interview with Alison Roman. It's possible I am influenced by being invited to the fancy opening party, or by the fact that Matt and Anna are delightful people and I support their efforts implicitly.

Jeremy Gordon, writing in The Outline, writes about why he wishes he could order a single chicken wing. While absurd, he points out that it's no more absurd than a number of things you can get off Seamless right now. His larger point is that Grubhub and the like are abstracting food from the social environment in which it started.

The New York Times goes inside the life of a Restaurant Health Inspector. The part of me that loves restaurants hates them, but the part of me that respects government employees loves them. This article does a good job of balancing multiple voices and opinions on the profession and New York's recent switch to a public letter grade system. I was fascinated by the logistics of the job, including the photo of an "inspector kit."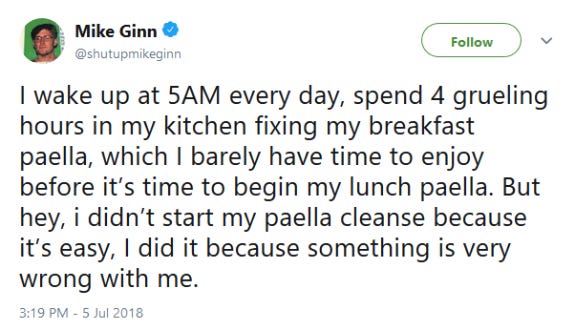 Food Twitter appropriately roasted the news that Gordon Ramsay has a new travel cooking show. I'm willing to wait to see before I judge, but I think it's worth discussing why people are so mad. The announcement press release used the phrase "discovering the undiscovered," which, besides being trite, is also a kind of racist frame. I'm sure the local cultures Ramsey visits (most of whom will likely be non-white) would be surprised to know that the food they had for lunch last Tuesday hasn't been discovered yet. Also, the release touts that Ramsey will engage in competition with local chefs, "pitting his own interpretations of regional dishes against the tried-and-true classics." The very idea that some white British cook is going to come and tell local cooks how make their speciality better is arrogant and offensive. My guess is that producers are trying to recapture this viral moment, where a Thai chef roasts Ramsey's Pad Thai. Any attempt at something like this would require approaching it with tact and grace, obviously two words long associated with Gordon Ramsay.

Neat essay by an an artist who does paintings and other works of art highlighting Latino grocery products (like Goya black beans). He talks about how the whole thing started with the idea "What if Andy Warhol was Latino?"

Mayukh Sen, writing for The Ringer, published a really fantastic profile of Rocky Aoki, the founder of Benihana. Aoki is known for his larger-than-life exploits and the legal wrangling over his empire, but Sen argues that we don't take his culinary innovations seriously enough. Even though the restaurant dumbed down Japanese food to the point of offensiveness, it was still the point of entry for a lot of Americas into the culture. Aoki also made space for a Japanese-American man to be rich and famous.

Grub Street published a looong story about natural wine. The subhead asks, "it's trendy, but is it good?" and the story… doesn't really answer that. It's a pretty standard trend piece, but it meanders a lot and has odd structure. I wish the piece had focused more on the author's insight that most jumped out at me: This is a debate where you have two sides that are both accusing the other of snobbery.

Give a listen to this week's Eater Upsell podcast. It's about Gold, of course, and Peter Meehan, Robert Sietsema, and Meghan McCarron all remember him as a friend. Lots of great stories about Gold as a person.

Mari Uyehara, writing in TASTE, asks what happened to tarragon? The herb, which was once the height of class in restaurant cooking, has basically vanished from menus. Uyehara pegs it to the decline of the dominance of French cooking and the rise of localism. Sorta.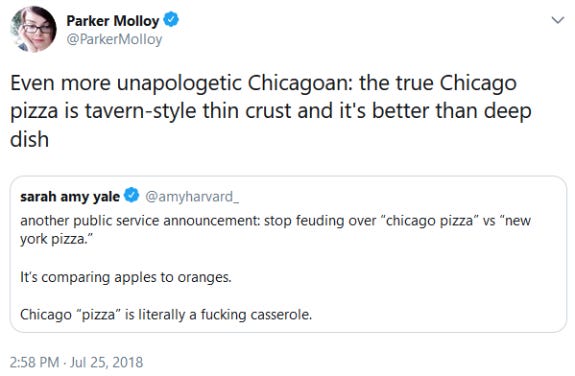 Amazing story from Korea, where a food delivery app held the second annual "Chimmelier" exams. 500 people took written and blind taste tests to become certified fried chicken sommeliers. I strongly recommend you click through for the video.   

You can buy Old Bay themed (cool!) and scented (eww) lottery tickets in Maryland. Very here for combining my two great loves: scratch tickets and regional foods.

Great profile in the New York Times of DV8 Kitchen. This Lexington, Kentucky restaurant was founded with the goal of giving people recovering from opioid addiction a second chance. The restaurant is purpose-built around that mission, to the point they don't do dinner service so employees can attend meetings. This is a nice story behind economic issues. The tightening labor market is making more service industry jobs hire people they wouldn't have in the past (like people in recovery). But many of the people doing that hiring are still trailblazers.

WNYC highlights "food gentrification." As certain vegetables or cuts of meat become popular, the price goes up until they are no longer affordable to the population that historically ate them. I wonder if you see a corresponding drop in other cuts. Like, is tenderloin cheaper because we all buy short ribs?

The Takeout is republishing some of Lucky Peach's archive (the fact that the online archives are gone is a fucking crime). This profile of Martin Yan is amazing. While less famous than many of his TV contemporaries, he seems to be almost preternaturally stable and stoic. Really wonderful portrait of someone who changed the way we eat.

Keith Pandolfi writes an ode to his father, his stepfather, and bad coffee. Pandolfi argues that you can better appreciate the moments of your life when you aren't fussing over how your coffee is brewed.

This defense of the Long Island Iced Tea is really a defense of Long Island itself. Sure, it's tacky and a bit loud, but sometimes that's great.

I am EXTREMELY into this gallery of what food people were obsessed with the year you were born. The slideshow goes year-by-year from 1971 detailing what was big that year. It's like flipping through my parents' old stack of Gourmet magazines. I wish there were more sourcing, but I will take as gospel that I was born in the year of blackened fish.

There's a lot going on in this TASTE story about using retired dairy cows as a source of organic beef. It starts by discussing a San Francisco startup, then switches to Basque culinary tradition, and ends with scratch cooking in an Oakland school. Apparently the cows, which have lived longer and generally happier lives, produce meat that is much, much tastier than commercially raised beef.

This dropped a lot earlier this summer, but I never really had time to check it out. Bon Appetit did a collection of stories on the best neighborhood restaurants in America. It features both food writers and other famous people (John Waters! Allison Janney!). Also Rembert Browne on the best steam table soul food in Atlanta! Gustavo Arellano on his favorite taco truck / public office! Ann Friedman on taco pizza! This was great.
New York
Punch profiles The Polynesian. Major Food Groups has teamed up with Tiki master Brian Miller and are trying to launch one of the largest Tiki bars in the world in the center of Midtown. How have I not gone here yet?

The New York Times book section profiles "Kitchen Arts and Letters," the long-time Upper East Side book store devoted to cookbooks. It sounds like Meg Ryan's place from You've Got Mail, but snobbier and about food. I am afraid to go because A. My girlfriend has said I need to stop buying so many books and B. I need to not spend ALL of my money.

Ryan Sutton rounds up the best restaurants of the year so far, which is a disturbing reminder that the year is half over. Sutton says that while last year was boring and spendy, this year has been dominated by affordable and independant places around the city. Sutton calls out the bar at Ko as the best so far.

How convenient that Pete Wells also just reviewed the bar at Ko. He says it's hard to sum up. It's a series of small, self-assured small plates that are both affordable and experimental. There's also a wine selection as good as any in the city. Wells wonders why it's not more crowded. He awards it two out of four stars.

One of the biggest crimes in Brooklyn is how many people eat at Alamo Drafthouse. The food is *fine*, but it's right upstairs from Dekalb Market Hall, one of the better food halls in the city. Ligaya Mishan highlights one of the many excellent vendors, Daigo Hand Roll Bar. There, a journeyman sushi chef is bringing sushi back to its roots: affordable and ultra-fresh snacks.
Boston
Commonwealth Magazine profiles how Gateway Cities across Massachusetts are embracing the food economy to help drive economic restoration. Who could have been ahead of the trend in Gateway cities food? (Editor's note: I was actually far, far behind the trend.)

Lovely profile of Frank Lunardi, the last maître d' in Boston. I've walked by this guy a million times, and never realized he had a 40-year career in Boston dining. Read this to see a profile of a master of a dying art.

Neat profile in QSR magazine of Anna's Taqueria. QSR is the industry magazine for fast food restaurants. There is interesting info here about how Anna's started and expanded. I'm biased, but this place is ten thousand times better than Chipotle or Qdoba.

A food podcast I haven't heard of interviewed Boston City Councilor and Congressional candidate Ayanna Pressley about her work in the Boston restaurant industry. I'm a huge Ayanna fan. I really appreciate hearing a politician speak so forcefully about the power of restaurants to spread wealth into communities of color as well as make our streets safer.

Necco candy company has shut down! It's sad to see a regional staple go out of business, but their signature wafers are inedible. They are, however, perfect for elegant gingerbread house shingles. Get them before my sister buys them all.

I will read ANYTHING you write about Kimball Farms, and man did this story make me homesick.

Devra First writes about the fried chicken at Frogmore in JP. The food is great, and she also reflects on why we like it so much and why so much of its history is troubling.
Chicago
Phil Vettel is unmasked! The long-time Tribune restaurant critic published his photo, along with an essay about the decision. I don't love his reviews, but I really liked his essay. He talks about how it's getting harder to stay anonymous and he's realized that it's unfair to restaurants that are smaller and don't have the resources to track him. I think commercial interests played a role, since he used the unmasking to plug the first-even Chicago Tribune Food Bowl.

For his last review before unmasking, Vettel revisited two classic spots. Le Bouchon and La Sardine are both owned by the same guy, both are over 20 years old, and both serve French bistro classics.

Ina Pinkney, the breakfast queen, writes about Hoa Tuy Dong. Dong was a Vietnamese refugee who built a small baking empire in Chicago, supplying baked goods to Starbucks across the midwest and Oprah's studios. She's retiring to move back to Vietnam. Dong wasn't famous, but it's a nice story about an unsung success in the industry.

Mike Sula reviews Lost Larson, a new Scandinavian bakery in Andersonville. He drops a little knowledge about the history of pastry in that neighborhood, including a colorful tirade delivered by the head chef at Pasticceria Natalina when she closed her doors in 2011. Sula says that while many will compare Larson to a previous Scandinavian spot, it's really the spiritual successor to Pasticceria Natalina. It's aggressive, precise, and one to watch.
Washington D.C. 
Laura Hayes visits Mirabelle to preview the menu from the new team that has taken the helm there. Keith Bombaugh, formerly of Alinea, is now running the French stalwart and is introducing more North African flavors. Plus, for some reason but I'm not going to complain, New England food. I'm sold!

Washingtonian is out with their list of the top 100 restaurants in Washington. I can't tell if this list or my knowledge is bad, because I only recognized four of the top ten. As such, I don't have a lot to say about the list. A little surprised Inn at Little Washington didn't crack the top ten.

Bad things keep happening to that big jerk!

Tim Carman wrote J. Gold's obituary for the paper. It's a pretty straight one, so if you haven't read any Gold obituaries yet, now is the time!

Tom Sietsema visits Poca Madre, where he finds upscale and deconstructed Mexican food. He calls it appealing, and the restaurant has a sense of playfulness that has drawn out some bizarre turns of phrase in this review (For example: "Guac that can rock a diner's world is just a starting point."). He awards it 2.5 out of four stars.  
 
Los Angeles
Gustavo Arellano, writing for L.A. taco, reported from J. Gold's funeral. In a wonderful touch of homage and privacy, Arellano spends the entire time with chef Albert Bañuelos of Burritos La Palma. Burritos La Palma was one of four trucks the Gold family asked to cater the event, as well as a restaurant that owes its success to Gold. It's really a beautiful and personal story.

Carolina Miranda at the LA Times mashed up a bunch of old J. Gold reviews on her tumblr, making a lyric poem that somehow captures the feeling of eating at a restaurant.

Good Food, KCRW's food and dining podcast, had a fantastic special dedicated to Gold. Gold was a regular on the show for 20 years, and a good friend of host Evan Kleiman. The episode itself is worth a listen, as are the specials around it.

Joan Nathan, a friend of J. Gold's, writes an obituary for Tablet that focuses on his Jewishness. Gold wasn't religious, but he was a passionate supporter of Los Angeles' deli scene, which is pretty much better than New York's at this point. The obit talks about his Jewish upbringing and love of Langer's.

I only just read Eater's new package on California. They officially declared the Golden State the best place to eat in America. The guide to dining in the state that seems pretty helpful, though less so than their previous guides since the subject matter is so vast. Bill Addison writes about why California has replaced New York (I think that's unfair, but I also think Los Angeles beats New York one-on-one). Gustavo Arellano visits the less-well-known Central Valley, whichis probably the best article in the package. I don't need to tell you San Francisco and Los Angeles are amazing, but Sacramento?
Out of context J. Gold quote of the week
But this was the first time I had ever come up against one of the most basic of nature's postulates: You live; your prey dies. In order to eat, you must first rip into living flesh . . . not by proxy, not from a distance, not with a gun or knife, but intimately, with your teeth.

link