Discover more from Snack Cart
A weekly summery of the best food and restaurant writing from around the country, plus local news from your favorite cities.
Over 6,000 subscribers
We need a term that means "too much umami"
I've just started adding MSG directly to my home cooking, which is an absolute game-changer. I'm using Ajinomoto, which I ordered from Amazon based on Helen Rosner's recommendation. My food tastes quite a bit better, but earlier this week I flew too close to the sun. Halfway through cooking, I realized that I had been adding powdered MSG and finely grated romano cheese (which is basically powdered MSG) to my sauteed greens. We only just got the word to describe the taste umami, so I think we have a few years before we successfully describe "over-umamied." It was kind of like being too salty, but more so. A bite would taste great, and then my cheeks would pucker. Some frantic tweeting and googling taught me the the only way to fix this is to add volume to the dish. Not having an extra bunch of kale handy, I kept everything else I added as bland as possible and it turned out OK (If I hadn't just moved, I probably would have vinegar on hand, and would have tried that). It's a good reminder that when they tell you to add seasonings a little at a time, tasting as you go, they aren't just telling you a bunch of nonsense that sounds impressively chef-y. While I drank extra wine to counteract the umami (I'm choosing to believe that works), I actually cleaned out my email. Hence, a lot of cool stories from the mailbag that I missed from mid-August, when I was too busy to do much of anything.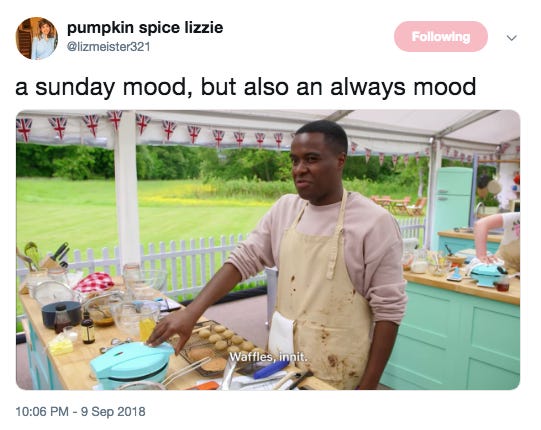 I sorta avoided the controversy behind roaches and La Croix. I'm a dedicated Polar partisan anyway. But Dr. Sarah Taber, food scientist and rogue tweet-stormer, broke down the entire scandal and why it's complete bullshit. She points out that they are being sued because their drink contains trace amounts of a roach pesticide. That pesticide, linalool, is a natural byproduct of orange peels. Taber calls out that many modern pesticides are just high concentrations of natural plant byproducts (that plants make to repel bugs). Humans just happen to find these natural pesticides appealing. Where flavoring ends and insecticide begins is apparently a thin line. God, this is good science writing.  

Two huge interviews renewed (like it ended) the conversation about the role of sexism and abuse in the restaurant industry. The New York Times scored the first public interview with April Broomfield, the former head chef at the Spotted Pig and business partner of Ken Friedman (Noted douchebag and currently accused of a large number of instances of of sexual harassment and assault). The Cut interviewed Gabrielle Hamilton and Ashley Merriman, two chefs who received a lot of criticism for taking over the Spotted Pig after Broomfield stepped away (their partnership with Friedman quickly fell apart for reasons that in hindsight are comically obvious). Helen Rosner writes a short but powerful summary of what seems like a cynical new era of #MeToo. In short: Powerful men bringing in women to fix up their mess rather than confront it themselves. A lot of the backlash to Hamilton and Merriman focused on how they seemed to be willfully ignoring that, and trying to act as if the entire problem of gender issues in the restaurant world could be attributed to bad management at the Spotted Pig. Bloomfield's interview is more challenging. Part of me knows that this is a set-up for a redemption narrative for someone who knew about these issues and did nothing for a long time. But I had a hard time not feeling some sympathy, as there are a huge number of emotions in any kind of abuser-enabler relationship. It can lead someone involved in one to believe, in a way that seems absurd to outsiders, that they have no power or there is nothing they can do. Ultimately, I landed where @shitfoodblogger did on this. The misdeeds of any female enablers pale in comparison to the horrible things done by these men. Kudos to Chris Crowley at Grub Street, who said what can't be said enough: just shut down the Spotted Pig (the food isn't even that good).

I hadn't realized how much I was missing Kevin Alexander's writing until I read his obituary of Bertucci's. It's about Bertucci's (and those rolls), but it's also about growing up in New England in the 90s, being a dirtbag high school kid, and our first teetering steps of adulthood. If any of those things resonate, you'll have trouble holding back tears.

My friend Jared is recently back from a trip to Japan and newly obsessed with the Suntory highball machine. It's custom-designed to make Japanese-bartender-level highballs in places where a gaijin wouldn't give them the attention they deserve. Apparently, the machines have a cult following among business-types like Jared. Highballs are SUPER underrated as a cocktail, so I dig this idea. It looks like bars in LA, New York, and maybe Chicago have these machines.

DEPARTMENT OF CORRECTIONS - Last week, I shared a story about a beloved Dallas restaurant that is one of the homes of Tex-Mex. I called it El Felix and the resturant's name is actually El Fenix. I feel dumb.

I saw on Twitter that this is Kat Kinsman's first published piece of food writing! It's a lovely profile of pie bakers across the country who are focused on helping their communities.

PUNCH interviews three Atlanta bouncers from some INSANE-sounding bars about what their jobs are like. Read through for the third guy, who clearly HATES this.

Scandal rocked the wine world this month, as most of the recent round of Master Sommeliers graduates had their certification revoked. One of the judges of the final round of the exam (the blind tasting) leaked information about it ahead of time. Since it was impossible to tell who cheated the governing body felt the only option was to revoke everyone's passing grade. This is brutal punishment, since the test is impossibly hard and costs thousands to take and prepare for. The governing body is going to make the retakes easier for those impacted, but that's no promise. My sister, who works in wine, told me there's a huge amount of random chance involved in blind tastings in general (Did they pick wines you are strong in? Do you have a cold? Did your diet in the weeks leading up to the event change your palate?). There's a good chance that a number of people who passed fairly will never manage to again. Nice reminder that the wine world is a wretched hive of scum and villainy (This was where my sister added "AND SWAMPLANDS" when she reviewed the newsletter before it went out).

Change is hard. After decades of delays, Tokyo's famous Tsukiji fish market is moving to a new location. The market, which is almost 100 years old, is both an industrial heart of the city and a massive tourist attraction. But the city has evolved around it, and the government is moving it to cleaner and more hygienic facilities. Many of the vendors don't want to move. Davey Young, writing in Culinary Backstreets, goes deep on the history of the market and what we all are losing. I'm mostly nostalgically sad that I won't be able to visit the original location.  

Lovely essay from food writer-turned-restaurateur Sara Deseran. She writes the ten things she learned from taking the plunge and opening a small chain of taco spots with her husband. In particular, it's a great picture of how little control an owner or chef has over the success of their restaurant.

Chrissy Teigen's new cookbook is out! Erin Alexander at Food 52 tries to make a hilarious and relatable recipe and has a hilarious and relatable experience (I actually mean this! This exact thing has happened to me!)

MUNCHIES takes a really interesting look at the Saigon food scene, which is changing rapidly as Saigon becomes a richer, more international city. In particular, writer Dan Q. Dao looks at the effect the Vietnamese expats, known as Viet Kieu, are having on the city's dining scene. Viet Kieu are second and third-generation Vietnamese whose parents fled during the war. They used to be hated, over the past 20 years the government has loosened the laws and allowed them to return and open businesses. They bring can-do American spirit (and a number of tried and true food and dining concepts) with them. A Vietnamese-Texan restaurant that serves "duck egg flan that uses coconut milk infused with pandan and lemongrass" is culinary innovation worthy of any city in the world.  

*Prints out this guide to to Indian street food snacks and staples it to my wall*

Bloomberg published a long story on how changing tastes are killing American Cheese. While occasionally eye-rolling, it's actually a really neat commodities story about the collapse in cheddar prices. 500-lb barrels are down against 40-lb blocks, with the larger barrels being the main ingredient in your Kraft Single (this makes me wonder if there is some opportunity for cheese arbitrage). Many people had *thoughts*, both for and against. Since anyone who doesn't like American cheese is wrong, they will be ignored here. Dave Holmes, who is one of my favorite writers but rarely writes about food, stood in defense. He also also introduced me to something called "provel", that I now must try. Kenji chimed in at Serious Eats. As is his wont, he explained WAYYY too much about what exactly is in American cheese and what the various ingredients do.  

This is a GREAT Fast Company story about the history behind the OXO Good Grips line. I didn't know that they were originally designed for people with arthritis! This is another example of how inclusive design makes for better design for everyone. I just ordered one.

October, a beer website that I hadn't heard of, dives into the connection (or lack thereof) between beer and hip hop. Beer has never been part of the hip hop lexicon, though some startups and collaborations are trying to change that. There's a *lot* to this topic, and this could have delved a bit more into the inner city and African-American foodways that kept beer from really being a thing.

Abby Johnson, writing in Texas Monthly, digs into her love and the history of the savory cousin of the kolache, the klobasnek. It's an original creation of Texas' Czech community.

I love stories of beloved regional foods, but even I struggled with this story about Purity Cream Crackers, a Newfoundland speciality. Still, an interesting look at how islands breed these kinds of weird traditions. I wonder if, as the world gets flatter and more connected, we'll see fewer of them.

Bobbi Dempsey, writing in TASTE, tries to explain his complicated relationship with government cheese. I didn't realize this is an actual widely distributed product until earlier this year. Dempsey writes about the shame he felt at the obvious symbol of his family's poverty, mixed with a sense of comfort in having something stable in his life.

I'm enjoying VICE's series on the best dive bars in America. This one, about Mike's Chili Parlor in Seattle, is excellent. The owners refused to sell, so a hip new mixed-use development had to literally build around it.

Lettie Teague, the wine columnist for the Wall Street Journal, writes a lovely column on the joys of a truly bad bottle of wine. She points out that while wine writers and fans invent tons of flowery language to describe good wines, we rarely spend any time at all describing bad ones. She muses that many other kinds of critics are at their most fun when criticizing bad things, so maybe we should do this more. I couldn't stop thinking about one of my wine mentors, Dave (currently wine director at the Spirited Gourmet) who ran me through a tasting of corked wines. His argument was that we should taste bad things as aggressively as we taste good things. It's the only reason I'm now confident enough to recognize and send back a corked bottle of wine at a restaurant. Huge shout out to Senior Snack Cart has-a-Wall-Street-Journal-subscription-and-would-send-me-the-text-of-this-article Correspondent, David Gee.
Make sure you never miss an issue. Subscribe to Snack Cart Today. Weekly-ish, though it's been heavy on the "ish" recently.
New York
New York has all-you-can-eat Korean BBQ. WHO IS COMING WITH ME.

NICOLE BYER'S GRUB STREET DIET. THIS IS NOT A DRILL. If you are wondering if the host of Nailed It is as delightful as she seems, wonder no more.

Great NPR profile of the Billion Oyster Project. I'm on the board of the (much) smaller Massachusetts cousin organization. Oyster cultivation and recycling is one of the best things Northeastern cities can do for the environment. You probably don't know this, but local regulations play a huge role on the size and therefore impact of these organizations. Massachusetts is tiny barbecue the state pretty actively discourages shell recycling. Maryland's oyster recycling ecosystem is even bigger than New York because of their $5/bucket tax credit. At that point, it becomes viable for restaurants to pay for pickup.

The New York Times looks at what happens to an old-school New York place when it becomes hot with the Instagram crowd. In this case, it's Forlini's, the haunt of the Manhattan courthouse crowd that is now apparently also the place to gram from for the hip and the beautiful. The commentary from the regulars is fantastically insightful and philosophical. I want to pull this story in close for an earnest and lingering hug.

Amanda Hess, the New York Times' critic-at-large, tackles the growing number of pop up museums or "experiences" occurring around New York. While not restaurants, many of them are food themed (Rose Mansion, Ice Cream Museum, etc). Hess finds the entire experience wearying and sort of cheap. Hess manages to write a solid criticism without getting too scold-y, though I do wish she had engaged more with the value of their ephemerality and what she thinks people get from the experiences. Why is that Insta so important?

Grub Street dives deep into the hidden restaurants of New York. Tucked away in office buildings, the back of bodegas, and old school social clubs, these are places with unique offerings targeted at very specific populations. Obviously, I am desperate to go to all of these.

It feels like Ligaya Mishan has been highlighting the food of various South American countries a lot more recently. This continues in Rincón Melania, which is delivering classic versions of Ecuadorian staples in Long Island City. I can't help but wonder if this is a little subversive, given the current political climate.

Double review! Both Pete Wells and Ryan Sutton review Atomix in Murray Hill. It's a $175 Korean-focused tasting menu that each say ranks up there with the best temples of haute gastronomy in the city. Both reviews highlight different dishes (as sign of a truly standout menu) but each one calls out the menu itself. Rather than no menu or inscrutable da da esque descriptions, Atomix gives you menu playing cards. The minimalist designs and short description on the front are paired with longer details and a full ingredient list on the back. As an "Always Read the Plaque" person, this sounds like my heaven. Both award Atomix three stars.

Sutton also reviews Don Angie, which Wells looked at earlier this year. Sutton puts it in context of traditional Italian-American restaurants. Outside of a few spots, we rarely see chefs attempting to innovate inside of classic red sauce cuisine. Sutton clearly adores the food here, even if he seems to hint that other people might not find it as good as he does. Also, getting a reservation appears functionally impossible.  

The Times overhyped this place as secret, but this is a lovely little profile of the wine store located inside Penn Station. A real interesting mix of trying to balance quality with getting people what they need ASAP. As always, RIP the LIRR bar carts.
Boston
Devra First visits Allston to write about Rabottini's, a new pizza place from farmer/chef Brian Spangler. First calls this the best pizza in Boston right now, and this is actually one of her best reviews in a long, long time. The first four or five paragraphs are wonderful. As a measure of how moved I was, I sent this to my parents, telling them to go there. As a note of disclosure, my dear friend Gustavo Quiroga is involved in this popup. Gustavo's taste is good.

The Worcester Telegram profiles the growing wineries of Central Massachusetts. I can't recommend most of the Massachusetts wine I've tried, but it's interesting how even if the product is meh the "visit the vineyard" experience is attractive to people.

Boston Twitter was torn apart earlier this week when TripAdvisor announced that Regina Pizzeria is the best pizza in the country. In my experience, TripAdvisor reviews tend to favor tourist locations and they tend to self-reenforce. Regina's is the perfect mixture of both since lots of people visit Boston, but there aren't a ton of famous touristy restaurants so they all end up at the same few places. Devra First dissects TripAdvisor better than I could, but I do think Regina is underrated by the food cognoscenti in Boston. If you haven't been, the pizza at the original location in the North End is the platonic ideal of Italian-American pizza styles. Crisp crust, fresh toppings, plus a lively and earnestly fun atmosphere. Yes, it's better than Santarpio's, and probably as good or better than most places in Boston (and New York).

We've got another double review! Both Devra First and MC Slim JB rave about Chickadee. It is *out there* in the Seaport, near the Design Building, and both say it's one of the best new openings in years.  It's not surprising this new place is getting raves so early, since the team behind it also opened Spoke and spent time at No. 9 Park. It's European technique that mixes in North African and Asian flavors. First points out that this kind of comforting yet technically interesting food is really hard to pull off. Slim worries that it might be too ahead of its time and struggle in a neighborhood where no one really lives yet. Slim doesn't do stars, but First does 3.5 (her highest ranking review in a long time).

Speaking of the Seaport, Trillium finally has a brewery to match the quality of their beer. This has been a long time coming, as they made a hilariously bad decision about their first space and have been trying to get out from under that for years. I look forward to not being able to get into this place when I next visit Boston because it's filled with 10,000 finance bros.

I am unclear who Kathy Shiels Tully is and what leverage she has over the Globe to publish this review.
Washington D.C. 
In a review many had been waiting for, Tom Sietsema reviews Kith and Kin, the second restaurant from chef chef Kwame Onwuachi. The review reads like a rave (yet surprisingly only 2.5 stars?), with Sietsema praising the painstaking work that goes into making food that is a true reflection of the chef's backstory. For those that don't remember, Chef Onwuachi parlayed his Top Chef win into opening Shaw Bijou, a fancy tasting menu restaurant that tanked relatively quickly. Early reports form Kith and Kin were mixed, but a review this long after a place opens is clearly Sietsema saying that it's hit its stride and we should support it. I have mixed feelings about how a a young ambitious black chef was treated by the food world, but at least it's clear that Kith and Kin is worth a visit. Not sure why he only gave it 2.5

The Washington Post dropped their fall restaurant guide. The digital product person in me really likes the impressively smooth interface. Definitely go enjoy clicking around! I enjoyed the way Tim Carmen's budget picks mixed in with the fancy ones, and adding a "Hall of Fame" is a really good way to leave a list dynamic while still paying respect to the places that are consistently amazing. The "Quiet" tag made me laugh, since this appears to be a growing complaint among many diners and Sietsema has been leading the charge. No big surprises in the list itself, other than high marks for a Rockville place specializing in lechon being in the top ten from out of seemingly nowhere.

Initiative 77 is dead after a second city council vote to repeal it. The ballot question, which would have dramatically raised the minimum wage, instead became a package of kinda milquetoast restaurant industry reforms. This has been a wild political process, and probably isn't completely over.

After last month's amazing story on the head chef at Walter Reed, Laura Hayes profiles several other chefs who work in non-restaurant settings. Whether it's for the [Washington Football Team] or at an elementary school, there are creative people working with weird constraints yet still putting out excellent food. One thing that jumped out at me is how all of the people profiled, regardless of where they worked, said it was a healthier environment than restaurants.

I'm unclear if I've just missed them all or if they never posted them online, but this is the first review from Washingtonian critic Ann Limpert I've been able to read. It's good! I wouldn't have minded an extra 200 words or so, but Limpert drops a great history of why Momofuku CCDC was bad and why it's good now. Essentially, David Chang has realized that throughout his empire he will succeed if he hires talented people and lets them cook their own food, rather than forcing them to cook his. Chef Tae Strain is doing dishes that seem like a more modern evolution of Chang, and even has enough freedom to drop the ramen from the menu.
Chicago
Once, when I was running communications for a political campaign, there was a major columnist at the local paper who hated us. HATED us. I couldn't understand why, since we agreed with him on almost every single issue. As I sat through the newspaper's editorial board meeting and watched him grill the candidate over the *one issue* they disagreed on, I had a moment of clarity. Far worse than a critic who hates you is a critic who is disappointed in you. They will be far meaner if they think you can do better (in this case, if they agree with you 90% of the time and can't believe it's not 100%). I recalled that as I read Chicago Magazine's Jack Ruby eviscerate Radio Anago, the new spot from Hogsalt Hospitality Group. The team that brought us Bavette, Au Cheval, and a dozen other iconic spots has created a boring and paint-by-numbers sushi place. How else can you explain this description of the signature fried chicken: "They resembled something between a trio of burgers left overnight on a grill and decomposing limbs in a serial killer's basement. A smattering of matcha didn't even register. The sprinkling of gold flakes lent a top note of bullshit. And that was the good part."

Fooditor publishes a great guide to not eating out in Chicago. Sometimes, you just want to cook at home, and MIchael Gerbert highlights the best meat markets and specialty grocery stores to get the ingredients and snacks you need to make that experience just as memorable.

You had me at "multi-hyphenate bar-restaurant-bookstore".

Mike Sula is in West Lawrence, where Venezuelan restaurant Sweet Pepper is here to remind us that the arepa is a lot more interesting and varied what you got at a street festival last month. Sweet Pepper was founded by recent immigrants, and Sula muses at how chaos in that country appears to have brought lot of young and upwardly-mobile Venezuelans to seek their fortunes here. One reason it seems as if places like Chicago, Los Angeles, and D.C. keep making food news is that that story can happen there. A young couple trying to open a sandwich place in New York or Boston face astronomical rents or the massive cost of getting a liquor license.

Sula also visited Logan Square, which seems to keep getting a bit more exciting every day. This time he's at Taste of Havana, a new spot founded by a group of retired or semi-retired friends who were all regulars at the recently closed El Rinconcito Cubano. Sula points out that Cuban food isn't exactly endangered in Chicago, but that this is an excellent addition to the food scene. Plus, the Mojitos are excellent.
Los Angeles
The Los Angeles Times appears to finally be moving on to a post-J. Gold world. Their food section had been a memoriam to Gold for the past few months, but it seems like they are finally moving on. Amy Scattergood, the food section editor, drops a review of Willows Inn. You've heard of Willows Inn, it's a Noma protege doing the Noma thing on a tiny island somewhere between Seattle and Canada. Does it serve fresh-foraged Geoduck? Of course, but Scattergood describes it as if you are at a friend's dinner party rather than one of the top 50 restaurants in the world.

A brief bit of Gold news: the James Beard Foundation is renaming their Local Impact award into the Jonathan Gold Local Voice award.

Punch profiles the new head bartender at Musso & Frank. Listen, Musso and Franks doesn't change, nor do profiles of Musso & Frank change. We love them anyway.

I'm a few weeks behind on KCRW's Good Food, but the one I just listened to was great. Chef Daniel Patterson was on to talk about life post-Locol, and his partnership with chef Keith Corbi. Plus, they previewed a new Los Angeles Times medical mystery podcast with a fascinating story about why a baby wouldn't breastfeed.

Gustavo Arellano, writing in L.A. Taco, tells the true story of National Taco Day. I was surprised to learn it started as a way to highlight Mexican-American political power. But like many of the best Mexican things, it was co-opted by national food chains.

Jessica Flores, writing in L.A. Taco, profiles Anthony Jolly, an African-American coffee fanatic and entrepreneur who recently opened his first brick and mortar coffee shop in Leimert Park. His space, Hot and Cool Cafe, seeks to deliver great coffee as well as become a hub for activism and social change.

Edwin Goei reviewed Robata Wasa, a new restaurant in Irvine Spectrum. Robata Wasa used to be on the other side of the mall and used to be called Izakaya Wasa. Goei calls out how radically the place has changed. Izakaya Wasa was a smaller and more intimate space, focused on sushi with some more elegant and experimental dishes. The new space is much bigger, with an enhanced focus on the grill and a lean into the experimental dishes. Instead of sushi, you're better off getting the squid ink pasta with uni cream sauce or the crab croquette.
Out of Context J. Gold of the Week
But the doughnuts — they're magnificent, French crullers that melt away in your mouth, glazed doughnuts as light as froth, fresh peach doughnuts in season that capture the soft light of California summer accurately as Beach Boys songs. Springtime, though, is for strawberries.

This review featured so many amazing lines it was BRUTALLY hard to pick just one