Discover more from Snack Cart
A weekly summery of the best food and restaurant writing from around the country, plus local news from your favorite cities.
Over 6,000 subscribers
The terrifying future of food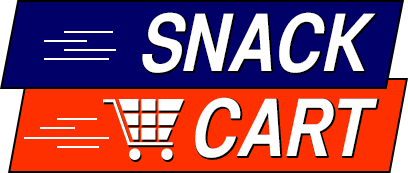 Several people pointed out that the world for adding too much Umami to a dish, what I have managed to do several more times, has been called "Toomami". THAT'S NOT BAD. I'm not clear where it came from but the folks at TASTE pointed to either Julia Turshen or Samin Nosrat.

A week or two back, I finally managed to stop at one of the new Asian places in the East Village. I was en route to the kind of amorphous dinner / drinks thing that everyone in New York does pretty much every single Thursday and Friday. You know, meet up for drinks at 7pm. 45 minutes later you know you should probably get food, but you're standing and talking so getting a whole meal feels like a THING. You end up getting some apps and forcing yourself to believe that a single chicken wing or piece of pita dipped in hummus is fine. Deep down, you know that after your third cocktail you're going to stop for a burrito or some Chinese food on your way home.

ANYWAY, I was walking by Ho Foods in the East Village, and thought I could squeeze in a bowl of noodles. The place is tiny, maybe 8 seats total. There was a line, and they asked if me and another guy would mind sitting together. Since I was in a rush, I agreed. For the first few minutes, I was dedicated to listening to my podcast and reading my book. My companion seemed interested in doing the same. But after a bit, it was just too awkward. A two-top in a tiny restaurant is too intimate. I took out my earbuds and said hello. We ended up chatting for the whole meal. He worked in publishing and had come after taking a day off from work to attend NYC Comic Con. He was Taiwanese-American. Ho Foods scratched some kind of metaphysical itch for him. He didn't know a lot about Taiwanese food, but he knew this place tasted like what he remembered from family meals when he was young. He shared some of his minced pork over rice, and watching him eat I noticed a new chopstick technique: He spun noodles onto his chopsticks the same way I might do with spaghetti and a fork.

Before long (not very long at all, I *housed* that soup) we went our separate ways. We didn't exchange numbers and to be honest, I don't even remember his name. But the impromptu date had been fun. Eating or drinking alone at a restaurant is one of life's great pleasures. But I think one reason it is so great, rather than being a purely solitary activity, is that it leaves a little bit of uncertainty to the evening. You are more likely to strike up a chat with some neighbors or your bartender. You are more likely to have the night go in an unexpected direction, even if only for the length of a conversation.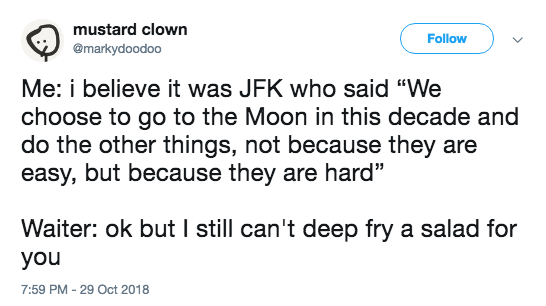 Friend of the Cart Matt Gross pens an absolutely amazing story for AirBNB Magazine about the subject he knows best: chile peppers. He travels to Jamaica, Hungary, and Thailand to trace how chilis have taken over the world. For me, the craziest thing is right up front, where Matt points out that chile peppers hadn't left Central America until after 1492. When you think about the cuisines around the world that rely on chilies, that's fantastically fast. Anyway, keep an eye out for more from Matt in the chile space.  

I have finally gotten around to watching "Salt, Fat, Acid, Heat" on Netflix and GOD it is good. My girlfriend has agreed to let me move to Japan and become an apprentice soy sauce maker. Also, Jenny Zhang writes in Eater about how the show is quietly revolutionary. It's upended the existing food TV paradigm, where the only people who get to travel and enjoy eating are generally thin and generally white.

I expected this Fast Company article, on what the future of food will look like, to be a slog. Instead, it's a fun, engaging, and terrifying bit of sci-fi. It extrapolates out current trends in AI, farming, and health tracking into some amazing and terrifying places.

Tina Vasquez writes a heartbreaking essay for TASTE about attending her husband's annual church homecoming. The Southern potluck doesn't always welcome the Mexican-American dishes she brings. She feels as if, when they pick and choose what they like about her food, they are dismissing the same things about her culture. Food TV has taught us that food brings people together. This is a great look at how that's not always true.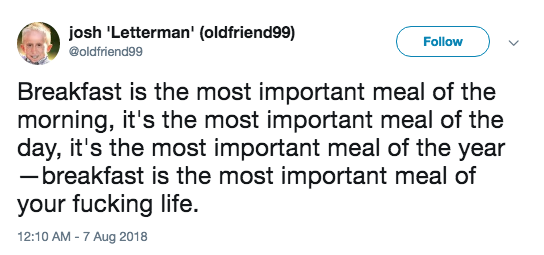 Thanksgiving content is HERE. The New York Times is strong out of the gate with their Melissa Clark Thanksgiving. I also really enjoyed (as did several people who sent it to me) this Eater article ranking the food magazine Thanksgiving covers.  

This classic Italian coffee pot, that someone once bought you and you can't quite tell if it makes good coffee or not, might become extinct!

Noah Cho, in Catapult, pens an ode to Maangchi, a Korean Youtube cooking star who helped him remember what he loved about Korean food (and taught him how to make a killer bindaetteok). Good read, if only to remember that I should make more Korean food at home.

Lithub excerpts Alison Pearlman on the world of off-menu fast food orders. She dives into what our obsession over these items mean about us, the corporatization of food, and our rebellion against modernity. There was a LOT more here than I expected.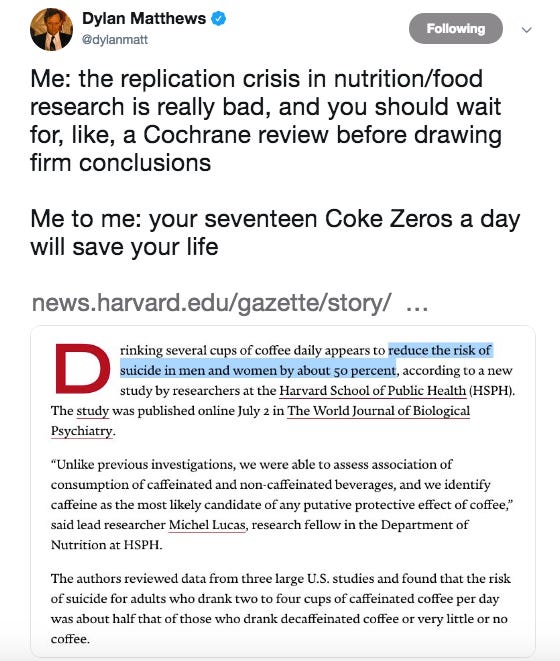 Olia Hercules, writing in the New Yorker, asks why we don't have plates full of herb salads on more dining room tables. She remembers a youthful trip through the Caucasus, but also discusses Southeast Asia and other cultures that serve herb salads on the table. This made me realize what a good a good balance a pile of herbs can be for any salty, fatty foods. I think this might be an amazing idea for Thanksgiving dinner?

If you are, like me, feeling a lot of emotions this week, maybe don't read this short essay for CNN by Laurie Woolever. Then again, maybe a good cry is what we all need. Woolever was Anthony Bourdain's assistant, and writes a short obituary/announcement that she'll continue working on the final book they were authoring together. You can tell how much she cared about him, as well as how hard this was for her to write.

We all agree that the Internet is terrible, but it's also home to pockets of indescribable beauty and humanity. One such pocket is a Reddit forum where users post pictures of their fridge and everyone tries to guess who they are. Helen Rosner briefly profiled it for The New Yorker.

Not all chopsticks are created equal. You might know that different Asian cultures use different kinds of chopsticks that complement how food is prepared and served. Eater dug into the chopsticks that different chefs use in their restaurants and why they use them. I personally mostly use metal chopsticks that the street vendor in Luang Prabang said were made out of recycled US bombs. Easily washable, though I wish they were longer for cooking.

The Takeout's series where they buy Drew Magary absurdly expensive ingredients and let him do whatever he wants with them is just about the best. Here's what he does with $400 worth of caviar. Spoilers: There is a hot dog involved.

Linni Kral takes a bold stand for a Extra Crispy, declaring that the best bagels in the world are in Boston (*Extremely Toofer voice: "Well, not in Boston, but nearby. No, not Tufts."). We can argue, but Bagelsaurus is SO good.

A friend alerted me to Snuk Food, a new online grocery specializing in hard-to-find food from around the world. This is a great idea. As Amazon becomes the big box store to the world (and as the results become gamed until they are functionally useless), it seems like it's easier for small providers to curate expertise in order to compete. A big part of Snuk will be Caravan, an online magazine dedicated to the stories behind the food they carry. If this interview on the history of royal Islamic food is any indication, this is something to watch.

I'm not sure what to make of this story from Eater about a religious movement from the 1940s known as the Peace Mission. Nominally, food and restaurants are involved, though not really much more than any other religious movement. I think Eater just wanted to highlight a really weird and interesting big of African-American history and the religion/cult's founder, Father Divine.
Make sure you never miss an issue. Subscribe to Snack Cart Today. Weekly-ish, though it's been heavy on the "ish" recently.
New York
The NYC food scene was briefly consumed by a dish called "iced Sichuan water pickles". Mission Chinese chef Danny Bowien served the dish, which was a martini glass full of crushed ice. People were in an uproar. Is this the logical extension of foodie nonsense, a chef trolling New Yorkers, or just a really bad idea? Helen Rosner, as is her wont, dives deep in a Twitter thread into *what even is a restaurant*. She coins a phrase that is new to me but seems so perfect: cultural trust. A key part of any restaurant experience, however weird, is the trust diners are putting into the staff to guide them appropriately. Something as troll-y as serving $8 ice seems to fly in the face of that. Danny Bowien appears to have said in a few places that the dish was supposed to have kimchi in it, which I straight up do not believe based on what I've read.

In the "my worlds colliding" category, my boss told everyone in New York to stop eating on the subway. In general, I support eating on the subway but I do think you should restrict it to foods designed for consumption on the go. Pizza, hot dogs, etc. Also, work rules apply: no fish, Chinese, or anything else that smells too strongly. The dude standing next to me on the 4 tonight somehow managed to nibble chicken wings discretely and gracefully, but that's the exception.

I am choosing to ignore this sensible and well reasoned review from Ryan Sutton about why that all-you-can-eat Korean BBQ place is actually bad. IT'S ALL YOU CAN EAT.

If nothing else, Snack Cart will be YOUR SOURCE for any insane chef tree-killing news.

To eat in Manhattan right now is to eat in hotel restaurants. One of the biggest complaints I've had about the recent crop of newer, more ambitious spots is the lack of diversity. Hotels are risk averse in these spaces, which frequently means they default to white dudes. That why I was excited to see Pete Wells give one star to a Harlem chef bringing us his interpretation of the food of the African diaspora at Henry at Life Hotel by JJ (what a name!) in the middle of midtown.

Wells finally weighs in on the great New York slice renaissance. He reviews Mama's Too on the Upper West Side. He likes the pizza, obviously, but also seems to enjoy that while many of the current generation of artisanal slice places try to emulate previous eras of New York, Mama's Too looks to the future in both its decor and it's pizza varieties.

Ligaya Mishan dives into Staten Island and into the food at Sigara, which is one of the few Sri Lankan restaurants in New York.. The descriptions are dizzying. I know a lot about Southeast Asian food and a little about Indian, and this was like reading something in a language I sort of recognized. Words and phrases jumped out, but I had no syntax. Clearly, I'm obsessed and need to go. Also, the entire meal starts with a giant platter of fried cashews, which is among my favorite foods.

Michelin stars are here! Ryan Sutton at Eater runs down the awards. It seems, unlike many other food awards programs, Michelin seems dedicated to its unwokeness. They tell Sutton, "It's about what's on the plate," but Sutton points out a number of places that doesn't really appear to be true.
Boston
New BoMag dining editor Scott Kearnan comes in hot with a resurrected feature: The 50 best restaurants in Boston. I have come full circle and love lists like this (I also think Scott is terrific for this gig and I am glad he escaped the Herald). This list plays it safe, but it's still a great run through everything that is great in Boston right now. Nothing has made me this homesick in a while.  

MC Slim JB drops the first review I've read of Whaling in Oklahoma. Chef Tim Maslow's weird ups and downs have led him to open and then abruptly close two of the best restaurants in recent Boston memory (Ribelle and Strip T's). He's back! Now in the South end doing Japanese food with New England ingredients. Slim likes most of the food, though it doesn't quite seem clear what the restaurant is trying to say.

Darryl's Corner Bar and Kitchen, South End soul food restaurant and community institution, is under new ownership. Eater has long story on Darryl's, including an interview with previous owner Darryl Settles. Don't expect too many changes, since the new owner is the previous bar manager. She intends to modernize a few things about the place, but "the Cheers of black Boston" will continue on.

NOOOOOOOOOOOOOOOOOOOOOOO.

I don't remember how found this older piece, but my favorite article this week might be this history of Boston's great burrito war. I knew they were rivals, but I didn't realize that Boca Grande and Anna's was the source of a full-blown family feud. I remain a committed Anna's partisan, but man neither of them come out looking good in this 2006 Boston Magazine profile. Also, remember when an Anna's super burrito was $3.75?  

Tragedy has struck the childhoods of millions of New Englanders, as Papa Gino's filed for bankruptcy. Dozens of stores closed, and over a thousand were unexpectedly laid off. Devra First uses this occasion to visit the pizza chain for the first time. It's a little macabre, but ultimately written with grace. The food isn't great, but sometimes you just need to get a pizza and not try that hard. First also writes the best description of getting vegetables on a pizza I've ever read.

First also writes about her love of Thai food, most recently at Dakzen in Davis Square. It's one of the cuisines that is most poorly served by its Americanized translation. At Dakzen, the menu is smaller and you can't sub out proteins, but if you can get true khao soi, that's a thing to be treasured.

She also (she's been busy!) does neat feature on the 20th anniversary of No. 9 Park. Instead of a review revisiting a Boston institution, she takes a crawl through all of chef Barbara Lynch's establishments. In a way, it softens a fairly negative review of the flagship by highlighting how much Lynch has driven the changing Boston dining landscape, and how so many of her restaurants are classics.
Washington D.C. 
Tom Sietsema gives 1.5 stars to Annie's Paramount Steakhouse in Dupont Circle. It's not really about the food, which is not great. Nor the drinks, which are enormous, but rather it's about the sense of welcome the place has been providing for D.C.'s gay community for decades. Sietsema mentions he is gay in this review (At least I think so? he references "my straight friends"), which might be him coming out to his readers. Frank Bruni famously did in the NYT in 2007 and it was a minor scandal (and a great review). This reminded me a *lot* of Anchovies in Boston, which was one of my favorite places and similarly had huge portions, massive cocktails, and was a local restaurant that was also a hub of the gay community.

Any article telling you to eat Goldfish on Thanksgiving like Julia Child is an INSTANT CLICK from this guy.

It's always pleasurable when a food writer eats some weirdo fast food thing and overwrites it. Tim Carman and the triple-stack McGriddle doesn't disappoint.

Sietsema also drops a new review of Mirabelle. This restaurant has been a source of fascination and drama in D.C. for the past year or so. It opened, a block away from the White House, to sky high expectations. For a while, it seemed to meet them. Then things got rocky. People clashed. The chef got the manager fired. It got worse, the owner fired the chef. Now, we are in the second era, with a new chef who came up under Barbara Lynch and Grant Achatz. The food is more aggressive and less classic, but Sietsema seems to indicate that when it gets too creative it starts to lose the thread. Sietsema gives it two stars. It sounds like this place is still finding its footing, which is tough more than a year in and in a pricy location.

RACLETTE-COVERED HOT DOG and TIKI CHRISTMAS BAR? The Washington City Paper appears to be playing "Josh Mad Libs" and I am very excited.

Bad things continue to happen to that asshole!

Jessica Sidman at Washingtonian looks at why out-of-town food writers are obsessed with Maydan. This is a great story for anyone who doesn't understand why GQ highlighted some new place in their city that isn't even that good. One thing I've come to realize writing this newsletter is how much that national/local split can be real. I think often, national outlets (myself included, I guess?) are looking for a larger angle. They pick a place because it fits that narrative, not because it's technically better or more exciting than another place.

I don't know if they changed their UI or I'm just an idiot, but Ann Limpert's reviews are now neatly organized in the right rail of the Washingtonian food section. She drops a similarly tidy review of Northside Social, a new all-day neighborhood cafe/restaurant in Falls Church. Maybe it's just me, but I feel like these new restaurant/cafes don't really deliver on all their meals. They either do the cafe/breakfast/lunch part well or the restaurant/dinner part well.
Chicago
Mike Sula reviews Twain, a new Logan Square spot where Chef Tim Graham is blowing up Midwestern cooking based on his extensive collection of community recipe books. Reading through this review, it feels like Twain is maybe the most interesting place in Chicago to eat right now. Its twists on American food, like a baked potato skin filled with bacon and cheese gnocchi or a split roasted marrow bone topped with sloppy joe mix, sound as surprising as they are… well delicious. If they can fix up their service issues, this might even be the most interesting place in America.

Fooditor also looks at Twain, diving deeper into Graham's cookbook collection. This story ties together Graham's dishes to their specific books, many of which are from Midwest women's groups or church groups. I think one reason I find this place so interesting is that this kind of American vernacular food is rarely tackled by serious chefs.

I'm not sure I've seen this before, but Grace Wong at the Chicago Tribune has a column where she rounds up openings and closing citywide. It starts with a lovely passing of the torch at a community Mexican place in Edgewater and recaps most of the city. Every city newspaper and blog should do this.

Ah, a new high-end cocktail speakeasy from a famous restaurateur. Chicago needed one of those.

Mike Sula revels in the reopening of the Diner Grill. It's restored after its second fire in as many decades, and Sula says that while the food is mediocre diner, it remains  warm and welcoming place in the wee hours of the morning when only a plate of hash browns topped with eggs, hamburger, and chili will cure what ails you.
Los Angeles
Eater LA scored an interview with Mexico City mega-chef Enrique Olvera about his new Los Angeles restaurant. Food writer Josh Scarer pretty much nails the comparison to another famous chef who was coming to Los Angeles.

A famous(ish) chef once told me, "there are two things that no chef can actually improve on: Heinz ketchup and Hellman's mayonnaise." I would add pumpkin in a can to that list.

Newwww Tsujitsa! Plus more restaurant news from the Times. Looks like they are going light on reviews and heavy on food content until they hire a J. Gold replacement. Makes sense, as I think most newspapers don't do enough food content. It's easy, it's appealing, and it locks down the space.

L.A. Taco profiles Ricardo Jasso, chef and owner of Don Goyo, a tiny taqueria near Rivera Park. He mashes up the tacos of his Mexican City upbringing with some of the styles he experienced on his journey to the States. I haven't thought through this, but it feels like the food in Los Angeles always seems closer to the person behind it. I wonder if this is *because* it's such a transient city. You can see someone's story and how they came to be where they are because that story is much fresher.

My biggest regret from my time in Los Angeles is not having enough birria de chivo. I guess now I have to add birria de res to that list. L.A. Taco profiles the 12 best destinations for the red and saucy beef tacos.

Edwin Goei really enjoys Malibu Farm in Newport Beach. The food is fantastic, even if the place can't stop leaning into California cliches. Goei calls out a lighter version of chicken parm that almost surpasses the original, as well as the fact that they appear to add arugula to *everything*.
Out of Context J. Gold of the Week
She sneered at the lameness of Sietsema's come-on, a world-class sneer, a sneer that would have served her well behind any bar in Silver Lake or on the Lower East Side, and the two of us were as smitten as any two drunk, married guys could ever be at 3 in the afternoon. - link