The gourmet life of Gregg Popovich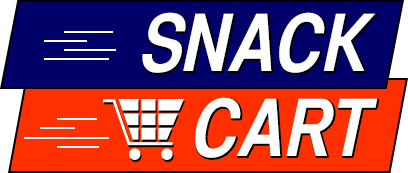 Bon Appetit released a large package of stories for the new issue "Red Sauce America". It's an ode and exploration of all things Italian-American. I haven't read all of it yet (I'm saving myself for the print edition), but I will preemptively endorse a number of stories. Kristen Arnett on why she takes first dates to the Olive Garden. Roxane Gay on Little Dom's (I used to go there!). An interview with a long-time waiter at Bamonte's. An ode to Chianti. Greens and beans, a Pittsburgh Italian-American tradition. And a profile of the Ecuadorian chef helming one of Chicago's classic Italian spots.

Just in case you already didn't feel inadequate compared to Gregg Popovich, it turns out one of the greatest NBA coaches of all time is also a food and wine expert. ESPN profiles how his enthusiasm in the dining room might be one reason Pop's been able to build a team culture at the Spurs that's the envy of the league. Plus, Pop tips incredibly well.

Vox gets all Vox-y exploring the rise in flavored beers and malt beverages. Alcohol companies are making sweeter beverages to appeal to younger customers who are drinking less beer. This plays into my, "cider will take over American drinking" theory.

Food & Wine's best new chefs are here! Some Snack Cart favs on this list, including Chef Kwame Onwuachi at Washington D.C.'s Kith/Kin.

Sarah Mock, a writer and reporter on agricultural issues, writes an interesting Medium post on how we can't eat our way out of the food sustainability crisis. She points out the various reasons why consumer choice is inadequate or unable to tackle the major changes society needs to make to save our health and the planet. This is something I've come to realize more recently. We all have individual responsibility, but the fact that recycling or shopping at farmers markets have been sold as actual fixes to problems that will require laws or collective action has been a clever marketing ploy by the rich and powerful interests that don't want to see things change.

Amanda Mull explores why millennials seem to be drinking less. This article could have used more data behind it, but it does do a good job of exploring why some young adults are choosing to drink less. I wonder if millennials, a generation that less rigidly adheres to lifestyle definitions, are also breaking down barriers between "sober" and "drinking". Then again, I appreciate the point someone made on Twitter, which is that in almost all trend stories about them, "millennials" could be replaced by "people without a lot of money".

The politics of restaurant minimum wage fights can be confusing. That calls for extra care when writing about it. This Twitter thread breaks down how the New York Times got completely played reporting on this issue.

Murder mystery wine train? MURDER MYSTERY WINE TRAIN!!!

Eater profiles chef Megon Dee-Cave, a black woman in Oregon who is opening a cannabis catering business. Writer Ann-Derrick Gaillot examines the hurdles she has faced, and the systematic barriers people of color face getting into this emerging industry. The rise of the largely-white legal cannabis industry is basically a case study in how systemic racism works. No one is passing racist laws, but somehow only white people have access to the capital and connections to run a new industry that was previous run by minorities.

Applebee's has been serving $1 margaritas for a year and NO ONE HAS BOTHERED TO TELL ME. Jesus people, what are you all good for? This article in Punch dives into how the brand manages to profit on the drink. Great exploration of how even national chains end up with a weird hodgepodge of drinks and supply chains based on local laws and regulations.

Kaitlyn Tiffany, writing in Vox, looks into the decline of the American buffet. This is a bit meandery, but there's lots of good information about the decline of chains like Sizzler. The fact that Golden Corral has a "100 year plan" absolutely terrifies me. It's probably logistically too hard, but I wish Tiffany had explored the world of Chinese or Indian food buffets.

Helen Rosner, writing in the New Yorker, publishes an adaptation of her introduction to a new book about Julia Child. The book, "Julia Child: The Last Interview and Other Conversations", is made up of various media interviews from different parts of Child's life. Rosner reflects on Child's progressive politics, which never took the center stage in her life but were a constant thread.

Fascinating story (to me) about a partnership between Subway and Tastemade. Rather than a traditional marketing partnership, Subway is using Tastemade's own content analytics as a way to predict food trends and create dishes that will tap into them. This article spends a lot of time talking about Green Goddess dressing for some reason, but the overall concept is sorta mind-blowing. Brands have only started getting good at making content about their products. The next step will be realizing that the content they (or their partners) make should start to drive the products themselves.

"In a way, and despite its considerable challenges, Bordeaux 2018 is a 'miracle' vintage – a phrase repeated many times during the en primeur tastings. It was saved, in effect, by global warming from global warming." My sister sent me this blog post, which is a review of 2018 Bordeaux wine harvest. I didn't expect such an interesting and meditative reflection on the effect climate change is having on the most important wine region in the world.

Melissa Clark reviews the Air Fryer, finding that the thing it is actually the worst at is frying. Sounds like this is a kitchen appliance you can skip.

The oldest Chinese food restaurant in the America is in Butte, Montana. America is so weird and great.

Amanda Mull (DOUBLE SNACK CART) writes about how arugula hasn't been given a fair shake and deserves the prominence of other leafy greens. Nothing made me realize I am an out of touch coastal elitist more than learning arugula isn't popular everywhere.  

I remain completely and utterly in favor of the spread of meat replacement products. That's why I'm excited to read that Burger King is introducing an Impossible Whopper.

The Atlantic profiled people who eat the same lunch every day. The article is good, but what's DELIGHTFUL is the large amount of reader mail they received. They published most of it. Most of them are normal, though I have a LOT of questions for the coworkers of the guy who microwaves cabbage every day.

In a similar vein of repetition, the Daily Beast profiles the diets of two players for the New York Rangers. It's an amazingly consistent and repetitive series of meals. These dudes eat a LOT of pasta.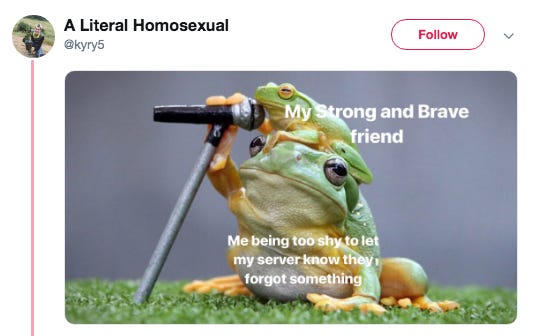 Make sure you never miss an issue. Subscribe to Snack Cart Today. Weekly-ish, though I should probably call it bimonthly at this point. 
New York
The NYC food world has been roiled by "Lucky Lee's", a Greenwich Village restaurant where the white owner was offering "clean" versions of American Chinese favorites. Many people pointed out that there are disturbing racial and classist undertones in the restaurant's marketing efforts. Esther Tseng, writing in Eater, writes an excellent essay about this. She unpacks the cycle that seems to KEEP HAPPENING and also talks about how a white person could open a Chinese restaurant without being an idiot. It's not about your background, it's about understanding and respecting the history of the food you are going to sell. Cathy Erway, also in Eater, writes about why so many places like this use the word "Lucky" in the title.

Frank Bruni is extremely problematic, but he really can write. In this essay, he reflects on how his tastes and experiences with restaurants have changed now that he is over 50. It's extremely good. "What you want from restaurants, it turns out, is a proxy for what you want from love and from life. None of these is constant. All reflect the arc that you've traveled, the peace that you have or haven't made."

Jason Diamond writes a lovely obituary to Enid's. It was his first bar in Greenpoint when he first moved to New York, and just announced it was closing. Diamond highlights that a lot of bars in Greenpoint and Williamsburg are closing. I don't want to knock the sadness of place that was important to you closing, but this piece is laden with a certain kind of first wave gentrifier sadness that a lot of writers of a certain age have. They decry condos and Whole Foods without reckoning with their own role in that ecosystem.  

I've been neglecting keeping up with Grub Street diets. They vary, but even the boring ones can be fun. This one, by actor Toby Leonard Moore (you will 100% go, "oh, that guy!") is delightful. He's both Australian and a former chef, so his enthusiasm for food shines through.

I've been hearing great things about Haenyeo, a new Korean spot in Park Slope. Ryan Sutton loves it more than his two-star rating would indicate. His review covers the history of Korean food in New York, and how chef-owner Jenny Kwak has imbued her menu with a huge amount of cross-cultural fluency.

I've been pleasantly surprised at just how good the food at the DeKalb market hall is. It could easily have been mediocre, but the stands continue to to be impressive and surprising. Ligaya Mishan agrees, as she's reviewed yet another one. She raves about the chicken at Chicks Isan, a new stand serving up blisteringly hot Central Thai food.

Pete Wells ALSO reviews Haenyeo. He also enjoys it and ALSO gives it two stars. He spends more of his review focusing on how chef Jenny Kwak has been a pioneer of Korean food in New York City for her entire career.

You may have heard that Tiger is back. Apparently, so is Rocco! Pete Wells reviews The Standard Grill, where one-time mega-celebrity chef Rocco Dispirito is in the kitchen for the first time in more than 15 years. Wells reviews a place that seems like the best restaurant of 2005 (in both good and bad ways). It's weird to say this, but this is an excellently written mixed review. It clearly delineates what is good, what is bad, and why this place is important either way.
Boston
Devra First writes a beautiful essay about Anchovies, a South End Italian restaurant. It's not a place anyone will tell you to go when visiting Boston, but it's probably everyone's favorite place. I've been saving this story to read since it first landed, and it didn't disappoint. It's as friendly and comforting as Anchovies itself. I wish she spent a little more time on the food and less on personal reflections.

First also reviews Bar Lyon. The newest South End French bistro joins a legion of other South End French bistros, but First claims it deserves its place. She awards it three stars, meditating on the value of simple things done well. I wish the Globe figured out their approach to food. This and the Anchovies essay were not really any different at all. Loosen up the difference between "food essay" and "review" and you can go from there. Not to mention the three or four "first bite" articles I skipped over.

Julia Clancy (a new-to-me name) reviews Bar Lyon for Boston Magazine. She focuses more on the history of the bouchon, useful context when thinking about the fat-centric and rich menu that Lyon serves. She also loves the warmth of the place, giving it three stars.

The Boston Globe's business section profiles Toast. This Kendall Square startup started as an app to make it easier to split a check. When they failed horribly at that, they refocused as a suite of digital tools for restaurants. That's led to explosive growth and investment.

Any time Nestor Ramos writes about food, you should read it. This is a lovely and touching essay about what will probably be his final visit to Friendly's.

This is a lovely interview with Ron Abell, the executive chef at Fenway Park. What a bizarre mix of townie and gourmand.

Fox & the Knife should probably have been the most exciting opening of the year. Chef Karen Akunowicz left her long-time post helming Myers+Chang to open her first solo project. Surprising for someone whose been cooking Asian food for years, it's Northern Italian. MC Slim JB reviews it for the Improper, and really likes it. It seems like the kind of place that is already operating like a well-oiled machine.
Washington D.C. 
I am unsure where Fast Casual ends and Fast Fine begins.

It looks like the Washington Post has elevated Tim Carman to full reviewer status. He still does the smaller places, while Sietsema remains the main reviewer. The idea that Old Ebbitt Grill and  Yunnan by Potomac (a small noodle shop in Alexandria) are both profiled in the same week says great things for the Post's desire to better explore their own city. It also means they are publishing like 4-5 reviews a week, so I'm going to struggle to keep up.

And maybe D.C. is changing. Ann Limpert reviews Urbano 116, where authentic Oaxacan food (including moles she loves) are in Old Town Alexandria.
Chicago
Fooditor interviews chef Abra Berens. Berens has a new cookbook out, Ruffage, which looks like something I will be adding to my library. It's vegetable-centric, but in an eminently practical way. It seems designed to answer the question a lot of urban foodies struggle with, "I bought this at the farmers market, what the heck do I do next?"

All I can say about this pair of reviews is that it contains the line "Fiely rhymes with smiley".

Vettel gives four stars to Les Nomades. He lauds chef Roland Liccioni's cooking, and mentions a ton of old fancy restaurants with French names. Still, in an era of hipness and high volume, it's great to have places like this that feel special.

Mike Sula explains Detroit Coney dogs, and argues that the dogs at Lola's Coney Island are worth Chicagoans taking seriously.

Lent is over, which means it's time for meat again! Mike Sula publishes an extremely helpful guide to Polish sausage. I didn't know this, but saying there is one kind of kielbasa is like saying there is one kind of French cheese.
Los Angeles
I missed the general hubbub over the arrival of the Michelin guide in Los Angeles. My takes is exceptionally boring and both-sides-y: It's an important recognition of Los Angeles' rise as a food city. However, the fact it's taken so long shows how useless the guide has become. Also, it's likely going to be terrible since it's not a good fit for the kind of restaurants that make California great. Anyway, read Danny Chau about everything and about this.

One of the two seminal food events of the year is the release of L.A. Taco's "Rogue 99". Written by Tien Nguyen and Katherine Spiers, it's an evolution of the LA Weekly's Essential 99, which was started by J. Gold when he worked there. While Gold himself went on to create his 101 for the Los Angeles Times and the LA Weekly imploded, Spiers and Nguyen have made this list their own. There's no ranking. It spends a *bit* more time highlighting taco trucks. Honestly, it seems closer to a list of where people in Los Angeles are actually eating. Noticeably, neither Vespertine nor Dialogue (places likely to be called the best in LA) are on this list.

Gustavo Arellano writes about his mother's capirotada recipe. It's a special dessert (sort of a bread pudding) his mom only made during Lent. Arellano writes the essay about the dish with his mother in hospice care. He tells her story, and how she used food to show her love. This is absolutely beautiful, and I'll be saying a prayer for his Mami.

For as much as we have heard about the country over the past 20 years, we don't know a lot about Iraqi food. Bill Addison visits Akkad in Glendale, where he walks through some of the basics of Iraqi food.

Addison also raves over Hayato, a tiny (seven seats!) tasting counter doing kaiseki dinners and meticulous and wonderful lunches. Well, lunch... boxes, actually. You should read the review. Hayato was also one of Food & Wine's best new chefs of 2019.  
Out of Context J. Gold of the Week
To paraphrase the late poet Philip Larkin, hatred is to Nine Inch Nails what daffodils were to Wordsworth. - link