Discover more from Snack Cart
A weekly summery of the best food and restaurant writing from around the country, plus local news from your favorite cities.
Over 6,000 subscribers
The cubed squash chronicles 
And I'm back! I'm absurdly grateful that my friend and actual food writer Meagan McGinnes volunteered to fill in last week. I'm also terrified at how quickly she managed to write a full edition of the Cart and how good it was (She actually sent me a draft Wednesday and dopey me forgot to hit send until Friday night). I'm never going on vacation again, lest she seize power. Seriously though, follow Meagan on Twitter.

After that, drop absolutely EVERYTHING and read this story about a man trying to return cubed squash because he thought it was cheese.

Saveur has a lovely essay I've been putting off reading for a few months. Elizabeth Weil writes about a feud over her family's heritage: the reuben. Her grandfather invented it, but scholars have disputed that point. She writes about a particularly nasty exchange, and about how hard it is to know who really invented what.

The actor who plays Hot Pie on Game of Thrones has opened a custom bakery named "You Know Nothing, John Dough". Gotta respect that hustle. 

Eater had an amazing bracket over the last few weeks trying to ID the worst restaurant of all time. I have been to a depressing number of these, and my home town of Boston was SIGNIFICANTLY represented.

Farhad Manjoo, the New York Times' tech columnist, goes to Buzzfeed to write about their new Tasty-branded induction cooktop. But really, he's there to write about Tasty. Buzzfeed has turned overhead Facebook videos into what is possibly the most popular content on the planet and a major profit center. This is a good read.

Correction(ish): Two weeks ago I made fun of Alabama for banning pitchers of margaritas. They actually changed that law before I even sent out the newsletter.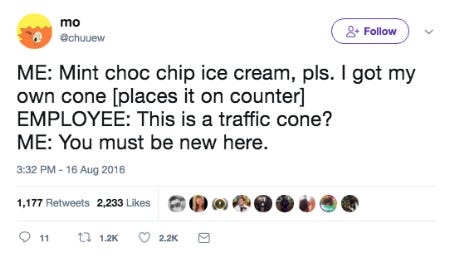 Kevin Alexander at Thrillest writes this week's must-read. It's a long feature on what's next for the cocktail revolution. It's a common story: what does a revolution do after it's won?

I'm very confused by the fact that Sports Illustrated has launched a food vertical. It doesn't make a ton of sense, but hey, here's a long interview with Shaq about his favorite foods so what the hell do I care. This, however, is fucking trash.

GREAT AmA with a Taco Bell shift leader.

A 32,000 square foot oyster bar? Go on. Literally please go on because there is no more info in this story.

Eric Asimov is in Perigord, a region in the South of France famous for its insular nature (plus duck, truffles, and castles). He's there writing about Martin Walker, a British journalist who has set a series of detective novels there. I went there last year! It was great. My sister and I got drunk with the local rugby team.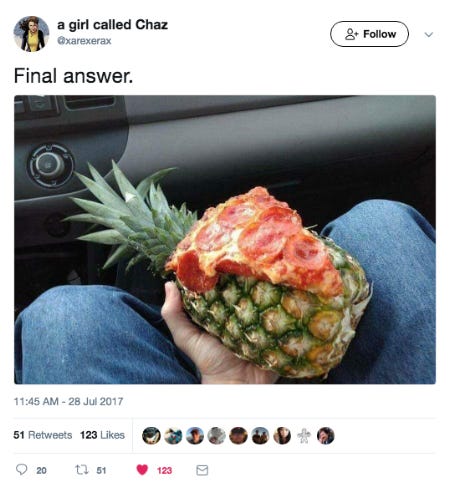 Meagan wrote about Hampton Creek's turmoil last week. The vegan food products company has a turbulent past, and the entire board was swept out. The inside story is bananas, including three board members who were lured into a fake meeting in Majorca and then fired.

The Sideways effect is alive and well, but I don't really think it's a big deal.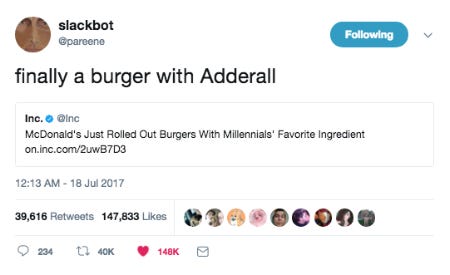 I want to go to Chengdu reallllllly really bad.

The restaurant industry is in flux (pretty much constantly, but still). Restaurant Insider writes up a long feature on the various ways restaurants are adapting. A really good read.

An interesting profile of Khishuri. This mix of rice and legumes has a million variations and is beloved across the subcontinent. Definitely seems like something I'd like to learn how to cook.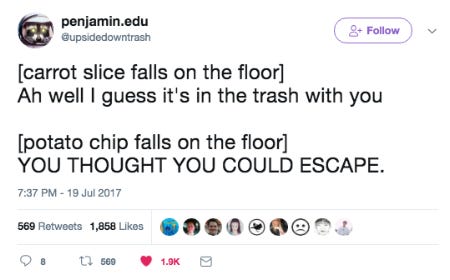 But like, have you ever had a farm-to-table wine tasting event, on WEEEED.

Long and kind of amazing profile of Chuck Bundrant, the owner of Trident seafoods. He started with 80 bucks in his pocket and a job on a boat, and turned it into a billion dollar fishing empire. At least half of that is me eating fish sticks.  

This is a fun and fascinating story from the Wall Street Journal. The junior Supreme Court justice is in charge of the Supreme Court cafeteria, which is famously terrible. There's lots of funny stories in this mini hazing ritual. Also, I'm unclear why this started, but I think it was some weird kind of punishment for the first female Justice, which is just WOOOWWWWWW.

I'm also confused how the donut-on-coffee meme started.

I don't really see what the problem is in designing your restaurant to be Instagrammable, but that's just stupid old millennial me. I think it becomes problematic when you sacrifice the taste for the instagrammability.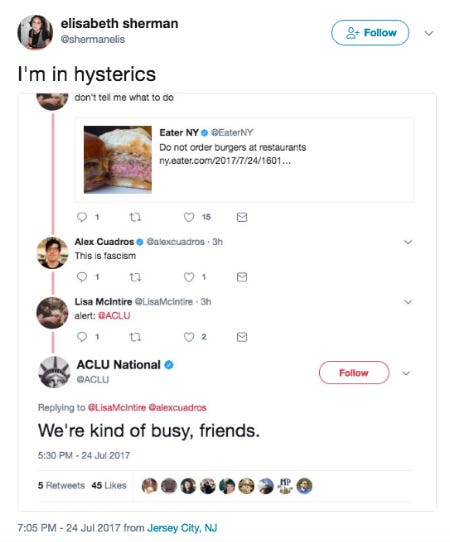 An absolutely beautiful essay from Alexander Chee about gin. He writes about his history, his loves, and his relationship with the spirit. It's the kind of impossibly cool thing you wish you could write.

A long profile of Sarah Rosenberg, the Communications Director behind 11 Madison Park. As a PR person myself (at one point) their role in getting top places to be considered top places is underrated. Also, the fact that this woman just seems like a good PR person and it written up as a goddess really shows how shitty most other PR people are.
Washington D.C. 
Washingtonian has an entire Cheap Eats special section, divided by ethnic category. That is racist as hell, but it looks like there are a lot of great places to eat on these lists.

Laura Hayes at Washington City Paper writes about Chicken + Whiskey. She likes it, but doesn't like that they (for no real reason) serve all the sides in plastic cups. She goes on to write about the huge problem plastic poses for our environment.

Hayes also writes about D.C.'s nascent cannabis and food industry.

Spring rolls are kind of a thing in Africa, and here's a quick hit about Ethiopian ones.

Yes.

Tom Seitsema has two reviews this week: Riggsby in Dupont Circle and Millie's in Spring Valley. Riggsby gets two stars. It's got a solid menu with a few things not quite as good as they should be. It also has a "Mad Men" lunch special: two courses and two martinis for $35. I AM THERE. He gives Millie's 2.5 stars. The local branch of a Nantucket spot focuses on small plates and seafood. Hopefully, he says, the fact that it's crowded all the time means it is printing money since it's a really enjoyable setting.
Boston
The Globe writes up a short feature on the Kraut House in Maine. It's a neat story on the history that led to a small but proud German community on the Central Maine Coast.

The Herald has an interview with Louis Risoli, the 34-year maitre d' at L'Espalier. It's a poignant interview in advance of Risoli's last day. He's overseen the rise of the Boston dining scene, as well as the collapse of the position of maitre d'. The Globe also has an interview but I only read the *amazing* lede of that one.

The Boston Public schools have changed the vendor that provide thousands of breakfasts and lunches to students across the city. Choices like this have massive impacts on the health and life of our cities, and the scale of these companies sorta boggles the mind. Revolution, the company that won, serves 2 million meals per week in cities across America.

The Automatic, a place I hadn't heard of until seeing it on an Eater heatmap, gets a writeup from Catherine Smart. The Kendall Square bar is serving fancy junk food and fantastic cocktails. Seems like very much my shit.

Devra First really likes Terra in Eataly. This is a delayed review, and if she likes it this much maybe the issues that plagued earlier reviews have been fixed?

Really interesting story on substitutions at restaurants. The days of "no changes at all" are largely gone (thank god). I'm a customer-focused guy, but you can't argue that some patrons order some really stupid things.
New York City
Food halls are everywhere, and Steve Cuozzo at the New York Post is sick of it. I was ready to make fun of this for being "get off my lawn"-level stuff, but he actually makes some very good points.

Very excited for this profile of Tracks, the bar and restaurant inside Penn Station that is good, actually. I love eating in train stations, and travel through Penn Station a lot so this is great.

Samin Nosrat is an absolute all-star addition to the Times cooking section. This story, about cooking in banana leaves, has me SO excited to try it.

My girlfriend sent me this review saying "let's go here", so this is the most relevant review published this year. Seriously, though, Alta seems fantastically relevant to "where we are now" food wise.

Ligaya Mishan is in (say it with me now) Queens, at Playground. There, you can find the kind of aggressive and unapologetic Thai dishes that are almost impossible to find in America.  

Ryan Sutton reviews Empellon Midtown. This is probably the most important opening in New York this year (not named The Four Season) so I'm interesting in how it gets reviewed. Sutton plays upon something other critics mentioned in passing. He splits his review into a Tale of Two Cities. He writes one review absolutely shredding the savory options, describing them as boring and overpriced. He writes and entirely separate review rapturously praising the desserts. They are inventive, interesting, and possibly the only good desserts in New York. So what to make of the place? It's unclear, which is probably the peril of hedging like this. Overall, wait until Stupak starts offering his tasting menu again.
Chicago
The taste of Black Chicago is an absolutely FABULOUS idea and every single city should do it.

I need crystal hot pot and I need it YESTERDAY.

Phil Vettel reviews HaiSous. He tells the whole story of the husband and wife team behind the new Vietnamese place. It's inspiring, plus the food sounds out of this world. Go there now.

Mike Sula reviews Daisies in Logan Square. He *really* likes it, saying it hits on a bunch of great food trends like being vegetable forward and applying midwestern ideas to international food.

Merchandise Mart is trying to be a food destination, which… good luck!

A little more BAKLAVAAAAAAAAAAAAAAAAAA.
Los Angeles
Fiona Landers writes an ode to an earlier version of the LA Farmers Market. I'm not sure what she's protesting against other than the higher-end vendors moving in, but this is a nice snapshot in time.

Ink is closing, which is kinda nuts.

Besha Rodell reviews Farida in Hollywood. The food is mixed (two stars), but she gives it a lot of credit for trying to be specific. In a world in which high end Middle Eastern is sweeping the country, Farida makes an effort to clarify the etymology of various dishes. She points out other places would just label the whole thing "Isreali" to stay on top of the trends and not bother to try to educate their diners.

LA Weekly tells you the most interesting places in Grand Central Market. In a place so overwhelming and changing so fast, I really appreciate snapshots like this from time to time.

J. Gold is at Felix Trattoria. Recently named one of the best new restaurants in America by… someone, this place features the cooking of chef Evan Funke. Los Angeles culinary royalty. There's amazingly fresh pasta that Gold says seems to be undercooked on purpose. Still, worth a visit
Out of context J. Gold quote of the week
this sign, spelled less euphemistically, probably haunts your Instagram feed.