Discover more from Snack Cart
A weekly summery of the best food and restaurant writing from around the country, plus local news from your favorite cities.
Over 6,000 subscribers
The New York Times restaurant critic takes on the ice cream sundae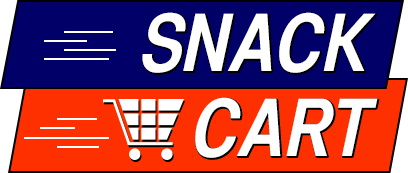 This video, about how Girl Scout cookies are made, is great. It has what you expect: hypnotic b-roll of cookies being made on vast mechanized assembly lines. It also has what you don't expect: an explanation for why all the cookies have two different names (they are made in two different factories!) Also, I KNEW I wasn't crazy and that some thin mints are shaped differently.

Beautiful story (and presentation) from the Tampa Bay Times on the oyster community of Florida's Apalachicola Bay. After years of fishing and pollution, the wild stocks are basically decimated. Some are starting to experiment with farming oysters, but that might mean the end to a way of life that's existed for generations. The human dynamics are complicated, but the science is pretty simple. The wild beds have been killed by the very people resisting change. Oyster farming is profitable and beneficial for the environment. I must say, it's *wild* to see the video of Florida good ol' boys on boats tonging for oysters, a practice and tool invented by Native Americans.

You know who else liked one pot meals?

Daniela Galarza and Ryan Sutton at Eater set out to rank America's fast food desserts. I stan big time for McDonald's soft serve, but that's probably mostly nostalgia. The Wendy's Frosty comes out on top, which is correct. Apparently, you can order it with vanilla and chocolate mixed together. GAME CHANGER. I am surprised they didn't mention dipping your french fries in the Frosty. It might be the perfect bite of food.

Gustavo Arellano profiles ACP in an essay for NPR. Arroz Con Pollo, the ubiquitous Latin American dish, ended up on menus of Tex-Mex places across the Southern United States (even though it's not really Mexican). It became blander, got smothered smothered with cheese, and helped fuel an empire of hundreds of restaurants all run by the immigrants from a single village in Mexico. This is a great story and profile of a dish that no one wants to take credit for.

This week, Lenny Letter featured a great essay by Nigella Lawson. The cookbook author and icon wrote about the difference between home cooking and cheffing. This touches on a lot of themes we've read previously, but her argument for cooking as a feminist act is really good. Plus, there's a recipe for a sheet pan dinner that looks awesome.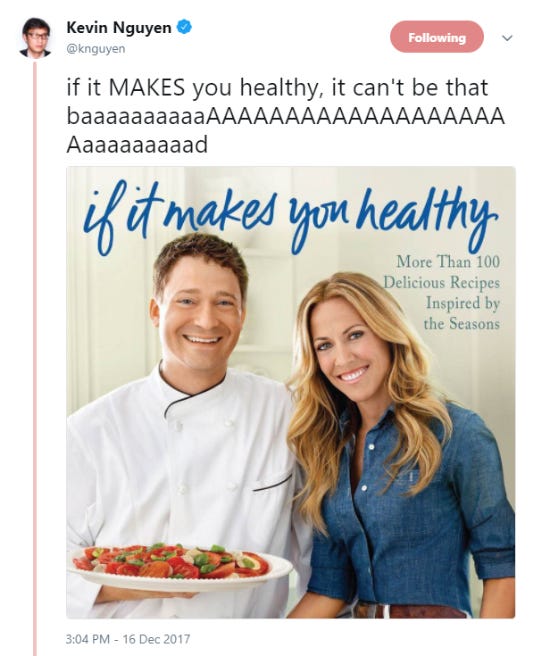 Cam Wolf, writing for GQ, published a long essay on the design philosophy of Sweetgreen. The minimalist aesthetic has expanded to pretty much every salad chain, as well as a number of other businesses promising some sort of wellness. Wolf doesn't really get to a point, but he has a lot of interesting things to say. I would be interested to think about how Sweetgreen's studied minimalism has to do with Apple.

If you haven't read enough about the architecture of restaurants (there is never enough) Nate Berg writes for Curbed about McDonald's most recent redesign efforts. Fast food (or QSR) restaurants engage in design refreshes every 2-3 years and complete redesigns every 5-10. Berg dives into how these become efforts to keep up with and stay ahead of any number of trends. Fun Josh fact: Ten years ago I helped with the PR rollout of Starbucks new store designs focused on sustainability and local building materials.

Extra Crispy pulled together a panel to rank the best butters they could find. The winner is a super hard to find French butter, but my favorite butter is #2 and Kerrygold is #3. I think the best thing you can do to improve your day-to-day eating is keep fancy butter. It gives the most taste-value ratio of any other food purchase.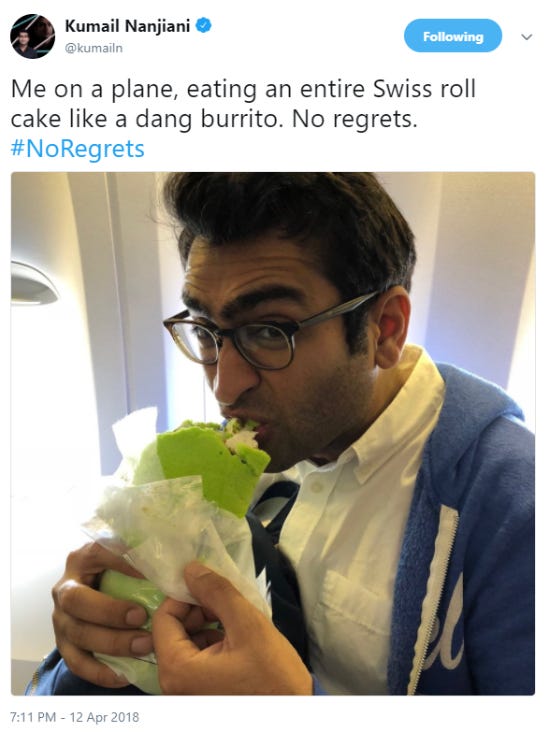 Emilie Friedlander, writing for VICE, spent a week living exclusively on doomsday prepper food. This could easily have been gimmicky, but Friedlander does a great job digging into the growing freeze-dried meal industry. He also looks at the history of food preservation.
New York
I really enjoyed this heel turn by Pete Wells in his latest notebook column. The headline ("The Ice Cream Sundae Must Be Stopped") is delightfully grinchy. He calls out that more and more restaurants aren't offering desserts, or are just offering some version of an ice cream sundae. He blew my mind when he pointed out that a quenelle of inventive ice cream served with a fruit reduction and a crumble is actually just a sundae. He goes into the factors that are driving this, increased costs and lack of talent. Seriously, how are you not going to read something that contains the line, "But enough about the barren, echoing tundra that passes for my soul. Let's talk about the future of New York restaurants."

I can't tell if I would love or hate this bartender. Only one way to find out.

Joshua Stein, writing for the Village Voice, considers Delmonico's. It is what many consider the first restaurant in America, and was a symbol of the gilded age. Now, in a new gilded age, it sorta seems almost quaint. I'd like to read more about the weird group of Croatian owners who currently run the place. If you want to read more about Delmonico's, you can read this essay about how Eggs Benedict was invented there. Be warned! It is long and quite overwritten.

Over-the-top Midtown tiki bar, you say?

Ryan Sutton drops by Olmsted, the impossible-to-get-a-seat-at farm-to-table spot in Prospect Heights (he gave them three stars in a previous review). They've recently opened for brunch, which Sutton says isn't that much easier to get into. Wait times are frequently up to two hours and Sat/Sun reservations are booked out for a month. Still, Sutton basically says it's almost worth it. There's an inventive menu that is more than you will get at most brunch places, and a breakfast burger that holds up to most fancy burgers in the city.

Ligaya Mishan profiles Omusubi Gonbei, a Tokyo rice ball chain that has just opened a small location inside Grand Central Station Market. You can get a variety of rice balls for between $1-$4, with rice flown in from Japan and milled locally to preserve its flavor. I have never had rice balls before, so I am DEFINITELY going here for lunch next week.
Boston
The Pit Stop in Mattapan is supposedly the best barbecue in the city. I never managed to get out there to try it, and it's one of my big regrets. The Dorchester Reporter profiles this local institution.

After reports that the company may shut down and cease production, fans are stockpiling Necco Wafers. They are SUPER gross and only useful for making shingled roofs on gingerbread houses. They are indispensable for that.

Jay Cheshes, writing for the New Yorker, dives deeper into Spyce, the soon-to-open fast casual restaurant almost entirely powered by robots. I'm skeptical, but the proof will be in the pudding… err… grain bowls. PUDDING ROBOT IS MY IDEA PATENT PENDING.

Normally, a story about a group of friends who are opening a restaurant based on their long-running Patriot's Day barbecue would make me assume they are doomed. Since these are all industry vets, it might actually be awesome.

Janelle Nanos reviews the entire new Dunkin' Donuts snack menu, including the infamous Doughnut Fries that took Twitter by storm when they were announced. Standouts are the chicken tenders and, yes, the donut fries. Though, Nanos is quick to point out, they are not nearly as good as Churros. My verdict? Bring back the original cruller (the long one they replaced with "sticks").

Need more Dunkin'? The Globe also looks at donuts only available in other countries. I get that Pork Floss might not do well in the States, but Kit Kats would crush it.

Devra First reviews Mooncusser Fish House. If you've been reading about the rise in New Elegance at places like Le Coucou or The Grill, this is the Boston equivalent. You have courses, you have individual plates, and you have, in First's words, "simple-yet-not-so-simple thing of a good piece of fish cooked well." It can be uneven, where you have an amazing meal one night and a so-so one the next. First gives it two and a half stars.
Washington D.C. 
It's a good time to be drinking wine in the district (not just because of Comey stuff).

Tom Sietsema raves about Elle in Mount Pleasant. It's a dream team churning out diverse dishes that incorporate a lot of fermenting and fresh-made bread. The country bread piled in whipped tuna sauce sounds like the kind of thing I could eat every day.

Tom also likes Chloe's in the Navy Yard. He loves chef Haidar Karoum's inventive and international menu. He gives Chloe 2.5 stars, but it feels like he struggled to say anything cohesive about the place. I just finished reading this review and couldn't tell you much about this place.
Chicago
Phil Vettel reviews Bar Biscay. He likes it less than Mike Sula did last week, mostly because of the noise. However, Vettel does a good job running through the high points of the menu. Seems like the move is to duck out of work early and go here for the discount pinxtos. He also ties it to MFK, a previous Spanish restaurant run by the same team.

Lakeview isn't known as a dining destination. Mike Sula says that Tied House, a new restaurant from Kansas City chef Debbie Gold, is the rare neighborhood restaurant that's worth a trip. Gold, who spent two years at Charlie Trotter's, is serving beautiful and technique-y dishes. Sula struggles to describe some of them, but is a fan. This review also features a story of a comically angry old man!

Michael Gebert attends C-CAP, the Careers Through Culinary Arts Program, a scholarship competition for high school seeking future careers in the restaurant industry. Thirty kids, the best of Chicago's culinary programs, competed for scholarships to culinary schools around the country. This is a lovely and uplifting story.
Los Angeles
Fosselman ice cream was founded by an Iowa family who came to Los Angeles in 1924 seeking the California dream. Over there generations, they've grown and begun offering new flavors to cater to newer waves of Southern California immigrants. KPCC looks at what mochi or horchata ice cream can tell us about the California dream. This is a thoughtful and heartwarming story.

Nooooooo.

Gillian Ferguson, writing in the Los Angeles Times, goes on a mezcal tour of Los Angeles with Ulises Torrentera, the author of two influential books on the spirit. This is a great article if you don't know as much about Mezcal as you wish you did, which is pretty much all of us.

J. Gold reviews Majordomo and, well, he sort of pans it. He's upfront about his relationship with chef David Chang: they are acquaintances, they've worked together in the past, but Gold is furious at Chang for closing Lucky Peach. He highlights a lot of what makes Chang great and infuriating. Chang has made his empire by taking dishes that are less known or respected, like galbi jjim, and putting them in a fine dining context. It's hard, says Gold, to do that in a city where most of your customers can name three or four places that serve a better version of the dish. Repeatedly, dishes at Majordomo don't quite hit the mark. This is a fascinating review.
Out of Context J. Gold of the Week
...a corner of Chinatown you likely haven't visited unless you are a fan of the EDM events that sometimes pop up under the Spring Street viaduct.