Discover more from Snack Cart
A weekly summery of the best food and restaurant writing from around the country, plus local news from your favorite cities.
Over 6,000 subscribers
The San Francisco Chronicle restaurant critic takes on a sacred cow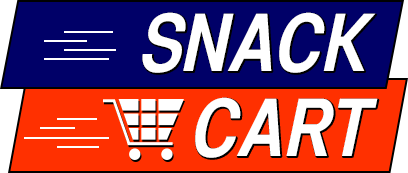 Korsha Wilson, writing in Eater, reflects on how the restaurants we celebrate reflect the overwhelming whiteness of the fine dining and food writing world. She reflects on The Grill, New York's high end throwback to mid-century dining. For a black woman, that very fantasy isn't as delightful as it might be for the largely white men who have fete'ed it. This is an extremely "beginning of 2019 in the food world" essay in the best way possible. The anecdote at the end of the essay is so perfect it feels staged.

A lot of people (like myself!) excited about the changing face of the food writing world are pointing to Soleil Ho, the new critic for the San Francisco Chronicle. It's a lot of pressure. I can't imagine getting profiled before your first review is even published. That being said Ho's initial pieces have been excellent. Whether they are brave reassessments of sacred cows like this review of Chez Panisse or meditations on language and equality.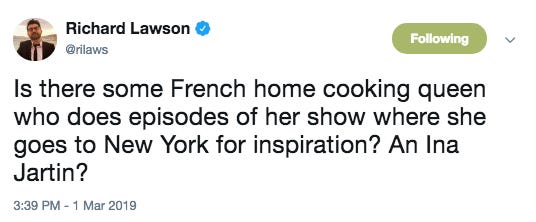 TASTE puts together their first ever special issue. This one focuses on coffee, which they thoughtfully write about from almost every angle possible. Editor Matt Robard writes from Ethiopia, reporting on where some of the best coffee in the world comes from. The photos in this one are beautiful. Anna Hezel explores instant coffee, which is much-maligned but maybe, just maybe, doesn't have to be bad? Terrence Doyle investigates the many, many health claims about coffee. My favorite story is a look at how four different kinds of New Yorkers drink their coffee. It's a beautiful picture of how one person's utility is another person's obsession. I gave up coffee last year and this made me miss it so much.

Amanda Mull is ready to like cucumbers. The Atlantic writer devotes a long essay to why people dislike foods and how they can overcome those aversions.

GQ's Brett Martin profiles chef Tunde Wey. Wey asks hard questions of both the food world and its population of ostensibly woke white allies. You've probably heard of his pop-up where he charged white people 2.5 times what he charged people of color. Martin is working out a lot of his own issues here (both with Wey and his own whiteness) but Wey is one of the most essential voices in the food world right now. This is a great read, especially since Wey seems to force Martin away from the kinds of easy answers that profiles like this cry out for.

Grubstreet profiles a Postmates delivery worker. Delivery workers, from apps or otherwise, are a backbone of the New York's (and really every city's) food economy. This story shows how unforgiving this work can be. I think it also kinda sugar coats it. The subject of this is a law student who does this casually to make a little extra money. I imagine profiling someone who relies on this as a main source of income would be harder. Jesus Christ people, don't tip less than 20% on any food delivery.

David McMillan, chef and owner of Montreal's infamous Joe Beef, writes about how he found sobriety. McMillan (and his restaurant) were famous for Falstaffian levels of excess. The No Reservations episode where Bourdain goes there is unreal. McMillan talks about his realization that he was playing a character and missing out on his own life. This is a lovely story, and good for Bon Appetit for publishing it.

This long Fast Company feature isn't really about food, but it's a good read for anyone as obsessed with Nailed It as I am. Reporter Cale Weissman dives into the history of Netflix's slate of food programming. The streaming network's relative success has been a mix of luck, data, and diversity.

This video is indescribable and delightful. Netflix, call this guy.

Neat story about the increasing number venture capitalists trying to invest in the food and sustainability world. I'm increasingly very nervous about the unaccountable and unregulated world of venture capital.

Singapore is one of the best food cities in the world. This Roads & Kingdoms story, a history of the city state in ten dishes, is a great exploration of why. It goes through various cuisines that waves of immigrants and visitors have brought with them.

Eater looks at the new chair that you are seeing in every new hip restaurant across the country. Once again, it appears that comfort is the last thing on most restaurateurs' minds.

This is a lovely comic strip about food and home.

This essay by Alicia Kennedy, where she writes critically of the rise of meat substitutes, is important. She points out that convenience-driven food has rarely been a good thing, and the tech-bro utopianism behind most of these startups has a dark side that we all are beginning to see. That being said, I don't think her summation, that we should all cook lentils, is realistic. We're not going to get people to stop eating food they find delicious. If we can make replacement meat (which is more environmentally friendly) widely accepted and popular, it will be good for all of us. To that end, I don't care which bros get rich.

The Los Angeles Times also writes about Beyond Meat. LZ Granderson profiles the increasing popularity of the meat substitute among NBA players. Vegetarianism is on the rise in the NBA, with players claiming health and performance benefits.

Who wouldn't want to get married in a Denny's?

I'm a huge fan of Ernie Smith's Tedium, which is a weekly deep dive into a mundane or obscure topic that Ernie never fails to make fascinating. One of his most recent is on the history of "fun size" candy bars. He covers the massive legal battle over the term "fun sized" as well as Mars' efforts to make candy wrappers more environmentally friendly.

Atlanta Magazine rounds up all of the pop-ups and supper clubs people are talking about in the ATL. This is a neat feature, and as these kinds of things get more popular (and because they are inherently ephemeral) magazines should check in on them like this periodically.

Venice seems lovely. Someone please take me there.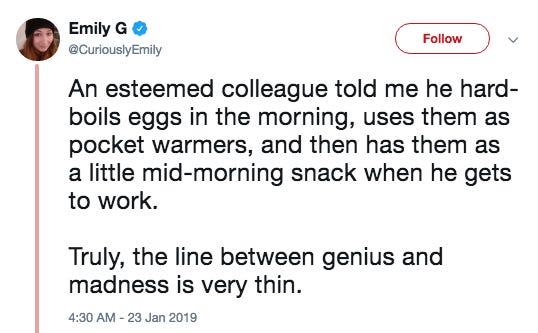 I demand that all Presidential candidates submit recipes. If Joe Biden has a house scrapple mix he's right back in this thing.

I'm a big fan of Men in Blazers, the soccer podcast turned mini media empire. They recently produced a series of short travel videos about London. Many of them are about food, and Rog and Dave-O's enthusiasm and excitement is just as infectious when they're talking about steak pie or jerk chicken as when they're discussing soccer.

I'm not really sure who she is, but Dr. Sarah Taber's Twitter account is fantastic. She drops a lot of knowledge on the true ins and outs of farming and the food production economy. In particular, she pushes back had against the idea that family farms will save us. A recent thread, on coops, was quite eye-opening for me.
Make sure you never miss an issue. Subscribe to Snack Cart Today. Weekly-ish, though I should probably call it bimonthly at this point. 
New York
Quartz writes about the connection between Supreme Court Justice Ruth Bader Ginsburg and local-staple-turned phenomenon Russ & Daughters. Ginsburg grew up in Brooklyn, but her parents took her on trips to the Lower East Side in order to keep her connected to her Russian Jewish heritage. The article leans heavily on how a business proudly listing its connection to daughters rather than sons helped to inform Ginsburg's feminism, which… maybe. However, the director of the recent documentary RBG did meet the Justice while shooting a separate documentary about the family that owns the Russ & Daughters empire.

Eater dropped a massive special section on Chinese food in New York. I loved this, which covered how New York actually has nine Chinatowns (with guides for the three biggest). There are also neat stories about the changing nature of Flushing and how Szechuan food took over New York. My favorite story is about the underground delivery networks bringing Flushing Chinese food to midtown and financial district office workers.

I'm thrilled to see Marian Bull's byline in the New York Times. She writes a review of Pirosmani in Sheepshead Bay. She paints a lovely review of a Georgian restaurant, running through the highlights of the cuisine. In particular, she highlights the baseball-sized dumplings. Georgian food was the highlight of my trip to Russia last summer. Get out to this place.

A Vietnamese seven beef dinner was relatively common in Boston, so I was surprised I hadn't really seen it much in New York or Los Angeles. Pete Wells reviews Madame Vo BBQ, a new place specializing in that kind of meal. Wells' review says the place is decidedly uneven. Some of the flavors are amazing, but the restaurant doesn't have it together yet in quality and service. Wells only gives it one star, but this seems like a unique dining experience for New York. Wells says that if you go, get the seven beef dinner rather than a la carte.

Wells also reviews Bistro Pierre Lapin, which calls back to a different era in French and New York dining. Less a temple of gastronomy, more a sauce-heavy bistro. It specializes in the kind of Paris food you can't get in Paris anymore. I must go immediately.

Ryan Sutton does a double review of Tang Hotpot and Zhen WeiFang. He laments the changes affecting the Bowery while saying that these two above-average hot pot places help ensure there are still hidden gems there.

Mario Batali has sold his stake in his entire restaurant group. It's for the best, but it is kinda weird that there are no Batali restaurants in New York. I am not sure what this solves, since by many accounts Batali's partner Joe Bastianich was complicit in most of Batali's worst behavior.
Boston
Sarah Hagman writes a great feature in The Improper Bostonian about Boston's wine scene and the people making it awesome. Maybe because it's a small town, but somms and stores across Boston are making the newest wine trends approachable and fun. Also, most of the people profiled are women, which is neat! Shoutout to Eileen Elliott at Social Wines!

Munch Madness is back! The Globe's annual restaurant contest is a lot of fun. Go vote for your favorites now.

Kara Baskin writes a lovely essay about about eating mindfully, health, and donuts. Baskin was assigned to write about Demet's donuts in the middle of a month she was practicing a special low acid diet. What resulted is an essay about delayed gratification and a moment of mindfulness over a (delicious sounding) chocolate frosted. As someone who has had acid reflux for more than a decade, I'm also definitely ordering the book she recommended.

This guide to dim sum desperately needed some pictures. But group dim sum in Chinatown is an essential Boston food experience.

MC Slim JM reviews Kala Thai Cookery, a new spot that opened across the street from my old office *shakes fist at the clouds*. It's helmed by chef Manita Bunnagitkarn, whose suburban restaurants are probably the two best Thai places in Boston. This is great news for downtown, and for the growing West End neighborhood.

Sheryl Julian reviews Pho Viet II, the spinoff location of Pho Viet in Super 88 market in Allston. It's a nice review and the place seems great, but it's 2019. I don't think you need to spend time in your review telling us how pho is pronounced.
Washington D.C. 
The Fyre festival of African food festivals! If you like nightmare events and acrimonious finger pointing, then this story is for you. This organizer has put on other disastrous events before, so probably better to stay away from any future events.

Laura Hayes takes a very comprehensive look at wage theft in the restaurant industry. She interviews a lot of people, as well as looking in detail at a few cases that made it to court (most of these cases are settled privately). Wage theft is rampant, especially among the kind of immigrant mom and pop places that I love. Hayes points out that it's not always intentional malevolence from owners. Often, it's an attempt to have a flat salary to avoid the hassle and overhead of timesheets and job tracking.

The chef behind the fast casual chain Himitsu has started adding a 4% health and wellness charge to bills at his restaurants. The fee goes directly to subsidizing health care for the restaurant's workers, especially those in the back of the house. I wonder if restaurants will ever be able to just charge more, rather than creating these weird itemized lists.

Tom Sietsema gives a critical first look review to Yume Sushi in Arlington. It's a beautiful space, but the service and food are bland and confused (so was this review, tbqh).

Did someone say all-you-can-eat soup dumplings?
Chicago
All of the food world grabbed the popcorn for a public fight between celebrity chef Cat Cora and Alinea owner Nick Kokonas. Cora showed up and was told her expected reservation wasn't there. She flipped out, and blew the place up on social media. In response, owner Kokonas published a *screed* on medium attacking Cora, calling out that she just got there on the wrong day and had been rude. Eater Chicago has a good rundown, but nobody looks good here. Cora's initial post was amateurish and petty, and her excuse that she was trying to start a conversation about hospitality makes me question her sanity. It would have been easy for Kokonas to take the high road here, and he should have.

Mike Sula reflects on how Anthony Bourdain sitting down with President Obama over a bowl of Bun Cha catapulted a small regional dish into a sensation. He reviews Buncha Hanoi, a news spot in Glenview. It sounds good, but I am pretty sure that no one anywhere actually knows how to eat this dish.

Sula also highlights chuanr, Northern Chinese Muslim barbecue. He does it in service of reviewing Friend BBQ and Gao's Kabob Sports Grill. These two Chinatown spots are almost identical, but each is a great place to go after a long night of drinking and get a TON of grilled meat on a stick. More food should be on sticks.

Jeff Ruby visits Italian Village, a downtown classic that has been around for over 90 years. It's actually three restaurants in one giant space. Long story short, one restaurant is terrible, one is overpriced but fun, and one might be the best Italian restaurant in Chicago.

It seems like Chicago has been overdue for a fancy French place taking a swing at the Gold Coast.

Phil Vettel reviews Avli Taverna, a Greek place in Lincoln Park. Vettel really likes the unpretentious neighborhood place, which seems like an ideal Tuesday night dinner.
Los Angeles
When I went to Palm Springs a few weeks back, we drove around listening to my friend's home-made audiobook of Motley Crue's "The Dirt". So I was incredibly primed for this VICE look at the bars that made the Sunset strip famous. This article needed to be twice as long and needed a map of some sort.

Frank Shyong is doing excellent and essential work in the new Los Angeles Times food section. He reports on the new AB 626, a California bill designed to legalize the illicite home cooking markets that many immigrants rely on for their livelihood. Unfortunately, the bill doesn't seem like it will actually help them. Rather, it paves the way for silicon-valley backed home cooking startups. Shyong asks good questions about who is allowed to break the law and be called an innovator rather than criminal.

For anyone observing lent, L.A. Taco rounds up the best places to get mariscos around the Southland.  

Patricia Escárcega reviews Kasih, a new Indonesian spot in Little Tokyo. Kasih takes sambals, the relish/sauces that are the cornerstone of much of Southeast Asian food, extremely seriously. It's also possibly the first upscale take on Indonesian cuisine Los Angeles has seen.

Kra Z Kai, a new restaurant in Corona, is *definitely* the first Laotian barbecue place in Los Angeles (also America, probably). Escárcega paints a picture of a small shop, an energetic owner, and a selection of grilled meats and sticky rice that I would eat a metric ton of. This is the kind of place that make Los Angeles food amazing.
Out of Context J. Gold of the Week
But are the baguettes at Lee's Sandwiches just that little bit crunchier? Is the headcheese headier? - link